Latest news
‍
23/05/2017

A new Amiga tribute album by various Synthwave producers is now available on Bandcamp with a name-your-price policy. It includes 12 remixes of classic amiga games : Apydia, Flashback, Speedball 2, Shadow of the Beast, Jim Power, Hybris, Lotus III, Battle Squadron, Turrican 3, One Step Beyond and Dune.

Submitted by Nemler86

Bandcamp page
---
‍
19/02/2017
On sunday, 19th February 2017, the awards show started broadcasting at 20:00 CET from the SLAY Radio headquaters, hosted by Boz, Slaygon and Leonie. The show featured a run down of the last year's events and popular remixes of each months, with award announcements inbetween.
The Best Newcomer 2016 award was announced and went to Armandox.
The second award went to ROTY award regular daXX as Best Veteran 2016.
Best Amiga Remix 2016 was awarded to Rapture for his epic Pinball Prelude Medley.
Best c64 Remix 2016 went to Mordi for his updated version of Why Me.
The special honour of the Lifetime Achievement Award 2016 was given to Ziphoid for his myriad contributions to the scene, and also to Ben Daglish, who apart from being an original legendary composer of the 80s is still active and around in the scene.
Also SLAY Radio listener Maltus was awarded as Beer-deliverer of the Year as a personal award of the SLAY staff for his extraordinary support (like, you know, actually delivering beer from Germany to the SLAY hq). 😃
Finally, the big moment approached and it was time to award the main price, Remixer Of The Year 2016 and it went to MRT, second year in a row!
MASSIVE CONGRATS!

Full results list
---
‍
19/02/2017
The time has come to celebrate and acknowledge the remixers' work in the C64 community by presenting the yearly ROTY Awards, as voted by the users at www.remix64.com. This year it's SLAY Radio's turn to give out the awards and give you a run-down of what happened in 2016.
As usual the show will be joint-broadcast on SLAY Radio and Scenesat Radio.
The show chat will be on EFNet #remix64
Don't miss it!!
---
‍
‍
‍
‍
‍
‍
‍
‍
‍
‍
‍
‍
‍
‍
‍

News archive...
Events
Forum
Live Broadcasting
DJ Podcasts
Reviews
Listening Recommendation


Noisy Pillars (Euro-4-Sure Mix)
Arranged by Sonic Wanderer
Whohoo!
I love it when Sonic does this!
When he does his magic mixture of "enhanced" spacedance, eurodisco and trance. Never heard the original but it doesn't matter, I only had to hear this tune once to love it!
Nice, smooth sound and good use of sounds. Cool voice sample too

This is not the first time Sonic inspired me to make music, I feel like just going home from work and start making music. Too bad there is no time for that in the nearest future.
Thanks for the music Sonic!
Review by Instant Remedy
Random review


Training (Kicks with a punch Remix)
Arranged by AcidBlock
Finally, a remix of this underrated JCH tune! The kick drum has such a punch, it hurt my stomach even thru the headphones! In a good way!
The raspy lead instrument is a bit off-putting. I am not a fan of the arrangement, either, maybe I need to listen to it more to appreciate it.
BTW, did I mention I love the punch of its kickass kick?
Review by LaLa
Latest Review


Sanxion Bigroom Remix
Arranged by daXX
...this remake absolutely, positively deserves more airtime for being upbeat and well executed. Love it.
Review by Ghydda

More reviews...
Music
Check this out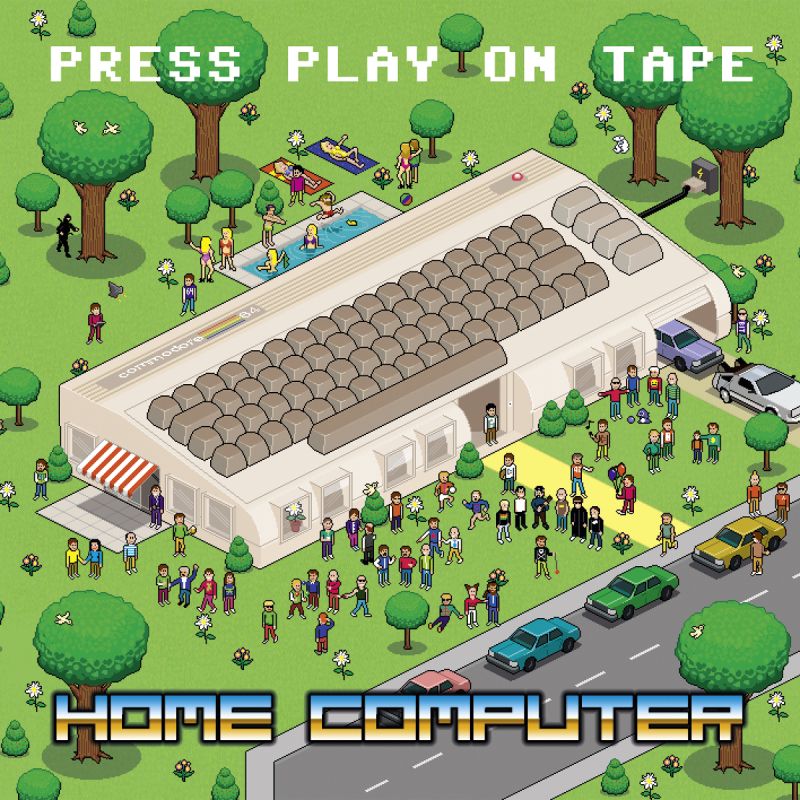 Home Computer
by PRESS PLAY ON TAPE
PRESS PLAY ON TAPE are legends. This is their third studio CD, and it's a doozy, combining kick-your-bottom C64 remixes with original brain-beatingly good tracks. Although obliterated from Wikipedia by pedants who can't cope with reality, there's no keeping these guys down! Rock on!! 26 tracks of mayhem, a double CD, over 2 hours of music! Comes with a 32 page souvenir booklet, packed with photos of Soren. And some other guys, not sure who they are, but they look dodgy to me... *hehe* This album is not available to buy from us digitally, only from iTunes, but FLAC and MP3 Album packs are downloadable when you purchase the CD. * Note: all preorders have now been sent out * "PPOT delivers exactly what is expected of them, and their fans will love this CD. New fans will without doubt take it to their hearts too, because no matter if you're a fan of vocals on remixes or not, there's plenty of music to enjoy." - Andreas Wallstrom, C64.com

Check it out...