Latest news
‍
23/05/2017

A new Amiga tribute album by various Synthwave producers is now available on Bandcamp with a name-your-price policy. It includes 12 remixes of classic amiga games : Apydia, Flashback, Speedball 2, Shadow of the Beast, Jim Power, Hybris, Lotus III, Battle Squadron, Turrican 3, One Step Beyond and Dune.

Submitted by Nemler86

Bandcamp page
---
‍
19/02/2017
On sunday, 19th February 2017, the awards show started broadcasting at 20:00 CET from the SLAY Radio headquaters, hosted by Boz, Slaygon and Leonie. The show featured a run down of the last year's events and popular remixes of each months, with award announcements inbetween.
The Best Newcomer 2016 award was announced and went to Armandox.
The second award went to ROTY award regular daXX as Best Veteran 2016.
Best Amiga Remix 2016 was awarded to Rapture for his epic Pinball Prelude Medley.
Best c64 Remix 2016 went to Mordi for his updated version of Why Me.
The special honour of the Lifetime Achievement Award 2016 was given to Ziphoid for his myriad contributions to the scene, and also to Ben Daglish, who apart from being an original legendary composer of the 80s is still active and around in the scene.
Also SLAY Radio listener Maltus was awarded as Beer-deliverer of the Year as a personal award of the SLAY staff for his extraordinary support (like, you know, actually delivering beer from Germany to the SLAY hq). 😃
Finally, the big moment approached and it was time to award the main price, Remixer Of The Year 2016 and it went to MRT, second year in a row!
MASSIVE CONGRATS!

Full results list
---
‍
19/02/2017
The time has come to celebrate and acknowledge the remixers' work in the C64 community by presenting the yearly ROTY Awards, as voted by the users at www.remix64.com. This year it's SLAY Radio's turn to give out the awards and give you a run-down of what happened in 2016.
As usual the show will be joint-broadcast on SLAY Radio and Scenesat Radio.
The show chat will be on EFNet #remix64
Don't miss it!!
---
‍
‍
‍
‍
‍
‍
‍
‍
‍
‍
‍
‍
‍
‍
‍

News archive...
Events
Forum
Live Broadcasting
DJ Podcasts
Reviews
Listening Recommendation


Liljedahl is God (Green Beret+Rambo)
Arranged by Mordi
i really love the tracker file that i have of this piece. this rmx takes it to the same level with some additional fills like the vocoder like female hook. the bass goes deep and the lead cares a very feelfull mood. a bit dull in two arrangment parts of it imho, could be a bit brighter. the whole tune is very atmospheric and transparent. everytime i get lifted by this tune. if you like soulfull music, this one is a "have to have it".
Review by OJ Oscillation
Random review


Alibi (steady-state remix)
Arranged by Patrick [Major Minor] Ceuppens
Thanks for doing one of the classics. Laxity has always been one of my favourites, and too few people look in the direction of the demo-scene and non-gamemusic.

I think you captured the mood very well, and I enjoy this version as much as I enjoy the original. Very balanced sound, though not especially original. But then again, many of Laxity's tunes are close to perfect. So why alter them just for the sake of doing it? You've managed to make this tune sound better than it did on solo sid, without destroying the melody and feel. That's an accomplishment by itself.

After listening to this for a long time now, I have to give full marks on grounds of the nostalgic impression and balanced sound. This is wonderful listening!
Review by vernest
Latest Review


Yo! Joe! - Haunted House
Arranged by Rapture
This is a brilliant remix of the original, keeping to the original style, but with modern instruments and high quality. Exactly what Amiga Remix is all about. Very well done, seems a little faster than the original but that's OK.
Review by onlineamiga

More reviews...
Music
Check this out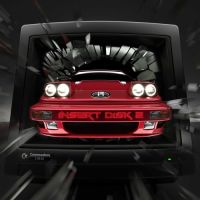 Insert Disc 2
by Instant Remedy
7 years in the making, this is a labor of love – all contained in one album. Including the mega mixes, there actually are 25 remixes on the album. Filled with dance remixes of music from famous Amiga games.

Check it out...