Latest news
05/02/2016
The show kicked off on Satudary 6th February 2016 at 20:00CET, with a joint broadcast on scenesat.com and slayradio.org, for the first time hosted by Steph and Kevman from Pittsburgh, Pennsylvania. As usual, the setting for the show was a rundown of the most successful remixes of each month, in the categories c64. Amiga and Scene Albums, spiced with Scene news of the year.
After 20 minutes, the first winners were announced for Best Newcomer 2015. The #1 price in that category went to Tim Wright aka CoLD SToRAGE, who had released 6 remixes in 2015.
During the show there was a surprise preview for Project: Sidologie with an awesome remix of Trap by Marcel Donné.
The next awards category was Best Amiga Remix, where daxx was once again able to score a top position, this time with two tracks at once: Stardust Memories and Mega-Lo-Mania Orchestra Medley.
Erwin "Tron" Beekveld was awarded the Lifetime Achievement Award 2015 for his long time continuing support, contribution and friendship to the scene.
Up next, Best c64 remix went to Slaygon with his tribute to DJ Skitz, Never Die.
In the category Best Veteran Mordi was able to score the top position, closely followed by daXX.
Finally, the grand prix of the remixing scene, the Remixer Of The Year Award 2015 was won by MRT, with daXX and Mordi coming in a very close shared second place.
Congratulations everyone, you've all deserved it. And remember, you are all winners! Thank you for keeping the scene alive, and thank you Steph and Kevman for the awesome show!
---
20/09/2015

The recent album ReLive by the SIDrip Alliance is now fully listed at Remix64. That means you can now go and listen to the tracks and leave your votes here at Remix64.com. This is a nice way to give something back to the artists, so head over to the album page.
The album is available as free download  on their homepage, and if you're still not convinced to grab your copy, read the review by LaLa.
---
17/08/2015

During AROK Party 2015, SIDrip released a free remix album called ReLive. As the title tells it is a live-in-studio record. If you are into remixes played by real instruments, check this out.

Submitted by NecroPolo

SIDrip home

bandcamp

soundcloud
---

News archive...
Events
Forum
Live Broadcasting
DJ Podcasts
News & Blogs
Reviews
Listening Recommendation


Nemesis the Warlock
Arranged by o2
Agree with Tomsk, this is fantastic stuff. O2's best remix, imho! Starts slow, in a neat, nice, simplistic manner, grows a little, grows some more, gets bigger, even bigger and then suddenly at 3:12 those lovely tingles at the back of my neck sends these awesomely (!) wonderful feelings to every cell in my whole body! The one, single arpeggio at 4:49 is a great detail, pinned by a genius! Too soon, the fadeout comes and I feel "Why is this remix soooo short?", and wondering how the -frog- those six minutes could pass so quick? If I could bring only one remix from r:k:o to a deserted island, this would be my choise!

Review by mahoney
Random review


Hollywood Poker Pro
Arranged by Rapture
Sigh. This is nice. Rapture (Fabian del Priore) has really captured the spirit of the original - it's also one of my favourite SIDs/Amiga sounds. The sound quality is good, there's some distinctive 80ies computer sounds in here and the conversion is faithful to the original arrangement.
If I really had to pick out one thing I don't like, I'd say it's the lack of originality - but then again it's a matter of taste.
In my view it's slightly better than Fabian's CD track on Remix64 Vol.1. Ok, it doesn't have the 80ies approach that's true, but the strength of this remix is the faithfulness. Good work Fabian.

Review by rafael
Latest Review


Acid Burgher
Arranged by Isacco Garcia Peveri
It's experimental, it's hard electronics & it kind of reminds me of those little tune links that depeche mode do so well. The original sid is designed to be played on the MOS 8580.
Review by drm

More reviews...
Music
Check this out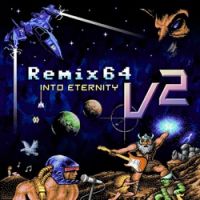 Remix64 - Into Eternity
by Various Artists
The original "Remix64" title referred more to the community embracing the remixers than the content of the CD. And so it was that Remix64 - Into Eternity turned into a symphonic epic not a million miles away from the popular Merregnon series of CDs: there certainly is a teutonic air to much of the album. Highlights of the CD include Markus Holler's spine-tingling reworking of "Fist 2" with flute and ethereal vocals, and Thomas Detert's "Spellbound" which gives life to Rob Hubbard's own dark vision for the piece. Belying the computery artwork of the cover, this CD is a powerful piece of fantasy soundtrack more than it is a remix CD. Enjoy it at that level, and be blown away.

Check it out...