Latest news
19/02/2017
On sunday, 19th February 2017, the awards show started broadcasting at 20:00 CET from the SLAY Radio headquaters, hosted by Boz, Slaygon and Leonie. The show featured a run down of the last year's events and popular remixes of each months, with award announcements inbetween.
The Best Newcomer 2016 award was announced and went to Armandox.
The second award went to ROTY award regular daXX as Best Veteran 2016.
Best Amiga Remix 2016 was awarded to Rapture for his epic Pinball Prelude Medley.
Best c64 Remix 2016 went to Mordi for his updated version of Why Me.
The special honour of the Lifetime Achievement Award 2016 was given to Ziphoid for his myriad contributions to the scene, and also to Ben Daglish, who apart from being an original legendary composer of the 80s is still active and around in the scene.
Also SLAY Radio listener Maltus was awarded as Beer-deliverer of the Year as a personal award of the SLAY staff for his extraordinary support (like, you know, actually delivering beer from Germany to the SLAY hq). 😃
Finally, the big moment approached and it was time to award the main price, Remixer Of The Year 2016 and it went to MRT, second year in a row!
MASSIVE CONGRATS!

Full results list
---
19/02/2017
The time has come to celebrate and acknowledge the remixers' work in the C64 community by presenting the yearly ROTY Awards, as voted by the users at www.remix64.com. This year it's SLAY Radio's turn to give out the awards and give you a run-down of what happened in 2016.
As usual the show will be joint-broadcast on SLAY Radio and Scenesat Radio.
The show chat will be on EFNet #remix64
Don't miss it!!
---
18/01/2017
As you might have noticed, Remix64 was down for a day due to a server switch. The deadline for last year's ROTY voting has been extended until sunday night, so cast your votes while there is time. 😊
---

News archive...
Events
Forum
Live Broadcasting
DJ Podcasts
News & Blogs
Reviews
Listening Recommendation


Short Circuit 4 (Dischord Disco)
Arranged by vurtX
I am sure that this track is the boldest remix on this site. Idea, technical competence and sound all serve one and only purpose: capturing the nature of chaos, without compromises. It remains true to itself and it makes it one of the finest underground tracks around here as it goes a totally opposite direction from the vast majority of remixes that, hidden or obvious, admitted or not, are made to be liked. These end up running the same loops again and again as everyone did before, uncountable times. But mind that: the predictable and monotonous is slow decay and death - the experimental and chaotic is fertile and evolving.
Review by NecroPolo
Random review


Congo Bongo (Smothering Cow Remix)
Arranged by DJ Kinky
Short, but fast paced remix of the Congo Bongo tune. Not much used from the original music, but still interesting to listen to. Overall a good tune and it's part of my regular playlist.

Review by almightyc64
Latest Review


Northstar
Arranged by Infamous
Northstar is one of the games that didn't get much love from remixers. Possibly because it's pretty short and doesn't fit the usual "let's make it electro-unz". However, it has a good melody and with Infamous' creative take it became accesible to everyone. Good job!
Review by Lclhstr

More reviews...
Music
Check this out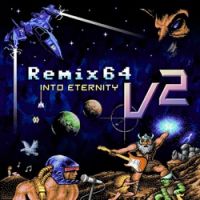 Remix64 - Into Eternity
by Various Artists
The original "Remix64" title referred more to the community embracing the remixers than the content of the CD. And so it was that Remix64 - Into Eternity turned into a symphonic epic not a million miles away from the popular Merregnon series of CDs: there certainly is a teutonic air to much of the album. Highlights of the CD include Markus Holler's spine-tingling reworking of "Fist 2" with flute and ethereal vocals, and Thomas Detert's "Spellbound" which gives life to Rob Hubbard's own dark vision for the piece. Belying the computery artwork of the cover, this CD is a powerful piece of fantasy soundtrack more than it is a remix CD. Enjoy it at that level, and be blown away.

Check it out...