Latest news
20/09/2015

The recent album ReLive by the SIDrip Alliance is now fully listed at Remix64. That means you can now go and listen to the tracks and leave your votes here at Remix64.com. This is a nice way to give something back to the artists, so head over to the album page.
The album is available as free download  on their homepage, and if you're still not convinced to grab your copy, read the review by LaLa.
---
17/08/2015

During AROK Party 2015, SIDrip released a free remix album called ReLive. As the title tells it is a live-in-studio record. If you are into remixes played by real instruments, check this out.

Submitted by NecroPolo

SIDrip home

bandcamp

soundcloud
---
18/07/2015

Fans of video game music, chip music, SID music or C64 game music gotta check out:
Jeroen Tel - Tel Me More 
C64 video game music pioneer Jeroen Tel has launched this IndieGogo project with the aim
to release a C64 remake album featuring at least 12 of his best known classics.

---

News archive...
Events
Forum
Live Broadcasting
DJ Podcasts
News & Blogs
Reviews
Listening Recommendation


Commando-Capella
Arranged by Igo Splashman
Call me egoistic, but this remix reminds me of - me!

Which SID fan didn`t try to whistle or sing Commando or some other SID tune to himself in his life trying to play all 3 voices with his one mouth? This cover is an enhancement of the same basic idea. My only gripe about it: after having heard May Be Bop`s excellent (albeit short) a capella version, this one sounds a bit electronic. It is too obvious that it`s not a live a capella choir singing it. For example, the bass line is definitely some pitch shifted samples put together, and the background folks sound just "too perfect". Not to mention the lack of inhaling noises, that telltale sign of real humans singing. But it`s ton of fun, regardless!
Review by LaLa
Random review


Tintin On The Moon
Arranged by BeeZerk
This SID is near and dear to my heart, so maybe my expectations were too high, but this remix is just wandering left and right aimlessly and doesn't go anywhere. It holds so much promise until about 1:30 but then - nothing. We get simple piano instead. Sorry, that just doesn't do it for me. Then it builds up again and - nothing. It's frustrating to listen to!

It has all the right elements to make it a great remix, it just seems to be afraid to go that far. Too bad.
Review by LaLa
Latest Review


Will You remember (Gone)
Arranged by MRT
"Will You Remember" is, simply put, an amazing piece of work - the slew of string instruments in combination with the unmistakebly SID-esque synthesizer sound make for a great C64 cover all by itself. What really puts the icing on the cake and makes this song stand out is how its robot voice manages to convey feelings of despair, sorrow and sadness. With the expected technological singularity mere decades away, counting CPU cycles and juggling IRQs seem like a hazy memory of an age that briefly flashed before our eyes. With the impending society-wide introduction of super evolved computers that will forever change the world as we know it, I can see why our Commodore computers already urge us not to forget them, and plead for us to remember. And I will. I wouldn't be the same person if my great parents hadn't bought me my VIC-20 or my C128. I will remember.
Review by exocytosis

More reviews...
Music
Check this out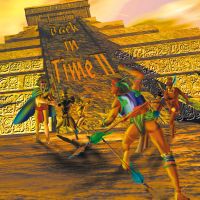 Back in Time 2
by Various Artists
Back in Time 1 broke a lot of ground, so the sequel aimed to raise the bar. The second album used some extraordinary talent such as Peter Connelly, Jogeir Liljedahl, Tonka and Danko to provide a much more varied soundscape than the first. Highlights include the beautiful orchestral version of "Forbidden Forest", the ultimate feel-good remix "Wizball 2000" and the spine-tingling "Galway is God" Rambo/Green Beret medley, as well as featuring a remastering of the first ever C64 Remix: Rob Hubbard's own "Thalamusik" from Zzap!64 issue 26. Round that off with an extended club mix of Comic Bakery and Fred Gray's own funky interpretation of his own Batman theme, and you've got a CD which still stands the test of time today.

Check it out...