Latest news
‍
23/05/2017

A new Amiga tribute album by various Synthwave producers is now available on Bandcamp with a name-your-price policy. It includes 12 remixes of classic amiga games : Apydia, Flashback, Speedball 2, Shadow of the Beast, Jim Power, Hybris, Lotus III, Battle Squadron, Turrican 3, One Step Beyond and Dune.

Submitted by Nemler86

Bandcamp page
---
‍
19/02/2017
On sunday, 19th February 2017, the awards show started broadcasting at 20:00 CET from the SLAY Radio headquaters, hosted by Boz, Slaygon and Leonie. The show featured a run down of the last year's events and popular remixes of each months, with award announcements inbetween.
The Best Newcomer 2016 award was announced and went to Armandox.
The second award went to ROTY award regular daXX as Best Veteran 2016.
Best Amiga Remix 2016 was awarded to Rapture for his epic Pinball Prelude Medley.
Best c64 Remix 2016 went to Mordi for his updated version of Why Me.
The special honour of the Lifetime Achievement Award 2016 was given to Ziphoid for his myriad contributions to the scene, and also to Ben Daglish, who apart from being an original legendary composer of the 80s is still active and around in the scene.
Also SLAY Radio listener Maltus was awarded as Beer-deliverer of the Year as a personal award of the SLAY staff for his extraordinary support (like, you know, actually delivering beer from Germany to the SLAY hq). 😃
Finally, the big moment approached and it was time to award the main price, Remixer Of The Year 2016 and it went to MRT, second year in a row!
MASSIVE CONGRATS!

Full results list
---
‍
19/02/2017
The time has come to celebrate and acknowledge the remixers' work in the C64 community by presenting the yearly ROTY Awards, as voted by the users at www.remix64.com. This year it's SLAY Radio's turn to give out the awards and give you a run-down of what happened in 2016.
As usual the show will be joint-broadcast on SLAY Radio and Scenesat Radio.
The show chat will be on EFNet #remix64
Don't miss it!!
---
‍
‍
‍
‍
‍
‍
‍
‍
‍
‍
‍
‍
‍
‍
‍

News archive...
Events
Forum
Live Broadcasting
DJ Podcasts
News & Blogs
Reviews
Listening Recommendation


Thundercats (WIthout Fear Remix)
Arranged by Funk Reflex
Absolutely superb, no one else comes even close with the section from 2:50 to 3:35. It just demands to be played so loud your speakers are on the verge of exploding.

100% brilliant.
Review by wearecity
Random review


Giana Sisters (They are punks and they are back)
Arranged by X-formZ
Mmmh, I'll try to explain why this is 'only' good for me though I normally love guitar orientated remixes:
1. There's already a far superior version of this sid in almost exactly the same style: Machinae Supremacy
2. I know it's always difficult to program drums that ought to sound like live drums but here it's too obvious, e.g. only 1 crash sound that's repeated over and over sounds awkward.
3. The guitar sound is too grainy and digital. There are ways of getting proper higain sounds without miking tube amps nowadays.
The guitar playing itself is really good and has decent timing.

Alltogether it's a respectable effort, but with Machinae Supremacy in the back just not good enough.
Review by romeo_knight
Latest Review


Hymn To Aurora
Arranged by Isacco Garcia Peveri
Haunting, brings back memories of great home computing, when anything was possible. Simple, uncluttered melody with good use of synth sounds, its easy to go over the top and ruin things, but this one doesn't, keeps it simple without being overly repetitive. Very well produced and brings back some happy memories.
Review by Lonax

More reviews...
Music
Check this out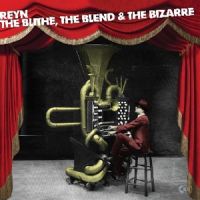 The Blithe, the Blend and the Bizarre
by Reyn Ouwehand
Reyn Ouwehand once again sets new standards in C64 live performance. This CD concentrates on those small or overlooked tunes that once filled our hearts with joy, and produces the definitive versions of them. Once you've heard his rendition: your brain will always think of the tunes that way. Performed live by Reyn and previewed extensively on Boz's Bit o' Bollocks Slay Radio show, this CD is further enhanced by Gilliam-esque artwork from the multi-talented Reyn and that Wizball and Sanxion-meister himself, Mark Hennessy-Barrett. This CD will leave you with a big soppy grin on your face. Guaranteed!* * Not a guarantee, but it's very likely.

Check it out...