Latest news
23/05/2017

A new Amiga tribute album by various Synthwave producers is now available on Bandcamp with a name-your-price policy. It includes 12 remixes of classic amiga games : Apydia, Flashback, Speedball 2, Shadow of the Beast, Jim Power, Hybris, Lotus III, Battle Squadron, Turrican 3, One Step Beyond and Dune.

Submitted by Nemler86

Bandcamp page
---
19/02/2017
On sunday, 19th February 2017, the awards show started broadcasting at 20:00 CET from the SLAY Radio headquaters, hosted by Boz, Slaygon and Leonie. The show featured a run down of the last year's events and popular remixes of each months, with award announcements inbetween.
The Best Newcomer 2016 award was announced and went to Armandox.
The second award went to ROTY award regular daXX as Best Veteran 2016.
Best Amiga Remix 2016 was awarded to Rapture for his epic Pinball Prelude Medley.
Best c64 Remix 2016 went to Mordi for his updated version of Why Me.
The special honour of the Lifetime Achievement Award 2016 was given to Ziphoid for his myriad contributions to the scene, and also to Ben Daglish, who apart from being an original legendary composer of the 80s is still active and around in the scene.
Also SLAY Radio listener Maltus was awarded as Beer-deliverer of the Year as a personal award of the SLAY staff for his extraordinary support (like, you know, actually delivering beer from Germany to the SLAY hq). 😃
Finally, the big moment approached and it was time to award the main price, Remixer Of The Year 2016 and it went to MRT, second year in a row!
MASSIVE CONGRATS!

Full results list
---
19/02/2017
The time has come to celebrate and acknowledge the remixers' work in the C64 community by presenting the yearly ROTY Awards, as voted by the users at www.remix64.com. This year it's SLAY Radio's turn to give out the awards and give you a run-down of what happened in 2016.
As usual the show will be joint-broadcast on SLAY Radio and Scenesat Radio.
The show chat will be on EFNet #remix64
Don't miss it!!
---

News archive...
Events
Forum
Live Broadcasting
DJ Podcasts
News & Blogs
Reviews
Listening Recommendation


Times of Lore (Retro Remix)
Arranged by Maindrian
Oh! i really like this, it's a novel approach to a remix. While there are obvious floors to this remix in the production department, and with that little more knowledge or effort in this area we'd have a stunning piece of work.

The piece is what could be closely compaired to early 70's Mike Oldfield. Infact i wonder if Maindrain actually took inspiration from Mikes early work for this remix. I'm not saying this because of the guitar playing, but because of some very distinct rifts and styles what could be compaired to Oldfield himself.

I like this raw sound alot, the unapologetic nature of it's unpolished feel just adds to what the piece is all about. I doubt many will agree with my review as the style is very much an aquired taste. But at least for me i regard the remix very highly.

Review by Tas
Random review


Savage (Boom!Tsk!Fz!)
Arranged by FeekZoid
A fantastic start, I don`t think it can be done more perfectly than this! But while I don`t always agree with FeekZoid`s choices in the rest of his remix, I think a lot of people will enjoy this one. Certainly not your below-average boom-tsk remix, but certainly not the best one, either. But I am sure we`ll all listen to it more than once, becuase it`s hard to get it out of your head. The lead line is just as good as the opening seconds, and the tune in general shows a lot of creativity. But all those ideas just seem to fly out in all direction - there`s no cohesiveness.

Review by LaLa
Latest Review


Ghosts'n Goblins [Unfinished Swing Mix]
Arranged by Zyron
this is a really nice version love the bass groove, wish it could be finished and see what it could become.
Review by Popalazarou

More reviews...
Music
Check this out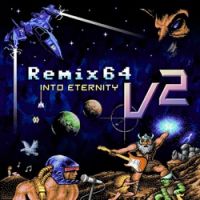 Remix64 - Into Eternity
by Various Artists
The original "Remix64" title referred more to the community embracing the remixers than the content of the CD. And so it was that Remix64 - Into Eternity turned into a symphonic epic not a million miles away from the popular Merregnon series of CDs: there certainly is a teutonic air to much of the album. Highlights of the CD include Markus Holler's spine-tingling reworking of "Fist 2" with flute and ethereal vocals, and Thomas Detert's "Spellbound" which gives life to Rob Hubbard's own dark vision for the piece. Belying the computery artwork of the cover, this CD is a powerful piece of fantasy soundtrack more than it is a remix CD. Enjoy it at that level, and be blown away.

Check it out...