Latest news
01/03/2016
Finally, the Last Ninja Trilogy gets a full set of remixes!
---
05/02/2016
The show kicked off on Satudary 6th February 2016 at 20:00CET, with a joint broadcast on scenesat.com and slayradio.org, for the first time hosted by Steph and Kevman from Pittsburgh, Pennsylvania. As usual, the setting for the show was a rundown of the most successful remixes of each month, in the categories c64. Amiga and Scene Albums, spiced with Scene news of the year.
After 20 minutes, the first winners were announced for Best Newcomer 2015. The #1 price in that category went to Tim Wright aka CoLD SToRAGE, who had released 6 remixes in 2015.
During the show there was a surprise preview for Project: Sidologie with an awesome remix of Trap by Marcel Donné.
The next awards category was Best Amiga Remix, where daxx was once again able to score a top position, this time with two tracks at once: Stardust Memories and Mega-Lo-Mania Orchestra Medley.
Erwin "Tron" Beekveld was awarded the Lifetime Achievement Award 2015 for his long time continuing support, contribution and friendship to the scene.
Up next, Best c64 remix went to Slaygon with his tribute to DJ Skitz, Never Die.
In the category Best Veteran Mordi was able to score the top position, closely followed by daXX.
Finally, the grand prix of the remixing scene, the Remixer Of The Year Award 2015 was won by MRT, with daXX and Mordi coming in a very close shared second place.
Congratulations everyone, you've all deserved it. And remember, you are all winners! Thank you for keeping the scene alive, and thank you Steph and Kevman for the awesome show!
---
20/09/2015

The recent album ReLive by the SIDrip Alliance is now fully listed at Remix64. That means you can now go and listen to the tracks and leave your votes here at Remix64.com. This is a nice way to give something back to the artists, so head over to the album page.
The album is available as free download  on their homepage, and if you're still not convinced to grab your copy, read the review by LaLa.
---

News archive...
Events
Forum
Live Broadcasting
DJ Podcasts
News & Blogs
Reviews
Listening Recommendation


The Tube (FM Mix)
Arranged by ifadeo
I waited for this remix much time!

I like too much this David Whittaker tune (The Tube was one of my first game on c64) ... your remix is great but not perfect... sincerely I prefer the true SID sound... you can re-remix and improve the original sound ;-)
Review by mattsid
Random review


Wizball High Score (Sax Solo)
Arranged by markg
Is it just me or is the saxophone out of tune? It sounds flat to me, however great idea.... a bit more could have been done with the backing, it sounded a bit lame. Nice interpretation with the lead part, this could have been something really special...

Review by ferris
Latest Review


Supremacy
Arranged by MRT
Well, I have my problems with that tune. MRT, please, don't be angry while reading this, but this tune is not your best one. It's a nice one, but not more. It is nothing which can kick my from my chair, it is nothing which make me dance. Nice to listen to - but that's it. The most problem I have with this tune are not the violins as like as Boz, Mordi and Chris Abbott have written. My personal problem with that tune are: The drums. Your version of Supremacy, MRT, is a chilling one, compared to the other already existing versions of other arrangers. For just the melody and what you made of it, it's a good tune. But the drums you use make the whole song restless. For a calm melody you should - in my opinion - use a calm drum. You used a restless drum (or drumkit, whatever...). I hear more of the drums than the melody. That ruins the song. I'm sorry, but this is not my taste. So I can give only a yellow smile - but, to be honest, not more. Maybe your next tune will be better for me :-) Please remember, MRT: this ist just mine opinion. Other will maybe agree, others will maybe disagree - we will see...
Review by Grigul

More reviews...
Music
Check this out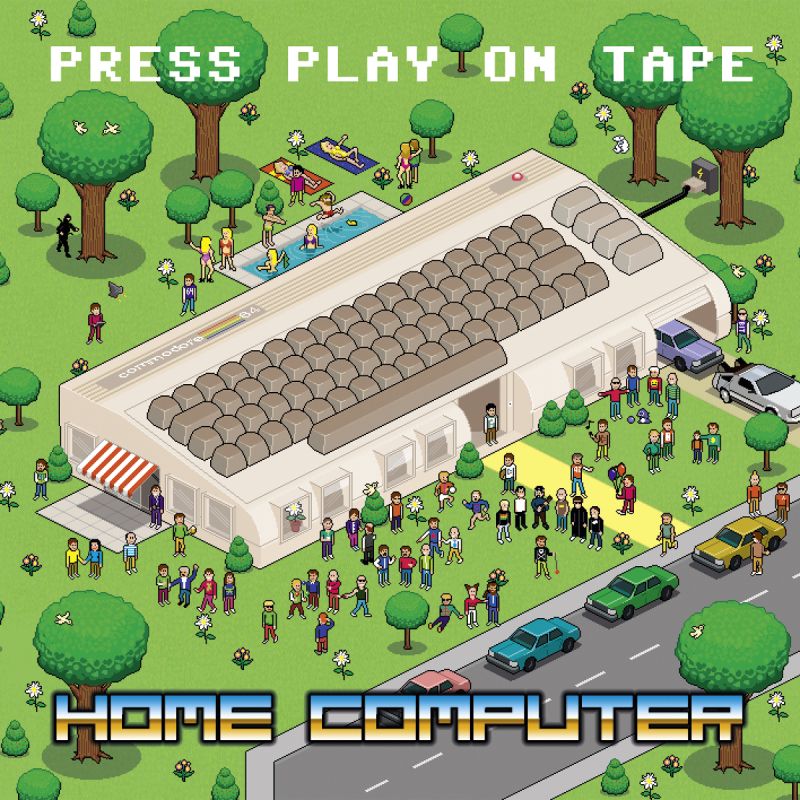 Home Computer
by PRESS PLAY ON TAPE
PRESS PLAY ON TAPE are legends. This is their third studio CD, and it's a doozy, combining kick-your-bottom C64 remixes with original brain-beatingly good tracks. Although obliterated from Wikipedia by pedants who can't cope with reality, there's no keeping these guys down! Rock on!! 26 tracks of mayhem, a double CD, over 2 hours of music! Comes with a 32 page souvenir booklet, packed with photos of Soren. And some other guys, not sure who they are, but they look dodgy to me... *hehe* This album is not available to buy from us digitally, only from iTunes, but FLAC and MP3 Album packs are downloadable when you purchase the CD. * Note: all preorders have now been sent out * "PPOT delivers exactly what is expected of them, and their fans will love this CD. New fans will without doubt take it to their hearts too, because no matter if you're a fan of vocals on remixes or not, there's plenty of music to enjoy." - Andreas Wallstrom, C64.com

Check it out...