Latest news
28/08/2014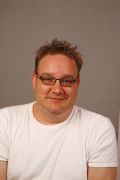 On the 22nd of August Mark Visser (alias Misser / Mr.Mad) unexpectedly passed away. As a coder and cracker was responsible for numerous demo's and cracks and was loved by many in the C64 scene as a cuddly, crazy and happy Dutchie. He will be sorely missed. A website has been created in his memory where you can express your condolences or leave any message you wish.
Everything will be printed and personally handed to his family.

Condolences website

Share
---
Advertisement
Bleep and Destroy by Vincenzo feat. NecroPolo
8-bit bleeps meet crushing metal guitars, synthesizer sounds and love for oldschool computers. These ingredients required to cook on high temperature together and the result is some fine sid-rock,  for the fans of chip'n'roll everywhere!
Get the full EP here:
http://strayboom.bandcamp.com/album/bleep-and-destroy
Playable, oldschool point-and-click style musicdisk version:
http://www.pouet.net/prod.php?which=62957

Submitted by vincenzo

http://strayboom.bandcamp.com/album/bleep-and-destroy
19/02/2014
After a hiatus of almost 7 years Subzero is bringing back his c64 podcasts!!
The podcasts that begun back in 2007 ran for just over a year, with 36 shows being released. And now, after a long rest he's decided to bring them back!
Promising to be as true to the original format as before, with special 'themed' shows, Subzero hopes he can bring the listeners back.
Podcast no.40 'The Ocean Wave' is due for release in late february/early march and will focus on an array of music from games released by OCEAN software.

Submitted by Subzero

Podcasts Facebook Page

Share
---

News archive...
---
Events
Forum
Live Broadcasting
DJ Podcasts
News & Blogs
Reviews
Listening Recommendation

Cauldron II - I am a Pumpkin Man
Arranged by trauma
When I first listened to this, I must admit it was a little too 'strange' for me. Original and with an incredibly unique approach the tune soon began to grow on me, and as I listened more I slowly became hooked. The whole thing gells together so well, and this is a testiment to the artistic quality of trauma - he really has created a genuinely original and hugely listenable remix of a fairly weak C64 tune. The lyrics help enormously, but the musical merit of this remix should not be overlooked. If you've downloaded this and found it (as I did) a little to 'odd' - please give it a chance. Sometimes the finest tunes are the ones that you grow to love - and not just instantly like.
This is indeed, a fine tune! Top rated Trauma - showing his individual class - well done.
Latest Review

Maniac Mansion (Clubmix)
Arranged by Putzi
This remix is so good! I love the rough bass instrument, I love the insertion of real sound-effects from Super Mario Land on the GameBoy. Very enjoyable!

More reviews...
Music
Check this out
Home Computer
by PRESS PLAY ON TAPE
PRESS PLAY ON TAPE are legends. This is their third studio CD, and it's a doozy, combining kick-your-bottom C64 remixes with original brain-beatingly good tracks. Although obliterated from Wikipedia by pedants who can't cope with reality, there's no keeping these guys down! Rock on!! 26 tracks of mayhem, a double CD, over 2 hours of music! Comes with a 32 page souvenir booklet, packed with photos of Soren. And some other guys, not sure who they are, but they look dodgy to me... *hehe* This album is not available to buy from us digitally, only from iTunes, but FLAC and MP3 Album packs are downloadable when you purchase the CD. * Note: all preorders have now been sent out * "PPOT delivers exactly what is expected of them, and their fans will love this CD. New fans will without doubt take it to their hearts too, because no matter if you're a fan of vocals on remixes or not, there's plenty of music to enjoy." - Andreas Wallstrom, C64.com

Check it out...