Latest news
19/02/2017
On sunday, 19th February 2017, the awards show started broadcasting at 20:00 CET from the SLAY Radio headquaters, hosted by Boz, Slaygon and Leonie. The show featured a run down of the last year's events and popular remixes of each months, with award announcements inbetween.
The Best Newcomer 2016 award was announced and went to Armandox.
The second award went to ROTY award regular daXX as Best Veteran 2016.
Best Amiga Remix 2016 was awarded to Rapture for his epic Pinball Prelude Medley.
Best c64 Remix 2016 went to Mordi for his updated version of Why Me.
The special honour of the Lifetime Achievement Award 2016 was given to Ziphoid for his myriad contributions to the scene, and also to Ben Daglish, who apart from being an original legendary composer of the 80s is still active and around in the scene.
Also SLAY Radio listener Maltus was awarded as Beer-deliverer of the Year as a personal award of the SLAY staff for his extraordinary support (like, you know, actually delivering beer from Germany to the SLAY hq). 😃
Finally, the big moment approached and it was time to award the main price, Remixer Of The Year 2016 and it went to MRT, second year in a row!
MASSIVE CONGRATS!

Full results list
---
19/02/2017
The time has come to celebrate and acknowledge the remixers' work in the C64 community by presenting the yearly ROTY Awards, as voted by the users at www.remix64.com. This year it's SLAY Radio's turn to give out the awards and give you a run-down of what happened in 2016.
As usual the show will be joint-broadcast on SLAY Radio and Scenesat Radio.
The show chat will be on EFNet #remix64
Don't miss it!!
---
18/01/2017
As you might have noticed, Remix64 was down for a day due to a server switch. The deadline for last year's ROTY voting has been extended until sunday night, so cast your votes while there is time. 😊
---

News archive...
Events
Forum
Live Broadcasting
DJ Podcasts
News & Blogs
Reviews
Listening Recommendation


Arkanoid (Blocks On Blocks Remix)
Arranged by Ras Bolding
Lovely remix of the in game Arkanoid tune that contains the melodies we all remember from the original but also some elegant reworking such as a solo played on vocoder that somewhat sounds like in between Kraftwerk and Herbie Hancock. The sounds are really good and show a good balance between 80s and modern electro clash. Plus I have seen Ras Bolding perform this in concert LIVE on a C64!
Review by Gannett
Random review


Unreal ingame Turbo Galeazzi Cut
Arranged by N-Joy of TsW
Hi there..

I read some discussion if this tune was written by Charles or by me, but it is indeed written by me.

It was made in some really low-level machinecode-type music editor. Just like the MoN one on the C-64. I couldn't use more then 8kB for the music since the game was taking so musc space already. I only used a sample for the kick and the snare and the rest were self-generated waveforms.

So you know... Great work NJoy, nice to hear that tune again after so many years...

Cheers,

Reyn

www.reyn.net
Review by Reyn
Latest Review


Supremacy (Overprime mix)
Arranged by SIDNIFY
For me it's impossible to listen to this at anything but full blast. Impeccably arranged, superbly executed. The break at 3:44 is just brilliant. If there's one tiny fault with this remix is that the choir/singing towards the end is barely audible. Other than that, amazing, amazing stuff! You guys have more SID remixes lurking on your SoundCloud page, so please, upload those to RKO, too, don't be shy! :)
Review by LaLa

More reviews...
Music
Check this out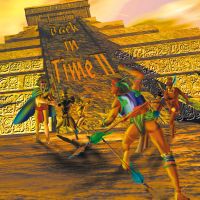 Back in Time 2
by Various Artists
Back in Time 1 broke a lot of ground, so the sequel aimed to raise the bar. The second album used some extraordinary talent such as Peter Connelly, Jogeir Liljedahl, Tonka and Danko to provide a much more varied soundscape than the first. Highlights include the beautiful orchestral version of "Forbidden Forest", the ultimate feel-good remix "Wizball 2000" and the spine-tingling "Galway is God" Rambo/Green Beret medley, as well as featuring a remastering of the first ever C64 Remix: Rob Hubbard's own "Thalamusik" from Zzap!64 issue 26. Round that off with an extended club mix of Comic Bakery and Fred Gray's own funky interpretation of his own Batman theme, and you've got a CD which still stands the test of time today.

Check it out...