Latest news
28/08/2014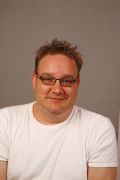 On the 22nd of August Mark Visser (alias Misser / Mr.Mad) unexpectedly passed away. As a coder and cracker was responsible for numerous demo's and cracks and was loved by many in the C64 scene as a cuddly, crazy and happy Dutchie. He will be sorely missed. A website has been created in his memory where you can express your condolences or leave any message you wish.
Everything will be printed and personally handed to his family.

Condolences website

Share
---
Advertisement
Bleep and Destroy by Vincenzo feat. NecroPolo
8-bit bleeps meet crushing metal guitars, synthesizer sounds and love for oldschool computers. These ingredients required to cook on high temperature together and the result is some fine sid-rock,  for the fans of chip'n'roll everywhere!
Get the full EP here:
http://strayboom.bandcamp.com/album/bleep-and-destroy
Playable, oldschool point-and-click style musicdisk version:
http://www.pouet.net/prod.php?which=62957

Submitted by vincenzo

http://strayboom.bandcamp.com/album/bleep-and-destroy
19/02/2014
After a hiatus of almost 7 years Subzero is bringing back his c64 podcasts!!
The podcasts that begun back in 2007 ran for just over a year, with 36 shows being released. And now, after a long rest he's decided to bring them back!
Promising to be as true to the original format as before, with special 'themed' shows, Subzero hopes he can bring the listeners back.
Podcast no.40 'The Ocean Wave' is due for release in late february/early march and will focus on an array of music from games released by OCEAN software.

Submitted by Subzero

Podcasts Facebook Page

Share
---

News archive...
---
Events
Forum
Live Broadcasting
DJ Podcasts
News & Blogs
Reviews
Listening Recommendation

Cauldron II - I am a Pumpkin Man
Arranged by trauma
Absolutely super-cool !!!!!
definitly a hit for the dancefloor, i like the details in the voice arrangment and this deep-mad-grooving bassline at the end, before the track stops suddenly.....for this ending i can give only

)instead of the

)) in "Artistic Impression" ;-)
Latest Review

Pool Party (FN mix)
Arranged by Xenox
Unfortunately I can\'t really give this much credit points. Anyone can use SID2MIDI, but the important thing is (and is what is most noticeable) is when the arranger doesn\'t double-check the original SID to ensure that all the notes are correct. The program is a really good way to capture the notes, but it doesn\'t handle slides / glides at all, hence if a song uses them and the notes ain\'t corrected, it can ruin your cover.

More reviews...
Music
Check this out
It's Binary, Baby!
by Marcus (Makke) Nilsson (feat. Andreas Wallström & Boz)
Contemporary retro pop that uplifts and amazes. A stunningly original CD in which Makke's personality shines through in every track! Highlights include the "happy hardcore but so much more" Glider Rider, the inspired hard-edged electro-synth and robotic vocals of "Cauldron 2-005", and the " Bonus tracks include Depeche Mode's "Personal Jesus" and Apoptygma Berzerk's "Bitch, as well as Makke's witty and acclaimed covers of Madballs and Artura, with Makke's Irish accent all but wiping your memory of his Swedish origins!

Check it out...