Latest news
05/02/2016
The show kicked off on Satudary 6th February 2016 at 20:00CET, with a joint broadcast on scenesat.com and slayradio.org, for the first time hosted by Steph and Kevman from Pittsburgh, Pennsylvania. As usual, the setting for the show was a rundown of the most successful remixes of each month, in the categories c64. Amiga and Scene Albums, spiced with Scene news of the year.
After 20 minutes, the first winners were announced for Best Newcomer 2015. The #1 price in that category went to Tim Wright aka CoLD SToRAGE, who had released 6 remixes in 2015.
During the show there was a surprise preview for Project: Sidologie with an awesome remix of Trap by Marcel Donné.
The next awards category was Best Amiga Remix, where daxx was once again able to score a top position, this time with two tracks at once: Stardust Memories and Mega-Lo-Mania Orchestra Medley.
Erwin "Tron" Beekveld was awarded the Lifetime Achievement Award 2015 for his long time continuing support, contribution and friendship to the scene.
Up next, Best c64 remix went to Slaygon with his tribute to DJ Skitz, Never Die.
In the category Best Veteran Mordi was able to score the top position, closely followed by daXX.
Finally, the grand prix of the remixing scene, the Remixer Of The Year Award 2015 was won by MRT, with daXX and Mordi coming in a very close shared second place.
Congratulations everyone, you've all deserved it. And remember, you are all winners! Thank you for keeping the scene alive, and thank you Steph and Kevman for the awesome show!
---
20/09/2015

The recent album ReLive by the SIDrip Alliance is now fully listed at Remix64. That means you can now go and listen to the tracks and leave your votes here at Remix64.com. This is a nice way to give something back to the artists, so head over to the album page.
The album is available as free download  on their homepage, and if you're still not convinced to grab your copy, read the review by LaLa.
---
17/08/2015

During AROK Party 2015, SIDrip released a free remix album called ReLive. As the title tells it is a live-in-studio record. If you are into remixes played by real instruments, check this out.

Submitted by NecroPolo

SIDrip home

bandcamp

soundcloud
---

News archive...
Events
Forum
Live Broadcasting
DJ Podcasts
News & Blogs
Reviews
Listening Recommendation


Dragons Lair 2 - The Romantic River Epic
Arranged by Maindrian
I think Maindrian is the new guy on the block with a guitar. Sounds like a classic rock ballad, with a very familiar drum beat going and some nice silent guitar work. Close to the 3 minute mark there's use of some phat distorted guitar, but well laid upon the other guitars. At the end, the song is as beautifully mellow as it was for starters.

I like this remix a lot better than the first attempt at Dragon's Lair 2 that Maindrian tried. I like it as much as Maindrians Times of Lore remix, it has the same melancholic mood to it, but this song is made entirely on "real" instruments, no SID usage. I look forward to see him giving more songs his great guitar treatment. If you missed out on his Times of Lore, go get it.

Review by immacolata
Random review


The last ninja - palace gardens (loader)
Arranged by wk-one
Warning upfront: my favorite Remix64 track is Tonka's version of this same song. I'm also a big fan of the original SID. That puts the bar way up... well up there, quite high. Not all too fair perhaps, but c'est la vie.

This arrangement isn't bad. But I wouldn't wanna call it great either. So, it's average, hence the rating. Except nostalgia, cause it's very faithful to the original, that is a plus. What could wk-one do to make this better and rise above average?
Let's start off at the first 2 minutes: they're in desperate need of... shape. Shape? Shape. It's too plain right now, and it doesn't really have... well, shape. Or a face. You pick, it's all just terminology: download and listen to the song and it becomes clear in about 2 minutes what I'm trying to say. Fortunately, after these 2 minutes (you know what, it's actually 2:12, but that's for nitpickers) the song starts to show its true face ever so slightly, with drums and just generally more sound, more flair. Unfortunately it's still not convincing enough to blow you away or anything.

The way I see it, this is a fine foundation, but you have to build the house on top or you still end up without a roof over your head. If this is a first attempt, it's surely not bad at all. Just add some bells 'n whistles.
Review by cyphax
Latest Review


Thing On A Spring (Coin-op Conversion Remix)
Arranged by Martin Dodd
Sticks to the original memorable tune with repetitive beats, nice body with flair. Easily recognized, easy to groove along, without unnecessary artistic flight-of-fancy.
Review by LoadWB

More reviews...
Music
Check this out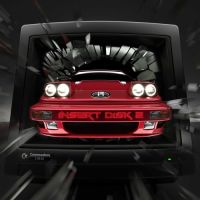 Insert Disc 2
by Instant Remedy
7 years in the making, this is a labor of love – all contained in one album. Including the mega mixes, there actually are 25 remixes on the album. Filled with dance remixes of music from famous Amiga games.

Check it out...