Latest news
28/08/2014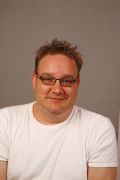 On the 22nd of August Mark Visser (alias Misser / Mr.Mad) unexpectedly passed away. As a coder and cracker was responsible for numerous demo's and cracks and was loved by many in the C64 scene as a cuddly, crazy and happy Dutchie. He will be sorely missed. A website has been created in his memory where you can express your condolences or leave any message you wish.
Everything will be printed and personally handed to his family.

Condolences website

Share
---
Advertisement
Bleep and Destroy by Vincenzo feat. NecroPolo
8-bit bleeps meet crushing metal guitars, synthesizer sounds and love for oldschool computers. These ingredients required to cook on high temperature together and the result is some fine sid-rock,  for the fans of chip'n'roll everywhere!
Get the full EP here:
http://strayboom.bandcamp.com/album/bleep-and-destroy
Playable, oldschool point-and-click style musicdisk version:
http://www.pouet.net/prod.php?which=62957

Submitted by vincenzo

http://strayboom.bandcamp.com/album/bleep-and-destroy
19/02/2014
After a hiatus of almost 7 years Subzero is bringing back his c64 podcasts!!
The podcasts that begun back in 2007 ran for just over a year, with 36 shows being released. And now, after a long rest he's decided to bring them back!
Promising to be as true to the original format as before, with special 'themed' shows, Subzero hopes he can bring the listeners back.
Podcast no.40 'The Ocean Wave' is due for release in late february/early march and will focus on an array of music from games released by OCEAN software.

Submitted by Subzero

Podcasts Facebook Page

Share
---

News archive...
---
Events
Forum
Live Broadcasting
DJ Podcasts
News & Blogs
Reviews
Listening Recommendation

Rambo Reloaded
Arranged by Allister Brimble
Before I start tearing this apart, let me say that overall it's an excellent remix, hugely enjoyable! I have yet to figure out what the Morse-code spells out in the intro, but I'll get to it eventually.
Having said that, the devil is in the details. This orchestral remix is in dire need of more dynamics: the powerful sections are not powerful enough, the soft sections are not soft enough. I think it would help if the military march drums were silenced during the soft parts (e.g. 1:32-1:52). And they should be supported by big timpani or even by rock-band drums during the powerful parts. Those also need stronger brass and strings.
But I really like your arrangement variations on the original SID. What I do miss are those short little trills (e.g. at 1:09) that provide some nice ear-candy in the original.
Hair-splitting apart, it's definitely a keeper. I'm already looking forward to your next orchestral epic!
Latest Review

Ultima V - Greyson's tale
Arranged by Pirx
This is an orchestral version of the Ultima V track by Kenneth Arnold. I\'ve always enjoyed Ultima soundtracks, many of the tunes are hammered into my brain after so many hours with the game.
That being said, this remix is not up to the standards I\'d like to hear.
Firstly, it sounds like it is a direct midi convert of the original. Such remix can be done in minutes, there is no effort put on it.
There is no new creative arrangement and the instruments sound very sampleish and artificial. This can be forgiven as access to decent orchestral instrument sets or real orchestra is often not possible for hobbyists. Some dynamics and making it to appear like it is played for real would make a huge difference.
So, as a plain convert I vote this to be average. It is not bad, as the arranger has not done anything to ruin the original composition, but has not improved on it either. Easy listening only.

More reviews...
Music
Check this out
Back in Time 3
by Various Artists
A five-star journey in space and time inspired by the music of the C64. Unique two part booklet gives information about the tracks, and presents a story outline synchronised with the CD to enhance listening pleasure. Highlights include the epic symphonic "Trap", featuring performances from both Ben Daglish and Mark "madfiddler" Knight, the hell-for-leather technological sound of "One Man and his Droid", and three extraordinary versions of "Zoids". The package is topped off by the amazing artwork of Mat Recardo, Arvid Weber and Steve Barrett.

Check it out...