Latest news
28/08/2014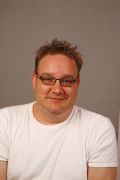 On the 22nd of August Mark Visser (alias Misser / Mr.Mad) unexpectedly passed away. As a coder and cracker was responsible for numerous demo's and cracks and was loved by many in the C64 scene as a cuddly, crazy and happy Dutchie. He will be sorely missed. A website has been created in his memory where you can express your condolences or leave any message you wish.
Everything will be printed and personally handed to his family.

Condolences website

Share
---
Advertisement
Bleep and Destroy by Vincenzo feat. NecroPolo
8-bit bleeps meet crushing metal guitars, synthesizer sounds and love for oldschool computers. These ingredients required to cook on high temperature together and the result is some fine sid-rock,  for the fans of chip'n'roll everywhere!
Get the full EP here:
http://strayboom.bandcamp.com/album/bleep-and-destroy
Playable, oldschool point-and-click style musicdisk version:
http://www.pouet.net/prod.php?which=62957

Submitted by vincenzo

http://strayboom.bandcamp.com/album/bleep-and-destroy
19/02/2014
After a hiatus of almost 7 years Subzero is bringing back his c64 podcasts!!
The podcasts that begun back in 2007 ran for just over a year, with 36 shows being released. And now, after a long rest he's decided to bring them back!
Promising to be as true to the original format as before, with special 'themed' shows, Subzero hopes he can bring the listeners back.
Podcast no.40 'The Ocean Wave' is due for release in late february/early march and will focus on an array of music from games released by OCEAN software.

Submitted by Subzero

Podcasts Facebook Page

Share
---

News archive...
---
Events
Forum
Live Broadcasting
DJ Podcasts
News & Blogs
Reviews
Listening Recommendation

Zoids
Arranged by o2
I found this remix a few years ago on the internet, and have always kept it in whatever my play-of-the-year is, always rated tops.
Although I missed Zoids the Game, I was a huge C64 fan in the early 90's, ending up owning three, and the SID chip awed me from the beginning, and still does.
o2's remix of Zoids has the unerring ability to make me nostalgic for the 'good old days'. For the emotional quotient that this song has, I must rate it tops.
Thanks o2.
Latest Review

Enlightenment - Druid II
Arranged by Markus Schneider
Ok, this is a first class orchestral hollywood stuff like Hans Zimmer and Co are doing. If you like orchestral stuff, you will love this remix! Every part flows well into each other. needless to say you want more with every single second. It reminds me to the Pirates Soundtrack which is orchestral rock. Give us more!

More reviews...
Music
Check this out
RAKBIT
by NecroPolo
NecroPolo has produced a stunning album which is built on a vintage prog-sound: from hard as nails to Rhodes-heaven, NecroPolo has got beneath the skin of the pieces and created something which is totally authentic to their spirit.
As if that wasn't enough, this album features the first ever C64-executable album cover, complete with classic scrolltext and the original SIDs that appear on the album, in one PRG!
And if THAT wasn't enough, this demo contains the first ever usage of a revolutionary new SID encoding format which enables any complexity of SID to be played back with minimal raster time, no matter how complex the player! Named SIDRIP, this routine was produced by Hermit specially for this demo, because pieces such as Scoll Machine or Rimrunner needed to feature in this demo, and their players were far too difficult to squeeze into a one-file demo.

Check it out...