Latest news
20/09/2015

The recent album ReLive by the SIDrip Alliance is now fully listed at Remix64. That means you can now go and listen to the tracks and leave your votes here at Remix64.com. This is a nice way to give something back to the artists, so head over to the album page.
The album is available as free download  on their homepage, and if you're still not convinced to grab your copy, read the review by LaLa.
---
17/08/2015

During AROK Party 2015, SIDrip released a free remix album called ReLive. As the title tells it is a live-in-studio record. If you are into remixes played by real instruments, check this out.

Submitted by NecroPolo

SIDrip home

bandcamp

soundcloud
---
18/07/2015

Fans of video game music, chip music, SID music or C64 game music gotta check out:
Jeroen Tel - Tel Me More 
C64 video game music pioneer Jeroen Tel has launched this IndieGogo project with the aim
to release a C64 remake album featuring at least 12 of his best known classics.

---

News archive...
Events
Forum
Live Broadcasting
DJ Podcasts
News & Blogs
Reviews
Listening Recommendation


Samurai Warrior (Usagi Y Mix)
Arranged by Majkol
This is one of the best remixes around. I always liked Brennan's tunes, and this is the perfect homage to the karate tune master.

Great arrangement, although I'm not sure about that koto portamento...
Review by prism_emf
Random review


Great Giana Sisters Opening Theme
Arranged by Mauve Park
I'm afraid that the best thing that can be said about this remix is that's it's not inherently bad, and the experience of listening to it, if not the remix itself, is made so much worse by the feeling of disappointment it brings in just a few seconds after start.

It starts promising - immensely so, with a kind of "children at playground" background loop as the Giana Sisters theme opens with an eerie xylophone-ish instrument I could swear I've heard before in some horror movie or other, and it was a genuine surprise how well the theme fit to the creepy mood. "Okay," I thought, "it's a bit too fast, but I can live with that." And after a short while, it delivered... nothing. Nothing at all. About half a minute of eeriness, the melody shifts into the "generic remix" gear and stays there until the end. A little beat here, a little variation there, and we're done. There is one or two noteworthy points, likethe little twist around 1:23, but it's not nearly enough to pull it out of mediocrity; it's briefly promising, but it doesn't last.
Review by quinch
Latest Review


Virocop: Funny Old Game
Arranged by Allister Brimble
Well done Allister, what a remake! Thank you for such a masterpiece. So much memories behind this music. A very nice work. Maybe you will decide to remake other musics from this game ? ;-)
Review by iXien

More reviews...
Music
Check this out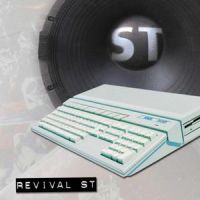 Revival ST
by Various Artists
Atari ST inspired remixes of some of the most famous tracks from the Atari ST era. Highlights include Rob Hubbard's Jupiter Probe, a swirling interpretation of Tim Follin's masterwork LED Storm, the classic Exolon and an fusion of ST sound and classic retro synths on "Dragon Flight". Composers featured include David Whittaker, Jochen Hippel and Rob Hubbard. CD produced by Neil Carr and Rafael Dyll.

Check it out...