Latest news
01/03/2016
Finally, the Last Ninja Trilogy gets a full set of remixes!
---
05/02/2016
The show kicked off on Satudary 6th February 2016 at 20:00CET, with a joint broadcast on scenesat.com and slayradio.org, for the first time hosted by Steph and Kevman from Pittsburgh, Pennsylvania. As usual, the setting for the show was a rundown of the most successful remixes of each month, in the categories c64. Amiga and Scene Albums, spiced with Scene news of the year.
After 20 minutes, the first winners were announced for Best Newcomer 2015. The #1 price in that category went to Tim Wright aka CoLD SToRAGE, who had released 6 remixes in 2015.
During the show there was a surprise preview for Project: Sidologie with an awesome remix of Trap by Marcel Donné.
The next awards category was Best Amiga Remix, where daxx was once again able to score a top position, this time with two tracks at once: Stardust Memories and Mega-Lo-Mania Orchestra Medley.
Erwin "Tron" Beekveld was awarded the Lifetime Achievement Award 2015 for his long time continuing support, contribution and friendship to the scene.
Up next, Best c64 remix went to Slaygon with his tribute to DJ Skitz, Never Die.
In the category Best Veteran Mordi was able to score the top position, closely followed by daXX.
Finally, the grand prix of the remixing scene, the Remixer Of The Year Award 2015 was won by MRT, with daXX and Mordi coming in a very close shared second place.
Congratulations everyone, you've all deserved it. And remember, you are all winners! Thank you for keeping the scene alive, and thank you Steph and Kevman for the awesome show!
---
20/09/2015

The recent album ReLive by the SIDrip Alliance is now fully listed at Remix64. That means you can now go and listen to the tracks and leave your votes here at Remix64.com. This is a nice way to give something back to the artists, so head over to the album page.
The album is available as free download  on their homepage, and if you're still not convinced to grab your copy, read the review by LaLa.
---

News archive...
Events
Forum
Live Broadcasting
DJ Podcasts
News & Blogs
Reviews
Listening Recommendation


Thrust
Arranged by JB
F---ing awesome! Unusual style for Thrust done to perfection with lots of fantastic improvisations (on piano, on sax - you name it) that fit in seamlessly. This tune would not be out of place on Reyn Ouwehand`s Nexus album. Absolutely superb! Two thumbs up! My only problem is that my vocabulary doesn`t have enough superlatives to describe this remix...

Review by LaLa
Random review


Dixie Bits (country punk edition)
Arranged by NecroPolo
We need more of these: medleys of various tunes! We need more of these: fun little remixes in "traditional" styles! We need more of these: actual guitars instead of synthetic ones!

This remix should be included as a bonus track on a re-release of Reyn's "The Blithe, the Blend and the Bizarre" - it'd be a perfect fit.

I'd be a bit happier if it was more uptempo, but that's the only complaint I could think of for this piece.
Review by LaLa
Latest Review


Benefactor Forest Level - Odee Remix
Arranged by Odee
Excellent remix of the Olof Gustafsson's melody. Takes the best out of the original tune and introduces even more depth and rhythm into it. It is very relaxing because of the instruments used - especially the bells and nice, low tempo. What I need more? More remixes of tunes from Benefactor!
Review by Raster

More reviews...
Music
Check this out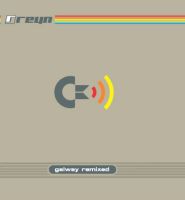 Galway Remixed
by Reyn Ouwehand
The ideal partner to Project Galway to celebrate the genius of Mr Galway himself, this CD is a slice of accomplished, hard-edged synth with a contemporary edge not blunted since its release. Highlights include a great dancey "Wizball" reminiscent of Wizball 2000 but with its own flavour (and a reverse attack that sends shivers down the spine), a Miami Vice that you can lose your consciousness in, and a full length Parallax that really conveys the thrill of the melodic ending of the piece.

Check it out...