14/02/2018
Yet again, we celebrate and acknowledge the work of the remixers in the C64 and Amiga community by presenting the yearly ROTY 2017 Awards, as voted by the users at remix64.com.
The date is 21/02/2018
20:00 CET
This year it's SceneSat Radio's turn to give out the awards and give you a run-down of what happened in 2017.
As usual the show will be jointly broadcast on SceneSat Radio and SLAY Radio, and show chat will be on EFNet in the channel #remix64.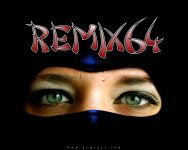 06/02/2018
Hey all, it was about time for a design overhaul of our beloved Remix64.com.
The new layout is tidy and works with your mobile.
Mind that there are still a lot of sub-pages (Tracks, Remixer infos) that need to be redone to work in your phone. This will happen little by little, so thanks for your patience.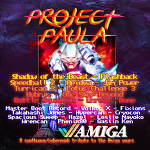 23/05/2017
A new Amiga tribute album by various Synthwave producers is now available on Bandcamp with a name-your-price policy. It includes 12 remixes of classic amiga games : Apydia, Flashback, Speedball 2, Shadow of the Beast, Jim Power, Hybris, Lotus III, Battle Squadron, Turrican 3, One Step Beyond and Dune.

Submitted by Nemler86

Bandcamp page
Check this out
Remix64
by Various Artists
Remix64 is a CD with a unique concept: how would 80s stars interpret Commodore 64 remixes? Since they weren't particularly interested in telling us, some of the brightest talents in the remix scene were used to imagine. 80s lives! This CD also showcases the talents of the prolific David Whittaker. Highlights include incredibly uplifting versions of Whittaker's Glider Rider and Storm, an incredible Depeche-Mode-does-Nemesis from Wobbler and LMan, two Ocean Loaders from Jarre's unacknowledged lost son Marcel Donné, and a sensitive and poetic Art of Noise soundscape from Thomas Detert, covering his own ironically named C64 tune "Hyper Aggressive" The 80s live! Long live the 80s!
Listening Recommendation


Wizball (Electronica)
Arranged by Gustav Taxén
I remember the arguments this caused when it was 1st released, not many people really got what was going on here.

This to me is the single most original piece of music on this entire site.. it also to me follows the guideline of "remix" far better than anyone else has EVER managed to so far. This should be a template for others in my opinion, to not be afraid to do something different, dont follow the herd like a sheep and make what YOU see as music.. some will get it some wont.

The idea which must have come around after taking far too much ketamine or something is a genius one, its the hunter S thompson of tunes, the andy warhol, the damien hurst.. whatever radical you might want to add into that list, it dares to be very different and is perfect for it.

Wizball is in there (its the main theme if you can't hear it) but its lost under layer after layer of sumptuous synth and pads, it starts as it means to go on, it reminds me in some ways of jarres stuff only far more minimal (and listenable.. sorry I bloody hate jarre.. posturing french twat stuck in a timewarp of the early 80's constantly trying to milk the last drips of his undeserved fame all showman with no show) and thought provoking, how many tunes on here are thought provoking? .. seriously.

I can totally understand why so many marked it down so low, its NOT a conventional piece of music and of course my opinion shouldn't be a reflection of what i think the entire scene should think, its just my opinion.. but this is the best tune on rko to me for being so bare, open to interpretation and for that.. beautiful.

Give it a listen and see if you can see the pretty face under the mask, you never know you might just like it.
Review by infamous
Random review


Kikstart II (Kik-It Mix)
Arranged by Sonic Wanderer
The intro reminds of the mod-style in the Amiga-AGA demo-days, some goa-trance-alike. Very nice to hear this in Sonic-perfection. The compression sounds a bit like it pumps when you listen for the first time, but later this feeling goes away ;-)
Not sounding like the average dance-tune, thats for sure. Playing it again and again.

Review by putzi
Latest Review


International Karate Part I (Synthwave Remix)
Arranged by Strange Days
It's a nice retrofuturustic treatment of Hubbard's track. The mix heavily favors the high-end throughout, which bothers me a bit. The arrangement really gets going after the full set of drums come in at 1:53, that got my hopes up high. However, the chords at 2:46 sound odd to me, both in texture and pitch, and they broke the illusion a bit. The entire track reminds me a lot of Tangerine Dream's albums from the 80s, which I think is the style Strange Days was actually going for. Nicely done!
Review by LaLa