Phenomena Music Dream 1 Starter Remix
Arranged by:
CZ Tunes (act)

Veteran

Member:
cz_tunes (member)
Original composer:
Twins / Phenomena
Release date:
16/08/2008
All-Time rank:
370.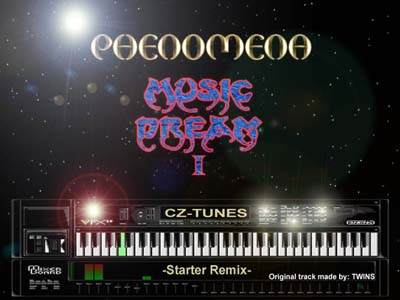 Hi.
Here is my newest remix.
I hope you will like it.
Nice greets
CZ-Tunes
Hits - 2483 overall, 1 today
---
Reviews
No reviews available. Make your vote and be the first to submit a review!

---

Makke shouts:
High standard CZ Tunes here. It lacks something I can't put my finger on. A good synth effort none the less.

Amok shouts:
Great sound and an awesome Demostyle-Feeling... Great Work!!!

prowler shouts:
Good work! (but some of the instruments seem to have a great deal of reverb making them muddy? ) However great pick! I hope to see more Twins-modules here!!!

alexh shouts:
One of my favourite tunes. The Phenomena music disks were amazing

Duncan Demerodt shouts:
Wonderfull done, again. Thx CZ Tunes..-)
---
Current Rating
80% (15 votes)


Distribution:

2

7

5

1