Sacred Stone (Gold Quest III Remix)
Arranged by:
CZ Tunes (act)

Veteran

Member:
cz_tunes (member)
Original composer:
Richard Bayliss
Tune length:

3:58

Release date:
10/04/2007
All-Time rank:
970.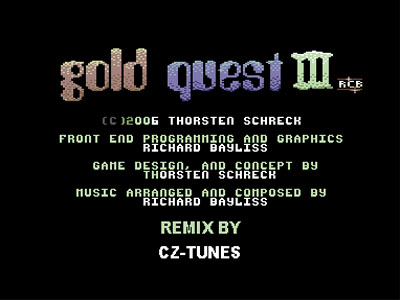 A man named SLEDGIE had asked whether someone could not make a Remix of gold Quest III. I have myself thereupon to it decided to try it. The result can you sound yourself. I hope it please you;)
Hits - 2771 overall, 1 today
---
Reviews
No reviews available. Make your vote and be the first to submit a review!

---

Skitz shouts:
I really like this one. Laid back trance which just takes me back to the good old days. Great!

Waz shouts:
It's not a bad effort, even if it's a bit laid back trance by numbers. At least it keeps the flow of the original!

klosterkatten shouts:
Ahhh, love it.

Ultra Maximum Prime shouts:
I agree it is 'trance by numbers, ' still it is well mixed with balanced samples and flows nicely. Feel good stuff, which I like.:)

kjetiln shouts:
Lovely tune! I would rank this awesome if it wasn't for the unatural lowquality drums and somewhat too stiff piano playing :) It just doesn't sound like it's 2007.

maverickbna shouts:
Wow! Takes me on a journey through the world of trance. Keep it up, CZ. Give me more Commodore 64!

chilli_uk shouts:
Hey Christian as I said I tht it was good, its not its no where near it - its lovelly and im happy to replay it time and and time again - one nice piece - one VERY SERIOUSLY NICE PIECE

condor shouts:
Very nice idea, but technical part are -

omoroca shouts:
Mixing issues! Sounds so flat. The idea is nice, but the execution could be better.

_steve_ shouts:
It's not bad, but it seems lo lack that something to lift it.

prowler shouts:
I always been weak for this dream-trance stuff...

Zilog shouts:
Beautiful!!!!!!!!!

NecroPolo shouts:
No problem with that, but for me there is nothing in the tune that would stand out the trancey crowd.
---
Current Rating
81% (34 votes)


Distribution:

9

12

9

4