D-MOB BatMix - daXX Remix
Arranged by:
daXX (act)

Veteran

Member:
daXX (member)
Original composer:
Turbobrain of D-MOB
Release date:
20/09/2008
All-Time rank:
104.
I've replay and rebuild all sounds with VSTi Synths
Wasn't easy to create the Hithouse line and the Human Leage line...
Hope you enjoy this remix
------------------
Check out and like my Facebook:
https://www.facebook.com/TheRavebusters
For the newest tunes and remixes check my soundcloud:
https://soundcloud.com/daxxtrbs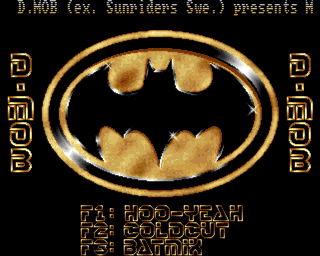 Hits - 3080 overall
---
Reviews
No reviews available. Make your vote and be the first to submit a review!

---

infamous shouts:
It gets the red face for the human league line alone. The rest of it is just a bonus tbh lol

modman shouts:
Someone get me a chair, I need a sit down. I loved this tune in. Mod format. After losing my original many years ago I tried finding it on the net but no joy. DaXX I love you. I love your C64 remixes and now you have just made me feel 16 again. Thank you

Nebdar shouts:
The begining and the ending is a bit too repeating, but the middle part was awsome

Duncan Demerodt shouts:
Another masterpiece from daxx. Well done!:-)

Rapture shouts:
Great remix, dude!:)
---
Current Rating
88% (18 votes)


Distribution:

6

8

3

1