Thanatos (BitLive2002 Anthem Edit)
Arranged by:
DHS

Veteran

Members:
DHS, Dr.Fikalover
Original composer:
Rob Hubbard
Tune length:

6:06

Release date:
27/05/2002
All-Time rank:
143.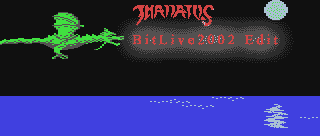 A perfect tune for blending melody and hardness.
Hits - 5138 overall
---
Reviews
REVIEW BY ms (31/01/2003)

People know that i am not a dance fan at all, but this is a must-have. Awesome in all three categories the tune is very professional and did not get boring even if it lasts 6 minutes. Ballad,Pop,Dance and Trance arranged with excellent transitions. More than innovative are the voices saying "Back in Time..." in Thanatos melody - stunning !!!


| | |
| --- | --- |
| Technical Impression: | |
| Artistic Impression: | |
| Nostalgic Impression: | |
| Overall: | |
---

condor shouts:
Excellent!

humorguy shouts:
No words. Please. No words.

k_rostoen shouts:
Probably one of the best remixes on RKO ever.

omoroca shouts:
That brass sound is a little weak. But the intro makes me dream. The refrain rocks! Very nice! Added to my collection.

mwnewsom shouts:
This is The Best Remix I have heard in a long time

NecroPolo shouts:
It really has depth as the tune ventures through different styles while remains consistent. Great job on that!

Sargon shouts:
Epic!! An original interpretation of the immortal R. H. Sid, so different... But it works magnificently!

Nebdar shouts:
Oh the classic good tune greaatly putted together

carpii shouts:
Just an amazing piece of work (and wow, has it really been 9 years?)

B3L4 shouts:
Excellent! At the beginning makes peps speechless than it goes deep, unbelievable! One of the BEST REMIX!

hillsman shouts:
Wow. 15 years old? Robert Miles (RIP) does Thanatos in a Euro Trance stylee!
---
Current Rating
92% (115 votes)


Distribution:

62

31

14

4

2

2