The Chase (Sword of Honour)
Arranged by:
DHS

Veteran

Members:
DHS, Dr.Fikalover
Original composer:
John Carehag
Tune length:

4:22

Release date:
29/09/2017
All-Time rank:
4.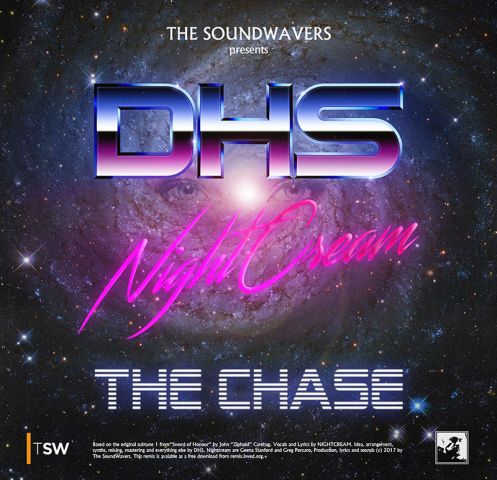 I'm working on a 80's inspired music EP (originals); then I asked myself why don't you, idiot, make a c64 remix on the style?.

And here we are.

I chosed Sword of Honour because i always loved the chorus section, simple and epic at the same time, and because, being a very short SID (about 50 secs) i had a lot of freedom working around it.

For the track (as for the EP) I collaborated with NightCream, wich is a duo of very talented writers and singers. In this case the vocals were rushed because of time constrains but I love them nonetheless.

So:

Lyrics and Vocals: NightCream.
Based on the original SID by John Ziphoid Carehag.
Production, mix, synths and evertything else by DHS.

NightCream are Geena Stanford and Greg Porcaro.

Feel free to follow me on The SoundWavers Facebook Page
and / or on our Youtube Channel.
Have fun!

Hits - 621 overall, 2 today
---
Reviews
No reviews available. Make your vote and be the first to submit a review!

---

LMan shouts:
Awesome is an understatement. WOW what a return to RKO!! Thanks to everyone involved!!

Mordi shouts:
Cool! I think there is some clipping here and there? Otherwise it sounds excellent. Outstanding overall!

Ziphoid shouts:
Teh awesomest! :D I've never heard any of my tracks being turned into something completely different, but I'm loving it!

LaLa shouts:
Perfect pastiche of 80s italo-disco style. One minor complaint: I think the vocals should be pulled forward in the mix more.

luegisdorf shouts:
ILike! Fresh materials, vocals and - a little bit of KingFury :P

njoy shouts:
Great retro vibes and killer vocals & production!

ryrynz shouts:
Cool soundtrack, don't really dig the vocals tho. No vocal version?

Drunken Fool shouts:
Another great one from DHS! Awesome comeback tune, dude.

MatrixRevolution shouts:
Only a word: Wow!!

C64.COM shouts:
My favourite cazzone does it again! Great to see you back.

omoroca shouts:
The 80s are back! Pro-quality vocals! Added to my collection.

Eon_one shouts:
10/10

ms shouts:
Awesome, mate!
---
Current Rating
97% (32 votes)


Distribution:

21

7

3

1