Carl Lewis Challenge (Reach Out For The Gold)
| | |
| --- | --- |
| | |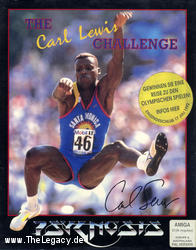 Inspired by Giorgio Moroder's Theme Reach Out for the Olympic Games 1984 in Los Angeles - where legendary Carl Lewis won 4 gold medals.
Enjoy this trip to the 80's!

Hits - 3000 overall
---
Reviews
No reviews available. Make your vote and be the first to submit a review!

---

floaf shouts:
This is a cool remix! Very well done.

Ziphoid shouts:
Really nice production. The vocals and lyrics makes it a complete 80's experience, both the good and the bad sides of it. ;) Although it lacks the most important riff in the guitar section (at 2:30), imho.

Amok shouts:
WTF???? THAT JUST BLOWS ME AWAY!!!! Dr. Future made a PERFECT rendition in 80s style. GREAT!!!

knotti shouts:
Echt klasse der Song! Very nice song.

Ic3m4n shouts:
Really great track - I love this one! What I dont love is the voice... Really sorry! For the instrumental version I would give a red one.

prowler shouts:
Very slick production! Agrees, voice is better, but still it's kinda dragging the remix down a bit for me...

XxDUSTYxX shouts:
The instruments are very good, but why these awful vocals? !! Argh!

ifadeo shouts:
This remix is so 80's, in a positive way... Very good remix, volker...

shock shouts:
That's a fun remix. The vocals however are awful and don't sit well in the mix.

Dumper shouts:
Sorry but the singing lets down the track, release an instrumental version please.

_steve_ shouts:
As the others have said, the vocal really does let this down, otherwise it'd definitely be worth a higher rating.

d.a.wilson shouts:
Very rectantly I will have to agree with the others - the use of 80's sounding instruments is brilliant but t but I'd much rather hear an instrumental version of this one...

Nebdar shouts:
It is nice with positive energy and well done, but not my tzpe of music

nummer2 shouts:
I love it. Dr Future at its best :D

SarahKreuz shouts:
Ehhhh... Am I the only one who doesn`t like it? Ehhh... Oookaaay ;)

Duncan Demerodt shouts:
Well, the music is great, but I also didn`t like the voice, but an interesting version.:-)
---
Current Rating
77% (21 votes)


Distribution:

4

9

6

2