Tusker (Into the Heart of Darkness ft. Anna Black)
Arranged by:
K8-bit (act)

Veteran

Member:
K8-bit (member)
Original composer:
Matt Gray
Tune length:

7:52

Release date:
30/05/2011
All-Time rank:
1042.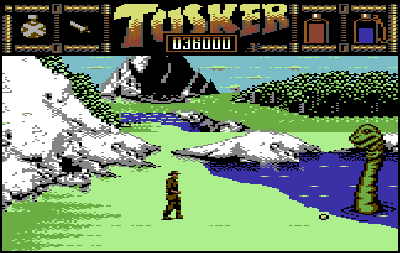 AN EPIC 3 MILLION YEARS IN THE MAKING!!!
(Or... 2 Lanky bints with obsessive compulsive perfectionism finally agree the tune is finished!)

This little inkling of an idea for a cover kind of grew and grew, as I went from where I had in mind - a synthy cover of the rather dark tune...
but someone had already covered it in quite a nice synthy way, and so I thought maybe a full on rock style -
but I was loathe to do so after having just done one.
So, I decided to approach the piece in a more grandiose way, a progressive fusion of 8-bit, orchestral instrumentation, and raucous rock,
with an aggressive electronica sound.  Then I had my best idea - ask fellow 8-bit femmezoid Anna Black to collaborate with a spoken
dialogue sequence, telling the story of the TUSKER hero's adventures (as seen in level 2 of the game) - so a basic story outline was penned,
then tweaked.  An initial recording was made, and the feel was good, so we pressed on.
The story of the dialogue comes from the Tusker game itself, along with some nods to some movie and gaming in-jokes/conventions.
Musically this was a very difficult track to produce, as it evolved over time, and the mastering of the actual mix proved very complex -
for this I'd like to say thank you to Putzi who gave me some excellent advice with the technical side of audio mixing.
However, as is often the case for musicians, sometimes you work so hard on a piece that it begins to drive you mad, and at the end I
just wanted this one out the door, though even as it went out the door I thought oooh I could've added that etc !
Sometimes you've just got to let the kids go!
The final track is very long, but is driven by the storytelling element.  I have produced two other versions however, a shorter one, driven
by the rock element, sans le vocal sequences, for those of you with ADHD (you know who you are!!!) - and the full length but instrumental
version.
Kate
Hits - 3140 overall
---
Reviews
REVIEW BY NecroPolo (26/11/2011)

Generally, folks take a SID and do something with it and that is a SID remix as a funny definition says. In the case of KateZ, it changes as take a SID and do something DIFFERENT with it. Adding elements of movie score-style complexity and a heavy dose of sound design, listening to her tracks give you a different experience. If you're open for that or not - you decide.

Being an explorer has nothing to do with popularity. It is about breaking the barrier. It's something that has been always here in the C64 scene. This track oozes that message so this attitude is true to the spirit that keeps everyone coming back.

Back to the remix itself, it reminds me a little of old (not necessarily fairy) tales released on phono, telling a story pretty well without using the eyes, stimulatiing the imagination. I miss those times.

Thanks for the time travel! I really appreciate the way this 'tale' is presented.

| | |
| --- | --- |
| Technical Impression: | |
| Artistic Impression: | |
| Nostalgic Impression: | |
| Overall: | |
REVIEW BY putzi (30/05/2011)

Technical: mixage is brilliant, EQ is especially rockish, overall soundscape is tight but not drowned at all: perfect.

Artistry: this is one of the few remixes where you get both the original bits and more stuff added by the remixer. I recognise Matt Gray's bassy synth sound and at the same time it is Kate's rock-sound like in the earlier City Bomber-remix. A rare blend of artistry and nostalgia.
Anna's narration supports the adventure-idea of the whole track which lets you forget that it is 8 minutes long!

Nostalgia: yes, it is a remix of an original SID by Matt Gray. And more! Some SID-bits at 2:19 which then fade into the rock-sound: very cool, I love this part.

| | |
| --- | --- |
| Technical Impression: | |
| Artistic Impression: | |
| Nostalgic Impression: | |
| Overall: | |
REVIEW BY ethan_thorn (30/05/2011)

I don't know what to say other then very bloody awesome i love this track if this is not in your list of best C64 remixes then it should.

| | |
| --- | --- |
| Technical Impression: | |
| Artistic Impression: | |
| Nostalgic Impression: | |
| Overall: | |
---

YogibearRenoise shouts:
Wooooooow! This is a TOP production! Absolutely fantastic!

CharlieC shouts:
Lose the "guitar", use a smaller snare and have someone else do the vocal part. Everything else is top notch.

c64glen shouts:
A perfectly crafted epic remix. Works on every level.

maindrian shouts:
WHOOMPH. Okay, loved your last Tusker remix. Can't even put into words what I feel about this one, but it's far beyond mere "love". Oh, and Anna as well. Brill.

exocytosis shouts:
Some lady speaking with a thick, British accent doesn't really do it for me - especially when the music itself is way, way sub-par. This tune deserves its place at the bottom of the Remix:Kwed:Org-trashcan.

Mordi shouts:
That's awfully polarizing, petah. Anyway, I didn't like the voice-sections too much either. I just think her voice doesn't fit. Otherwise the track is brilliantly mixed and all-round outstanding. Would be cool to see more remixers do unique works likethis

ryrynz shouts:
Love the music pity about the talking.

schallmauer shouts:
Cant get anything out of it and the talking is annoying

pie vs pie shouts:
Its actually well produced and very atmospheric top marks all round for this

IronChef shouts:
I'll rate this much higher if a non-vocal version comes out. The vocals murder this. Otherwise, it could be quite good!

SarahKreuz shouts:
I`m sry but to be honest as always; this doesn`t work. The other Tusker Remake of Kate Z is much more superior. The Scawtish vocals ruined it.:/

Magic shouts:
Love it. Very powerful

Chainsaw shouts:
Music: Very good / Speaking: I don't like it, it's too long (Good as Intro of the song, but then it's boring). Short version without long speaking would be awesome.

Melaure shouts:
Nice music and story telling

Mr.MurkyShadow shouts:
Been loving it 5 years ago. Still loving it now.=)

XxDUSTYxX shouts:
Powerful Track with excellent athmo!

L0rd3vyL shouts:
Excellent remix, K8-bit!
---
Current Rating
80% (49 votes)


Distribution:

18

13

6

5

3

4