Synth Dive
Arranged by:
LMan (act)

Veteran

Member:
Markus Klein (LMan) (member)
Original composer:
Michael Winterberg
Tune length:

3:23

Release date:
20/08/2004
All-Time rank:
1665.

Synth Dive was a little music demo by Michael Winterberg. The tune had an experimental feel to it, switching moods from upbeat to ambient, and with a lot of swirling sound FX.

I've tried to preserve that feeling in my remix of this nice little ingenious SID tune.

- LMan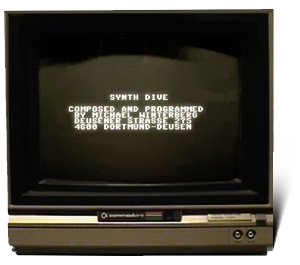 Hits - 3985 overall
---
Reviews
No reviews available. Make your vote and be the first to submit a review!

---

Dan shouts:
Had to dig the sid out for this one... But this is a fantastic mix, well produced, good choice of instruments and a joy to listen too

Skitz shouts:
Superb! I really must do something like this myself one time

Tas shouts:
Again, outstanding from markus. I think it'll suffer a wee bit because the original material he's remixed from is forgetable. Great job tho on remixing a very average sid

Makke shouts:
So well produced! Not one of LMan's finest, but still impressive!

Waz shouts:
Darn, this is mighty fine. Really uplifting melody and makes you feel happy all over. And a great job despite it being not Michael Winterberg's best SID too. Yaay!!

metalhed shouts:
Very good! Very chilled in places! Good old SID sounds in places!

eliot shouts:
Markus "Little" did a great job. *g*

ifadeo shouts:
Real nice, a Michael Winterberg cover... Rare in these days... Great work!!!

vosla shouts:
I agree with Tas on the point that the tune suffers from its root, the original SID. LMan managed to produce something audible out of it!

hbasm shouts:
Would have preferred a quiet, all ambient tune...

spellcoder shouts:
Well done

omoroca shouts:
Technically excellent but emotionally uninspired!

NecroPolo shouts:
That version puts the original tuna on an another level.
---
Current Rating
74% (27 votes)


Distribution:

6

5

12

3

1