Turrican I End Titles
Arranged by:
LMan (act)

Veteran

Member:
Markus Klein (LMan) (member)
Original composer:
Ramiro Vaca, Vince DiCola
Tune length:

4:37

Release date:
26/11/2001
All-Time rank:
375.
Congratulations!
You have liberated this world from the darkness.
Light will now return and everywhere life will come back over the ashes of the past.
This world was saved but there are lots of others which need someone like you to fight against the evil! Some of us will win, some of us will lose. Only the strong will survive. Some of us will fall, but if we don't stop it together this time, there will be no hope. The evil never wins if we believe in us.
But now the warrior needs to rest!
(Excerpt from the Turrican 1 End Titles)
ABOUT THE REMAKE
Ramiro Vaca has based his work on Vince DiCola's Transformers Soundtrack (Death of Optimus Prime). Manfred Trenz wanted it that way he told me



Though Ramiro took the hookline from the original, it is a totally different tune. DiCola's original is all orchestral, ambient and calm, while Ramiro's version is upbeat and dancey.



In my remix, I have attempted to render both tunes into one.



Hope you people like it!
- LMan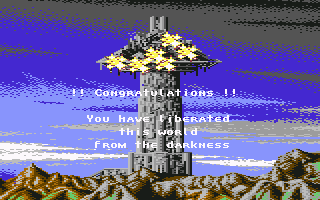 Hits - 6929 overall
---
Reviews
REVIEW BY illmatic (20/07/2003)

Fluent and melodic, simply a very well done remix, with a killer bassline. The original was also one of my favourites, back in the days. Awesome!


| | |
| --- | --- |
| Technical Impression: | |
| Artistic Impression: | |
| Nostalgic Impression: | |
| Overall: | |
---

omoroca shouts:
Classic! Added to my collection.

PhunkyData shouts:
I simply love this Remix

hillsman shouts:
Still one of the best Turrican mixes on RKO

TNT shouts:
Nearly 10 years have passed since this mix was released and it's still the best Turrican remix ever made! Great job and thanks for that!

migu shouts:
This really has stood the test of time. Great work!(17.12.2014)

SPechmann shouts:
Reminds me old days... Very good remix :)

Rapture shouts:
Very good! Melodic and good choice of sounds!
---
Current Rating
88% (57 votes)


Distribution:

23

22

6

6