Cybernoid II [feat Jennie and Kylie]
Arranged by:
Mordi (act)

Veteran

Member:
Mordi (member)
Original composer:
Jeroen Tel / Maniacs of Noise
Tune length:

6:26

Release date:
20/10/2008
All-Time rank:
208.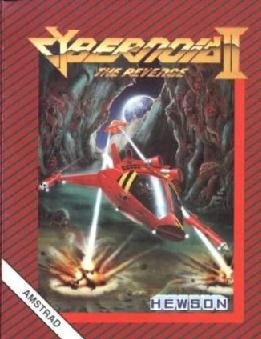 (This was the best image I could find)
Big thanks to Amok, for helping with the chords! =D
Hits - 3592 overall
---
Reviews
No reviews available. Make your vote and be the first to submit a review!

---

prowler shouts:
Really enjoyed this! It's a keeper for me. Nothing special to point out, but I wish the "jamming" part around 5:40 would had carried on for a couple of minutes more!!;-)

nummer2 shouts:
Wtf is going on with Mordi (((: another great mix love the part at 3:30

ozzy1 shouts:
Nice punch!

mfe shouts:
Very nice, but very empty in places. A bit of work on the instrument balance would help.

Amok shouts:
Great work, mordi. Some parts are a tad unbalanced but still a really enjoyable remix.

buzzer shouts:
Really nice and clean remix!

Mayhem shouts:
Perhaps the best thing you've done so far, really enjoyed that!

LaLa shouts:
I have mixed feelings about this one. At times it's really good, other times it's too simple, too thin. Nice atmosphere, good idea, but needs a bit more polishing.

Agemixer shouts:
Gotta love this more than once! A shifty one; lovely transitions, cool execution, clean by simplicity and got hidden powers.. A successful flourishing experimentation! Thank you Mordi, Keep it going!

Craze shouts:
Very well performed. I sometimes get the thought that it's hard to fail when the original is a master piece. But I have learned that it's not true. The better the original, the harder to get the remix good in comparison. Your remix is really nice.

germantaz shouts:
This track got me from the first second. Nice powerful bassline. Thank you for this mix.

kai shouts:
OMFG this is beautiful, strong, amazing, emotional, great. Fantastic, Mordi.

modman shouts:
Loved it when it was going somewhere. Wanted it to get somewhere when it wasn't. I like.

boyowilkins shouts:
This is an amazing remix of one of my favourite tunes. Absolutely stunning Mordi.

brix shouts:
Somehow I never got hooked on the cybernoid soundtrack. Anyway I must admit that the remix is well done.

romeo_knight shouts:
Not very inspired but very well executed.

Dumper shouts:
Bloody hell Mordi, you really are producing some great remixes. Excellent work.

Nebdar shouts:
It is mixed with so many different styles in whole track that it sound bad in some places

Brosa shouts:
This is just great!

schlicky shouts:
Damn addictive!

Makke shouts:
Many have tried and failed to remix this track, and I think this is as good as it can get. Nothing will ever beat the original, but this comes oh so close!

condor shouts:
Really very good work.

RemixFan shouts:
Perfect!!!!!!!!!!!!!!!!!!!!!

bratac shouts:
Very good and faithful to the original remix. Would get red if only there were no wrong chords at 5:12.

aero shouts:
Just came in here to give it a red one. Just rediscovered it :D

Tremix shouts:
Epic sex for my ears.

omoroca shouts:
Wonderful! Added to my collection.

ryrynz shouts:
Nice ramp up at 1. 39 the voice repetitive and overdone a bit though.

Ishma shouts:
Excellent!!!

Zilog shouts:
Looovely!
---
Current Rating
91% (62 votes)


Distribution:

27

28

7