Last Mission
Arranged by:
MRT (act)

Veteran

Member:
Tomasz Inglot (mrt) (member)
Original composer:
David Whittaker
Tune length:

4:45

Release date:
28/02/2017
All-Time rank:
93.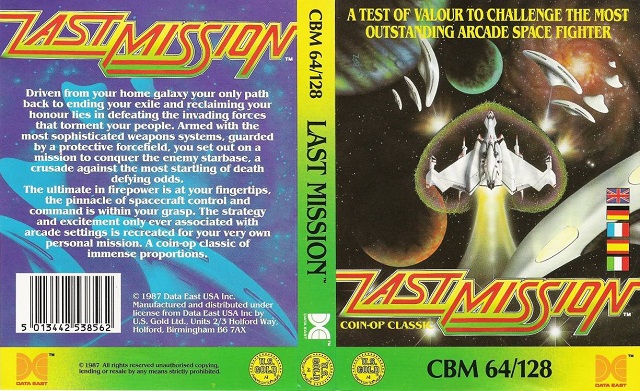 I have spent a lot of money on arcade version of Last Mission. CBM version was sounded by David Whittaker. This ingame music is unforgetable for me. Not a classic C64 sid-tune but deserves for a little remake IMO.  Enjoy!
Hits - 333 overall, 1 today
---
Reviews
No reviews available. Make your vote and be the first to submit a review!

---

Dr Future shouts:
Solid production.

LaLa shouts:
Wonderful lead sounds, but what really tickles my fancy is when halfway through the slap bass comes in. Schweeeet!

680xx shouts:
The best feeling in the world - when you have no expections and you get THIS. Superb.

Ripper7575 shouts:
Oh yes this is great... Well done

Amiga500plus shouts:
Niiiiice!

Marcus shouts:
I can't remember the game but the song is beautifully done.

Kate Eternal shouts:
I really like that!
---
Current Rating
92% (18 votes)


Distribution:

10

7

1