Garfield
Arranged by:
Reyn Ouwehand (act)

Veteran

Member:
Reyn Ouwehand (Reyn) (member)
Original composer:
Neil Baldwin (Demon)
Tune length:

3:44

Release date:
26/01/2007
All-Time rank:
341.
Instruments used on Garfield:
tack piano, mellotron, fender rhodes, gibson howard roberts guitar, epiphone wildcat guitar, marxophone, glockenspiel, solina string ensemble, hofner bass, rogers drum kit, 2 shakers, 2 tambourines and some sweaty handclaps..
Enjoy! 


Cheers, Reyn.
_________________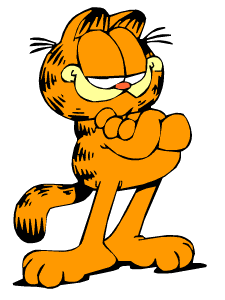 Hits - 5129 overall
---
Reviews
No reviews available. Make your vote and be the first to submit a review!

---

Waz shouts:
Now this I do like. I make no apologies for giving it a red, it's like a mix of instruments from all my favourite kids TV shows blended together by a Blendtec blender and just syrupy sweet at that. And the production's fab!

Skitz shouts:
This is obviously the definitive remix of Garfield! Reyn is just a genius when it comes to live play.

Dan shouts:
Great sounding, excellently put together and as normal, superb production

Makke shouts:
I just love the sound! Reyn's a genius.

moog shouts:
Ah! It's simply marvelous. Reyn, You scare me :D

infamous shouts:
60's stylee and well done, capturing the spirit of one of the cartoons from that era perfectly.

dafunk shouts:
Hah! This is just fantastic! No surprise, what could one actually expect from a living legend besides pure magic? ! Reyn we LOVE you! :D

soppa shouts:
The live video is impressive to say the least, makes you wish you had such talent. The style in this remix suits the tune perfectly, definately outstanding.

LaLa shouts:
Outstanding arrangement that keeps the feeling of the original. Very organic, obviously played live by a talented musician. This remix would fit very well into his excellent Nexus 6581 album. It's just wonderful!

chilli_uk shouts:
Jesus, where does one begin. Lets just say it gets a Red - its mega

klosterkatten shouts:
If there was somthing higher than "outstanding", this tune would have been it.

condor shouts:
All is said :)

damien shouts:
A fantastic remix of a little known tune, excellent production and performance! Just AWESOME.

eliot shouts:
Very nice, but the original tune is too limited and repetitive.

romeo_knight shouts:
Genious!

omoroca shouts:
Sounds like some Mike Post TV series theme. Suitable for a lawyer series or a sitcom. Swings!

mfe shouts:
Well mixed, but just too repetitive for my taste. Would work great as backing to a Garfield cartoon though :)

rossa shouts:
Good execution but to repetitive and void of originality

DJB shouts:
Reyn, buddy, you are a genious!! Having a girl who loves Garfield I've had the chance to sit down and watch all the old classic episodes (before the Garfield+Friends days), and this so reminds me of those cartoons. Just overall EXCELLENT!!:)

prowler shouts:
Nice stuff, even if it's not my favourite genre.

Nada shouts:
Simply fantastic. Period.

quinch shouts:
Fast and yet mellow, not stalling anywhere and oddly reminiscent of Sesame Street.

KF shouts:
Just fantastic...

MORBID shouts:
Very nice!

karl_xii shouts:
The orginial tune is very bad so...... Sorry, any remix cannot change it.

weasel shouts:
Haha!! He did it again! GREAT classic cult tune.... And a GREAT remix here! Reyn, you rule till today! No doubt! Do LOTS more of such stuff please!

vassago shouts:
Argh! Can´t stop wiggling! Damn you, Reyn! XD

sebuko shouts:
Flower Power meets Garfield. That sounds real crazy but really cool! I like it.

Ph0B1uS shouts:
Only one word is needed to describe this tune: Perfect.

LMan shouts:
Excellent performance and production, true to the original. Reyn r0xX.

Ultra Maximum Prime shouts:
Produced very well, and I love this feel good stuff. And Garfield is cool. I don't think theres any suggestions to make on how to improve! Awesome

commodoremuseums shouts:
Miowwwwwwwwwwwwwwww

maskkkk shouts:
Love it! And it's amazing the way this guy cranks the whole song out all by himself! I saw the video.

8bit-army shouts:
Perfekt!

Twinbee shouts:
As others have said, This one is fantastic. I wish we could see some of the older youtube videos redone in high quality!

Melaure shouts:
Funny
---
Current Rating
89% (73 votes)


Distribution:

36

18

9

7

2

1