Clystron (Title Theme)
Arranged by:
Thomas Detert (act)

Remixer

Member:
Thomas Detert (tom) (member)
Original composer:
Thomas Detert
Tune length:

3:32

Release date:
26/11/2001
All-Time rank:
1519.
I never felt comfortable with the whole soundtrack but as a matter of fact anybody else loved it. The conversion isn't that well done and even the excuse
it's almost 10 years old
doesn't work that well. Too much reverb is used on the chords.... yep! nobody is perfect not even me-perish the thought!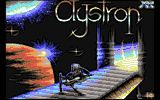 Hits - 3406 overall
---
Reviews
No reviews available. Make your vote and be the first to submit a review!

---
---
Current Rating
75% (27 votes)


Distribution:

4

10

8

5