Mega Starforce (Title theme 92 mix)
Arranged by:
Thomas Detert (act)

Remixer

Member:
Thomas Detert (tom) (member)
Original composer:
Thomas Detert
Tune length:

4:23

Release date:
15/12/2001
All-Time rank:
2128.
Well.. now I only have NEURONICS left on the DAT from 1992. Like all the conversions from that time ,it was done on tiny equipment.

I used a KAWAI Q80-Hardware-Sequencer (still got it but it's not in use anymore) ALESI D4 (Drummodule) KAWAI K1 & K4 (still one of my fav's) YAMAHA SY77, KORG A3 (MultiFX-Processor) ALESIS Mixing Desk(16 Inputs) and a SONY 640 DAT Recorder. That was all...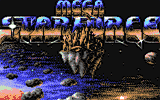 Hits - 3068 overall
---
Reviews
No reviews available. Make your vote and be the first to submit a review!

---
---
Current Rating
69% (21 votes)


Distribution:

2

5

9

5