Beat 'Em Up - Part I (Martial Arts medley).mp3
Arranged by:
XxDUSTYxX (act)

Veteran

Member:
XxDUSTYxX (member)
Original composer:
Matt Gray
Tune length:

4:24

Release date:
01/05/2010
All-Time rank:
265.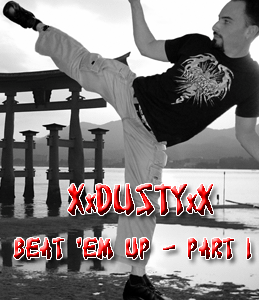 Beat 'Em Up - Part I (Martial Arts medley)

Cheers!
Since my spare time is, literally, rather spare, my last remix is quite a while ago.
This time I composed a mid-tempo compilation of some of my favourite MARTIAL ARTS - games:

Last Ninja 2
Way of the exploding Fist
Chambers of Shaolin
International Karate

Primary I finished the keyboards and bass, then I edited the drums and recorded all guitars for days.
(Thanks a bunch to Chuckyyy for the masterful grunt @ 0:12, hahaha!)
And now, after a lot of prelistening and mastering, its finally finished. Enjoy in full blast! ;)
Best regards,
XxDUSTYxX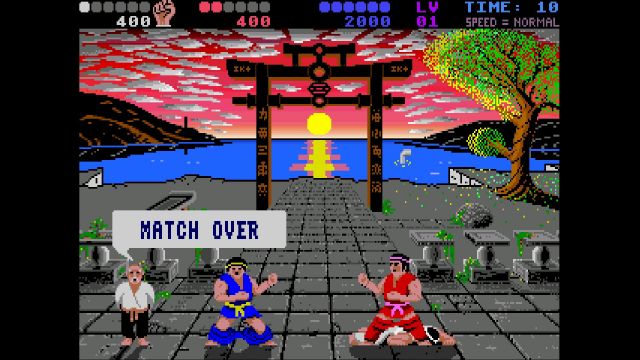 Hits - 2606 overall
---
Reviews
No reviews available. Make your vote and be the first to submit a review!

---

Dan shouts:
Some nice bits in this and the melodies are well constructed but the use of the sid sounds just wrong and the mixing at times a bit muddy

LaLa shouts:
Asian Legends hard rock style! Well done! Some parts are better than other, but overall, I do enjoy it.

Amiga500plus shouts:
Not exactly my kind of music but catchy in any case. Bravo!

modi shouts:
Wie immer guter Stof

AmiStyler79 shouts:
Me likes it!:-)

ifadeo shouts:
Top stuff.... Love it, outstanding work mate!!!

NecroPolo shouts:
Good stuff! Nice arrangement. Downsides for me: drum sound is a little too plastic and mixing is muddy in places. I assume, there will be a PART II, go for it :)

Melaure shouts:
Nice medley

Gothmog shouts:
Another nice Metal Piece, love it!!!

Drunken Fool shouts:
Incredible

SarahKreuz shouts:
Good Track, but your Turrican-Metal is yet undefeated

Snake1 shouts:
Awesome Medley! Awesome guitars and drums! Totally outstanding!

Waips666 shouts:
Very good tunes!

GlenBenton shouts:
THIS ROCKS!!!

Supergrobi123 shouts:
WOW!!!

Amiga4eveR shouts:
Hot stuff!

omoroca shouts:
I hate medleys. And I hate aimless guitar noise. Absolutely not my cup of tea!

Kate Eternal shouts:
I disagree with this, omoroca! Way to go, xxdustyxx!
---
Current Rating
90% (43 votes)


Distribution:

20

13

7

1

2