Echoing 2k8 [GUITAR REMIX]
Arranged by:
XxDUSTYxX (act)

Veteran

Member:
XxDUSTYxX (member)
Original composer:
Banana
Release date:
11/04/2008
All-Time rank:
182.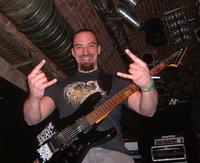 Echoing 2k8 GUITAR REMIX

In contrast to my previous remixes this one took me a few weeks. I said GOODBYE to my old Tracker-Editor, grabbed my guitar and borrowed a bassguit from my buddy Sascha. (THANKS ALOT, BRO!)
After adjusting my metronome to 144bpm I started recording the rhythm-guitars. I had to use the Line-Out of my PEAVEY Triple XXX instead of putting a microphone in front of my Mashall-cabinet for this, otherwise my pain-in-the-neck-neighbor would have killed me. Complete! Time for some BASS! But...oh my god: The bassguitar is fretless! After practicing a few minutes, I got used to play without frets, too. The next day I edited the Drums for hours. One day after I refused the most part of them and did a revised version with more punch. Next day: Leadguitars. I connected my KORG AX300G Effectboard to my soundcard and let my fingers fly over the fretboard. To get it more atmospheric, I added a plain keyboard-accompaniment. Then the days of mixing, re-editing and mastering passed... 'nuff said! pump up the volume and enjoy!

XxDUSTYxX
Hits - 2670 overall
---
Reviews
No reviews available. Make your vote and be the first to submit a review!

---

Ziphoid shouts:
Fair enough, but nothing special. Lacks the feeling of the original and feels more mechanical.

Dr Future shouts:
New style for one of my favourite tracks. IMHO the original is THE electronic track, so making this a heavy-metal remix is brave. And it works for me.

JustPhreak shouts:
Well Done XxDUSTYxX! Very nice Guitar Style!! One of that metal remakes that works really fine for me. Only the mixing is open to improvement! BUT I LOVE IT!!

GlenBenton shouts:
This is an excellent remake! It sticks to the original well although being a wildly different style. It's loud, brute and techinally amazing. Great guitar work in this remix!

Pedro-Ariz shouts:
A little bit noisy, but enjoyable... Like it

prowler shouts:
Very cool, keeps the original atmosphere as well. Soundquality could have been more "clean", but not that it matters much...

daXX shouts:
The GuitarDusty strikes back again! My Vote again! Love it!:-)

The Hooligan shouts:
Me likes it, and I dont even like to listen to metal. Good work

Nebdar shouts:
Great guitar tune, it could be more smoother

modi shouts:
Jehhaaa

Duncan Demerodt shouts:
Rrrrrrr what a rush!!! Great!!!:-)

Isacco1975 shouts:
Very good version
---
Current Rating
85% (34 votes)


Distribution:

13

9

11

1