Super Cars II - Intro[2007RMX]
Arranged by:
XxDUSTYxX (act)

Veteran

Member:
XxDUSTYxX (member)
Original composer:
Barry Leitch
Release date:
07/02/2008
All-Time rank:
337.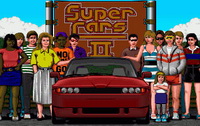 Super Cars II - Intro 2007 RMX

1991 SuperCars II was published by GREMLIN Graphics and Barry Leitch wrote the Soundtrack.
We competed each other in this racing game for hours, munched chips and drank too much Coke... how time flies! ;)

The Intro-music is really great, so I just had to remix it with kickin' drums, Keys and some Effects!

XxDUSTYxX
Hits - 2620 overall
---
Reviews
No reviews available. Make your vote and be the first to submit a review!

---

Ziphoid shouts:
Nothing special about this one, but I guess it's performed with enough quality. A bit muddy on the mixing side, though.

AmiStyler79 shouts:
Nice interpretation of the tune, its got a fresh feel.

Amiga4eveR shouts:
Great work! 2:33-part is pretty cool!

amigamer shouts:
I've got the same memories about playing SCII as you and this remix brought them back :) Sometimes mabe a bit too much "chaotic" sounds but I really like your arrangement...

kjetiln shouts:
Some cool sounds in there, but some parts are painful to listen to. I think I have listened too much to the original track to enjoy this.

Nebdar shouts:
I never heard the original music but I like that rmx

ikonsgr shouts:
This was the very first soundtrack I heard on my amiga back in 1991! I listened it for hours! A fantastic synth rock style tune and a very cool game too! Nice remix ;)

prowler shouts:
Good remix on one of my favourite games! But the mastering/instruments are a bit too muddy. And slides/notes at 1:39-1:47 (2:38-2:52) kind of ruins some of the feeling.

snappy shouts:
I'm so glad someone has attempted a remix of Super Cars II. Like someone said in a previosu comment, it's not that great. There is a lack of emphasis, but it's cool to experiment aswell :)

Caboose shouts:
Nice!

Duncan Demerodt shouts:
That rocks!!! Well done!!!:-)

ryrynz shouts:
A keeper.

Isacco1975 shouts:
Big LEAD SOUNDBASS like AMIGA and iperStereoMix!!! Great JOB!!
---
Current Rating
81% (28 votes)


Distribution:

6

12

5

4

1