8-Bit Symphony Pro Launched...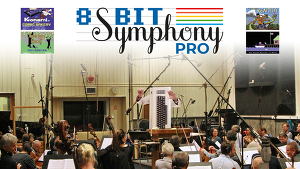 The 83-piece Czech Studio Orchestra plays SID!
8-Bit Symphony Pro has been released digitally....  and Lee Tyrrell from The Sound Test podcast has already done a review!
Kickstarter backers received emails this morning, but non-Kickstarter backers can get it from C64Audio.com
CD will be produced and shipped once COVID-19 circumstances permit... 
Track listing:
Disk 1
01. Firelord
02. Forbidden Forest and Beyond
03. Kentilla
04. Spellbound
05. Knight Tyme (ZX Spectrum exclusive)
06. Ghosts 'n' Goblins (C64 tune, not arcade tune)
07. Imagine Ocean (Comic Bakery, Ocean Loader, Rambo)
08. Green Beret (loader and title)
09. William Wobbler
10. Stifflip and Co.
Disk 2
01. Aztec Challenge
02. International Karate Suite
03. Last Ninja® Wastelands
04. WAR
05. Flash Gordon
06. Trap
07. Zoids
08. Barbarillax (Barbarian 2/Parallax High Score)
09. Monty on the Run
10. Monty's Journey (Monty on the Run High Score/Commando High Score)