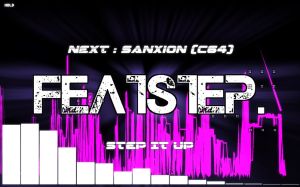 Promotion
FEATSTEP Remix 2! (Android) will remix .mp3 Audio / .mp4 Video to play as close to the 'tune' of your .SIDs as possible! Performance is better on newer devices; it sometimes runs with occational & inermittant pauses on my 4 year old tablet. The following demonstartion video was recorded with the software running on a PC for this reason.

While availible on Googe Play! for $2.99 (..in Canada only)..
I am sharing the current version with the worldly C64 .SID scene for FREE via this download link :
http://www.featstep.ca/featstepromo.apk
(This is the same file as the $2.99 Google Play release.)

FEATSTEP REMIX! (1 and 2) has been in constant development for about 3 years.

Developing this software I thought I could support myself with sales, though I have never actually successfully sold 1 copy to-date.
Any promotion you can do will be greatly appreciated, whether users download it for FREE from the promo link, or choose to pay $2.99 on Google Play. (Please concider paying as a Donation, I am now near bankrupt and homeless from working on it 24/7 and not selling any copies).

Also, If you enjoy FEATSTEP Remix 2! please share it with your friends 😊 (Either for FREE or at $2.99)😉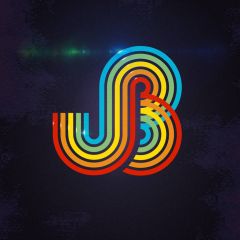 27/08/2018
Our beloved C64 musician, Johannes Bjerregaard has been recently diagnosed with cancer and needs our help. A remix album honoring his C64 tunes has just been published with all proceeds from the sale of the album benefiting Johannes Bjerregaard directly.

Among several classic Bjerregaard remixes there are also two new remixes available on this album: a re-interpretation of Rockbuster by Wobbler, and NecroPolo's Zoom. Enhanced versions of a few other remixes are also appearing on this album for the first time. Please, consider supporting the Bjerregaard family by purchasing the album on Bandcamp here.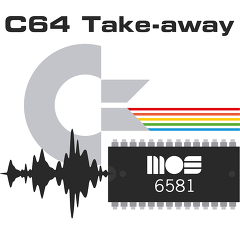 15/05/2018
It turns out that being patient for 4 years, 5 months and 3 days pays off in the end. The new episode of the C64 Take-away podcast was released yesterday. Jan is back with 65 minutes of remixes, chiptunes and news from the world of C64-related music.
Due to some technical circumstances, you are urged to delete the old feedburner.com feed from your podcast clients/RSS readers and sign up for the new feed to keep yourself updated of future episodes.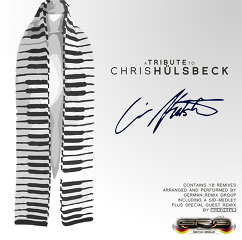 02/03/2018
Today the German Remix Group (GRG) released its fourth tribute-album. The new album is dedicated to the sounds of Chris Hülsbeck, and consequently the album is called A Tribute to Chris Hülsbeck. It contains 19 tracks from CZ-Tunes, Dr.Future, Mitch van Hayden, SigmaZeven, Snake-TMF, SunSpire and Tronimal (guest remixer). It features many different styles, from 80s pop and dance up to orchestral sounds. This huge album, spanning over 90 minutes of play time, is not only their longest album (so far), it's also their first release of a double CD which can be downloaded digitally for free or listened dirctly to via the GRG website.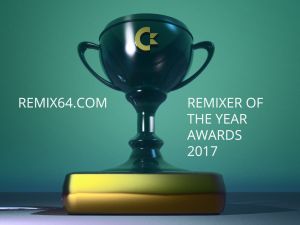 21/02/2018
Check out the results, click the link below!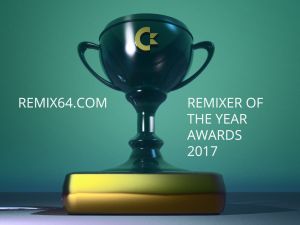 14/02/2018
Yet again, we celebrate and acknowledge the work of the remixers in the C64 and Amiga community by presenting the yearly ROTY 2017 Awards, as voted by the users at remix64.com.
The date is 21/02/2018
20:00 CET
This year it's SceneSat Radio's turn to give out the awards and give you a run-down of what happened in 2017.
As usual the show will be jointly broadcast on SceneSat Radio and SLAY Radio, and show chat will be on EFNet in the channel #remix64.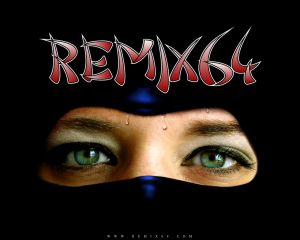 06/02/2018
Hey all, it was about time for a design overhaul of our beloved Remix64.com.
The new layout is tidy and works with your mobile.
Mind that there are still a lot of sub-pages (Tracks, Remixer infos) that need to be redone to work in your phone. This will happen little by little, so thanks for your patience.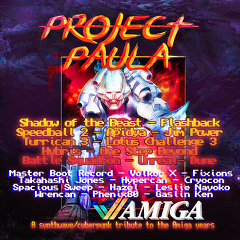 23/05/2017
A new Amiga tribute album by various Synthwave producers is now available on Bandcamp with a name-your-price policy. It includes 12 remixes of classic amiga games : Apydia, Flashback, Speedball 2, Shadow of the Beast, Jim Power, Hybris, Lotus III, Battle Squadron, Turrican 3, One Step Beyond and Dune.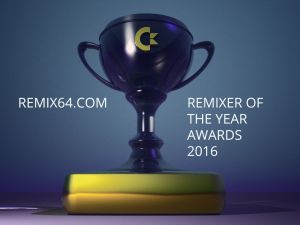 19/02/2017
On sunday, 19th February 2017, the awards show started broadcasting at 20:00 CET from the SLAY Radio headquaters, hosted by Boz, Slaygon and Leonie. The show featured a run down of the last year's events and popular remixes of each months, with award announcements inbetween.
The Best Newcomer 2016 award was announced and went to Armandox.
The second award went to ROTY award regular daXX as Best Veteran 2016.
Best Amiga Remix 2016 was awarded to Rapture for his epic Pinball Prelude Medley.
Best c64 Remix 2016 went to Mordi for his updated version of Why Me.
The special honour of the Lifetime Achievement Award 2016 was given to Ziphoid for his myriad contributions to the scene, and also to Ben Daglish, who apart from being an original legendary composer of the 80s is still active and around in the scene.
Also SLAY Radio listener Maltus was awarded as Beer-deliverer of the Year as a personal award of the SLAY staff for his extraordinary support (like, you know, actually delivering beer from Germany to the SLAY hq). 😃
Finally, the big moment approached and it was time to award the main price, Remixer Of The Year 2016 and it went to MRT, second year in a row!
MASSIVE CONGRATS!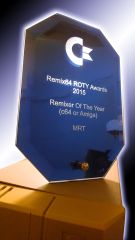 19/02/2017
The time has come to celebrate and acknowledge the remixers' work in the C64 community by presenting the yearly ROTY Awards, as voted by the users at www.remix64.com. This year it's SLAY Radio's turn to give out the awards and give you a run-down of what happened in 2016.
As usual the show will be joint-broadcast on SLAY Radio and Scenesat Radio.
The show chat will be on EFNet #remix64
Don't miss it!!