News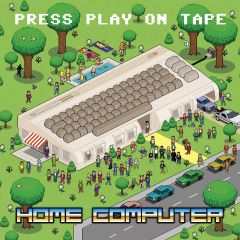 16/05/2012
After 8 years of hard work and a lot of procrastination your maybe favorite C64 rock band PRESS PLAY ON TAPE is proud to present the results: 26 tunes bundled in a double CD album with the title HOME COMPUTER. The covered tunes are: Formula 1 Simulator, Winter Games (Hot Dog), Parappa The Rapper 2 (Toasty Buns), Ghosts'n Goblins, Gods (Into The Wonderful),  Nonterraqueous, Future Knight, The Human Race, Knuckle Buster, Lightforce, One Man And His Droid, Rambo: First Blood Part II, The Last Ninja (The Wilderness), Master Of Magic, Aztec Challenge, Thrust, Commando, Sanxion, Shockway Rider, Monty On The Run, and Zoids. Some of them you have seen before from PPOT but these are re-recordings as the band would like to update their renditions of them. Still have your breath? Together with the covered tunes PPOT also releases a small handful of own material where The Man with the Gun is already well known as it was released a while back on YouTube.
The album can be bought on iTunes, c64audio, Maz sounds, SynSoniq and CSW verlag. Have a look at PRESS PLAY ON TAPE's homepageto see more about buying the album.
The physical album comes in a three page digipack with a 32 page booklet with pictures of the band taking you from the earliest years to today. The album cover has already received a lot of attention but have a look for yourself!

14/05/2012
This is taken from the official BitJam podcast website at http://podcast.bitfellas.org:
BitJam Episode #151 - Turrican Special
The classic Turrican games brought nonstop action to all gaming systems of the 80's and 90's (including the C64, Amiga, Atari ST and PC, as well as the Sega Genesis and Super Nintendo). The beautiful synthesizer soundtracks for the series were created by Chris Huelsbeck, arguably one of today's most popular game music composers in the world. His music certainly played a major role in shaping Turrican into a digital legend over the years. Chris has recently announced plans to bring the cosmic warrior back from retirement, with the production of a Soundtrack Anthology - an epic limited edition box set of no less than four CDs, which will feature almost every melody from the saga in newly arranged and recorded versions! More information on this box set, which will only be available until June 3rd, 2012, can be found at www.turricansoundtrack.com.

Almost two decades after the last Turrican title was released, BitJam pays tribute to these games and their wonderful music with a dedicated podcast episode. Featured tracks include remixes by Chris himself, as well as a selection of fan arrangements, handpicked by Huelsbeck and the co-producers of his Turrican Soundtrack Anthology.

Mixing by Vincenzo, logo #151 by H2O, compiled by Chris Huelsbeck, Jan Zottmann & Thomas Böcker.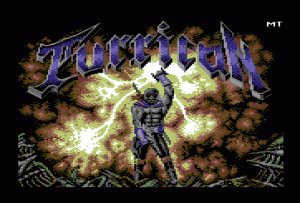 16/04/2012
Featuring a cosmic hero in a silver battlesuit, the »Turrican« series of games brought nonstop action to all gaming systems of the 80's and 90's. The beautiful synthesizer scores for these games were created by Chris Huelsbeck, arguably one of today's most popular game music composers in the world. Huelsbeck's soundtracks certainly played a major role in shaping »Turrican« into a digital legend over the years. Almost 20 years have passed since the last game in the series was released, but Chris has big plans to bring »Turrican« back from retirement –at least musically– with the production of the »Turrican Soundtrack Anthology«.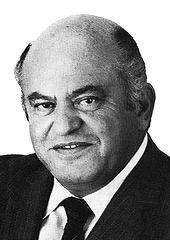 10/04/2012
Jack Tramiel, founder of commodore, passed away last Sunday at the age of 83. After a tragic adolescence under German oppression during World War II, he emigrated to the USA in 1947. In 1953 he set up his company Commodore Portable Typewriters in Toronto, which shortly after evolved into Commodore Business Machines. The business went from typewriters over calculators to computers, the first model being the PET, commercially succeeded by the VIC 20, C64 and Amiga.

02/03/2012
Easter of 2012 is approaching as well as the annual Revision demo party in Saarbruecken, Germany. Besides our beloved demo, music and GFX compos, two remix scene bands will smash the stage at 8th of April. SIDrip Alliance will hit the stage at 20.00 hard. Romeo Knight & friends will continue and finish the rumble. Keep tuned!
28/01/2012
The Remixer Of The Year awards were presented for the 10th time in 2011, at the ROTY Awards show hosted by SceneSat staff and guests at the crowded SceneSat headquarters. The first part of the show presented a rundown of the year 2011, recaping scene happenings and playing top rated tracks of each month. The actual award show started at roughly 22:35.
The first award Best Newcomer 2011 was awarded to SID legend Peter Clarke by Mordi, who had won the award in 2008.
Hazel won Best Veteran 2011, which was personally handed over by Makke, who was 2006s best veteran.
Daxx and Gibs won Best Amiga Remix for their collaboration on Lotus 3.
The price for Best c64 Remix was awarded to Warhawk (Halcón de la guerra mix) by scene veteran N-JOY. The award was presented by Andreas Wallström of c64.com. It should be noted that Kate Z. would have actually won this category with her Tusker remix, if the votes for both versions (vocal / non vocal) had been combined.
Two Lifetime Achievement awards were awarded to Jan Lund Thomsen and Slaygon for their relentless service to the scene.
The prime price, Remixer Of The Year, was won by Rune-Bertil's and presented by none other than o2, who was Remix64's very first Remixer Of The Year, ten years ago in 2001.
Huge congratulations to all winners and everyone who made it onto the lists!😊
The guestlist at Ziphoid's once more crowded apartment was: Floaf, Mordi, Ceci, Andreas Wallström, o2, Arvid, Malmen, fnordpojk, Makke, Dafunk, Tron, a0d, BST, Gulrak, Herbaculum, Hazel, Uncle Tom, Sir Garbagetruck and Ziphoid.
Don't forget to vote for Remixer Of The Year 2012, which has begun today!
07/01/2012
Yes, on January 28th, the Remix64.com Remixer of the Year Awards 2011 will be aired. The show will be hosted by SceneSat Radio and simulcast on SLAY Radio and Radio 6581 and to most certainty also on BitJam and Nectarine Demoscene Radio.
It will feature a bunch of well-known remixers and scene profiles to give you an evening of fun and great music and there will also be a live videofeed to give you a peek into what's going on behind the microphones.
Oh, and for your  convenience, we've extended the voting deadline with yet another week, making the deadline to the 15th of January.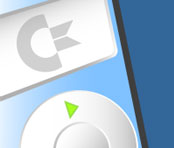 22/12/2011
On the 21st december, Jan Lund Thomsen has published his 50th episode of the C64 Take-away podcast.
From the website:
Ho-ho-ho! Christmas comes a few days early this year. After passing my project manager exam on December 13th, I cleared the mountain of books and papers off my desk and started preparing this episode. In honour of this being the 50th show(!) here's almost an hours worth of sonic delight – five remixes and five chiptunes, carefully selected for your enjoyment. And while the show doesn't have a Christmas theme as such, the closing tune should be able to melt even the coldest of hearts and let the Commodore love flow freely. As usual mixed in with a brief recap of what's been happening in the world of C64-related music. Enjoy!
13/12/2011
Did you ever think you'd see a proper double Vinyl release of some of the best SIDs? Lovingly recorded by experts without emulation, mastered to perfection and with a cool retro cover? Well, today's your lucky day!
Elephant Records have produced an officially lovely compilation featuring such beautiful things as FULL-LENGTH PARALLAX, and FULL-LENGTH TRAP! You never thought you'd see the day, huh? All SIDs were recorded by the legendary Jason Kenz Mackenzie for full loveliness.
For those without vinyl players, there will also be a digital release on iTunes.
C64Audio.com will have a limited number of these,but please don't hesitate to buy your copy from the official source rather than waiting for us. You know what we're like... :-P
23/11/2011
You may now listen to any remix directly on a track detail page. Try it out, chose any remix from the charts, and click play on the embedded audio player.
Enjoy discovering hidden gems and forgotten classics.😊