News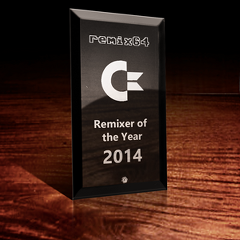 07/02/2015
The awards show kicked off on February, 7th at 8pm at the SLAY Radio headquarters in Gothenburg. It was hosted by Slaygon, Boz and Leoni, who in the tradition of the ROTY awards show, began with a run down of scene happenings and people's favourite remixes of each month.
The first price that was announced went to Robert Engstrand for  Best Newcomer, who was interviewed on the show via skype.

Best Amiga Remix was awarded to Scene Veteran Instant Remedy for his  "Pinball Dreams - Nightmare" remix.
Mordi was this year's winner for Best Veteran, making him the first person ever to win in all the ROTY categories at least once.
Show host Slaygon won the award for Best C64 Remix 2014 with his remix  Platoon (Inexperti belli).
The main award Remixer of the Year 2014 was finally awarded to druu, who was called via Skype to celebrate his victory live on air.
At the show's finale, an audibly affected Boz was awarded the Lifetime Achievement Award for his numerous contributions to the scene since its very beginnings.
Congratulations everyone...
...and as always, there are only winners on these lists. Bravo!😊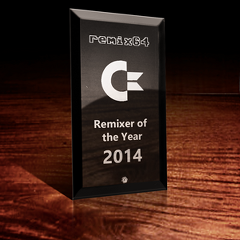 04/02/2015
The time has come to celebrate and acknowledge the remixers' work in the C64 community by presenting the yearly ROTY Awards, as voted by the users at remix64.com.

This year it's SLAY Radio's turn to give out the awards and give you a run-down of what happened in 2014, so make sure to join Slaygon, Boz and guests.
The show will be broadcast on SLAY Radio and SceneSat.com Radio on Saturday February 7th at 8pm CET!
Be sure to tune in!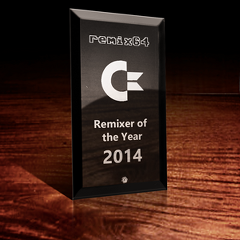 11/01/2015
A short reminder that the voting period for Remixer of The Year 2014 is coming to a close.
So browse your favourite tunes and give your vote while you still can.  :-O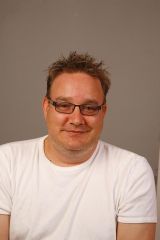 28/08/2014
On the 22nd of August Mark Visser (alias Misser / Mr.Mad) unexpectedly passed away. As a coder and cracker was responsible for numerous demo's and cracks and was loved by many in the C64 scene as a cuddly, crazy and happy Dutchie. He will be sorely missed. A website has been created in his memory where you can express your condolences or leave any message you wish.
Everything will be printed and personally handed to his family.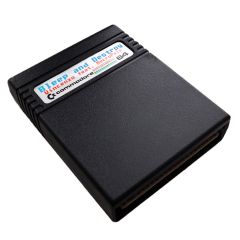 Promotion
8-bit bleeps meet crushing metal guitars, synthesizer sounds and love for oldschool computers. These ingredients required to cook on high temperature together and the result is some fine sid-rock,  for the fans of chip'n'roll everywhere!
Get the full EP here:
http://strayboom.bandcamp.com/album/bleep-and-destroy
Playable, oldschool point-and-click style musicdisk version:
http://www.pouet.net/prod.php?which=62957

19/02/2014
After a hiatus of almost 7 years Subzero is bringing back his c64 podcasts!!
The podcasts that begun back in 2007 ran for just over a year, with 36 shows being released. And now, after a long rest he's decided to bring them back!
Promising to be as true to the original format as before, with special 'themed' shows, Subzero hopes he can bring the listeners back.
Podcast no.40 'The Ocean Wave' is due for release in late february/early march and will focus on an array of music from games released by OCEAN software.
25/01/2014
The joint broadcast of the ROTY 2013 show launched on time at 20:00 CET on Saturday, 25th of January 2014. The show was hosted by SceneSat radio, and broadcast over the stations, SceneSat, SLAY Radio, Nectarine, BitJam, Radio6581 and The SID Station.

Starting off the show with some excellent music from the monthly charts toppers of 2013, the first award was given away at 20:30 to the best newcomer of the year 2013. The winner of that category was druu, who was quickly dubbed druucomer by CZ-Tunes at the IRC channel. Ranks 2 and 3 where won by Mario Barbierato and rdmusic.

Accompanied by unexpected technical problems on the server side, which fortunately where sorted out quickly, the winner for Best Veteran was announced -  daXX, who had won in the same category in 2012. He was followd up by Mordi and Instant Remedy.

The two lifetime achievement awards 2013 were given to Reyn Ouwehand and Marcel Donné. Both have been active in the scene for ages, working in the demoscene, on the radio stations, on stage, and besides, both are outstanding producers.

There was a shared #1 for best Amiga Remix with 46 points each, Mano's "FlashBack" remix and Daxx's remix of "GODS", with chabee placing 2nd with "Stardust Memories.

Winner of Best c64 Remix was LukHash for his "SPY vs SPY" live remix, very closely followed by druu and his "Wizardry" remix and Peacemaker with "Fawn of Creation".

Finally, the big bounty, the Remixer of The Year 2013 award was also won by daXX with massive 226 points. YouTube wizard LukHash came in second with 116 points. 3rd place went to Rune-Bertil's, who are famous for their swing style remixes.
Congratulations to all the winners!!
16/01/2014
Save the date: Saturday, January 25th at 20:00 CET.
That's when the folks over at SceneSat will broadcast what has become to be known as the Academy Awards of the Remixing Scene: the Remixer Of The Year 2013 Awards Show.
Don't miss it!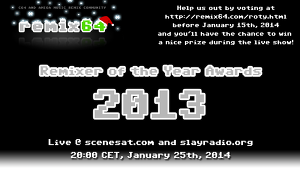 02/01/2014
Your chance to be the tip the scales!
Vote before 14th of January and you'll have a chance to win a nice prize during the live show!
22/12/2013
Yes, we're getting closer to the yearly event that is the Remix64.com Remixer of the Year Awards.
This year, the Awards show will be hosted by SceneSat staff and guests and will be jointly broadcast on SLAY Radio (and possibly some other stations too) on Saturday, January 25th at 20:00 CET. During the show, you'll get a countdown of the best remixes and remixers of the past year as well as the chance to win nice prizes (TBA) by participating. However, you do need to have been voting, so make sure to do it ASAP!😊
If you want to join the event as an on-site guest, which will be held at SceneSat Studio 1 in Stockholm, Sweden, contact Ziphoid and he'll give you the necessary details. The guest list will contain a lot of the usual suspects and a few surprises.😊
Voting ends on January 15th, but don't wait until the last minute - go vote NOW!