Paul 'DJ Skitz' Hadrill: 1971-2011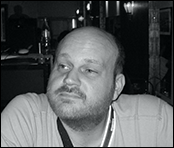 On the evening of February 16th 2011, Paul Hadrill passed away, a victim to the brain tumor he was diagnosed with 5 years ago.
Apart from being an all-around nice guy both in real life and on the forum, he was also a very
profecient remixer
and a
DJ on SLAY Radio
. Skitz passed away in his sleep, surrounded by his family.
He will be missed by us all.