Makke: It's Binary Baby!
Reviewed by Jason You must know I'm always called Kenz so why bother writing it in these quotes? Mackenzie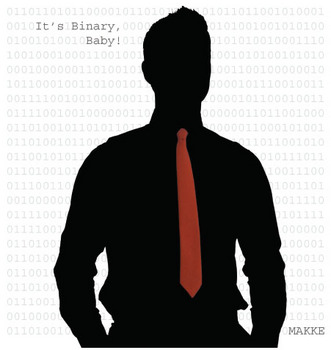 Here at long last we have the debut album from the Swedish man-of-a-thousand-voices Marcus
Makke
Nilsson. Makke has released many a fine C64 remix in the past and is renowned for his clever use of lyrics in his remixes. The CD is presented with nice minimal cover art featuring a silhouette of the man himself on the cover with his red tie being the only colour present. Perhaps this is a nod to a certain German electronic group who are famed for their red shirts, black ties and minimalistic album covers ... and for good reason as you will discover later in this review. In the background you can see lots of binary 1's and 0's which, knowing Makke's fun sense of humour, are probably worth running through a binary-to-text converter. Once you have ripped apart the sellophane wrapping you will have access to the 8 page booklet which contains all the lyrics to the tracks on the album - as well as a great pic of Makke looking shifty legging it with a C64 which it looks like he's just pinched. The disc features the same picture as the front cover and nicely keeps the minimalistic theme running.
But that's quite enough waffling about the packaging, let's start the disc spinning and hear Makke's vision!
01. Intro
The album begins with A brief history of SID - sort of! Makke adopts a Stephen Hawking-esque voice and narrates a rather amusing re-telling of the history of C64 music complete with atmospheric Commodore 64 music in the background. Straight away you'll realise this is an album which isn't going to take itself too seriously, which is a very good thing in my opinion! The scene is set ... let Makke's mission commence!
02. Cauldron 2
The first main track on the album track perfectly emulates the style of the teutonic German-machines, Kraftwerk. Makke adopts their clinical electronic music style to deliver this superb electro-pop version of the Cauldron 2 title tune. Makke's vocoded voice cleverly uses the actual story from the game booklet as the lyrics for the tune - all delivered perfectly in time with the music. As I'm a huge Kraftwerk fan this track is a winner straight away for me. Kudos to Makke for not only perfectly emulating Kraftwerk's style, but also for delivering an amazingly inventive cover of this classic game theme!
03. Sacred Armour of Antiriad

Following on from Cauldron 2, another Richard Joseph C64 track is covered here. This time in a more conventional C64 remix style - with Makke using a more normal voice to provide the lyrics, rather than his robotic counterpart. Despite being a decent enough cover of the tune it doesn't really deliver anything particularly exciting or unexpected - but the previous track was a tough act to follow. Not bad though ... !
04. I am a database
FANTASTIC!! Makke steers his 'Binary Baby' right back on course with this absolute BELTER of a track! This is one of those tunes that you will have to get surgically removed from your brain - it sticks in your head and positively refuses to be let out. Featuring an amazing catchy beat and cunningly vocoded lyrics this has got HIT SINGLE stamped all over it! I just love the distorted robotic aaaaaaah voice in the background and there's a brilliant break midway through the tune. Genius! Play this sucker LOUD and get off your ass and DANCE! (Ahem!) I actually misheard the lyrics initially and for a while thought one line went Hey baby, want to have a taste of my binary cheese (instead of primary keys) - hehe!
05. Glider Rider
The start of this tune kinda reminded me of one of the Turrican title tunes on the Amiga for some reason. Anyway, Makke keeps the pedal to metal for this mix and goes for it with this fine dance-mix of the Glider Rider theme. Vocoded lyrics are once again the order of the day but they don't interfere with the remix itself which glides along (see what I did there) at a fair old pace. Another foot-stomping winner from Makke here.

06. Last Ninja III
You are given the chance to get your breath back after the previous two dance tracks with this pleasingly laid-back cover of the end-theme from Last Ninja 3. This track doesn't actually feature any lyrics so more emphasis is placed on the music itself. Makke employs the use of an Enigma-style beat and a beautiful smooth wheeeoooooooo lead voice which sadly only makes an appearance near the start (and cameos very briefly right at the end). This is a well-produced cover of a tune which has been largely overlooked by remixers in the past so is should appeal to the legions Last Ninja fans out there.
07. Sanxion
If there's one person who can produce a version of this often-remixed classic in a new and unexpected style then it's Makke - and he delivers in spades!! As soon as this track starts you know you are in for a treat - you are hit immediately with catchy backing and some great lyrics from Makke, whos' voice is in fine form for this track. The Sanxion lead comes in - delivered by a FLUTE of all things - but it WORKS!! And being a Back in Time Live veteran I get a mental image of Ben Daglish wobbling and gyrating around playing this on stage every single time I hear it!! Spellbound also makes a surprise appearance in this track - all neatly tied in with the theme of the lyrics. If I had to pick a nit then it would be the slightly whiny guitar sound - I would have much preferred to hear the original SID lead, but that's just me! A fantastic, albeit slightly short remix.
08. Lazy Jones
This track seems to suffer from the same problem as Antiriad - it's right after a superb track which is a tough act to follow. I really like the SIDDY start but then it's downhill all the way for this track. The lyrics sound a bit, well, lazy to me (although perhaps I'm missing the point somewhere!) The energy and fun prevalent in previous tracks seems to be missing in this remix. Sorry Mr Jones, you are the weakest link, goodbye.
09. Thanatos
But what's this? It's Depeche Makke, that's what! The beginning of this track soon pushes any thoughts of Lazy Jones far from your mind. We are in pure Depeche Mode electronic heaven here - and I'm talking DM from the halcyon days of their 'Violator' album too! Makke delivers a beautifully smooth electro version of Thanatos complete with sequenced backing, Martin Gore-esque lyrics and, joy-of-joysticks, a SID lead voice! *Thumb up!*
10. Hardware and Hubbard
Album highlight alert!! I don't know what it is about this track but I really, really love it!! It has really grown on me ever since I first heard it and now it's a firm favourite of mine. The basis of the tune is Crazy Comets - but you've never heard it quite like this! The track itself is totally laid-back and features Makke himself reading various C64 related numerical values during the tune (6581, 1541 etc.) - an interesting idea and it works really well (but it's hard to explain why - it's just so damn COOL!) You even hear an original advert for the Commodore 64 midway through the tune and Makke has even managed to sneak a snippet from Star Paws in there too. The style of the track kind of reminds me of the 'Exploding Fist' remix released recently by Trace - WOTEF Tune 4 (The saga is complete) - as that also featured announcer type speech (and is also a current fave of mine). Truly excellent stuff!
11. Compilations III
I wasn't really familiar with the original Chris Hulsbeck track that Makke is covering here but when this track gets going it sure delivers the goods! For the first minute it clanks away pleasantly enough but at 1min 20secs things get really interesting - with a fantastic thumping bass and some epic chords in the background. I really wish this section had been longer and built on those chords a bit more. But that's only a minor niggle. Makke has put together an energetic cover of this relatively obscure track - make sure you crank up the volume when you reach the really storming bit in the middle!
12. Corporation
A bit of strange beastie this one. It kicks off with some nice real SID, layers on some great sounds including some mighty fine drums, sneaks in some more excellent SID (including a striking SID lead, the highlight of the track for me) and then ... it ends! Clocking in at under 2 mins it doesn't really have the chance to build into something huge. I'm guessing the original tune was quite short but I think more of a meal still could have been made out of this. Ah well.
13. Binary, Baby
YES! The Makke-Machine is back with another Kraftwerk-esque mix, and this is another beauty. Clinical beats and vocoded lyrics are put to good use once again. I just adore that tortured robot voice in the background supplying the ooooooeeeeeeeooooooo sounds. There's not much else I can say about this track apart from Awesome!
14. Personal Jesus (Bonus Track)
A nice surprise bonus cover track from Makke here. He throws himself at this classic Depeche Mode track with great gusto and his obvious fondness for the original tune shines through in this mix. Featuring gorgeous electronic sounds, swirling sequencers and Makke once again in tip-top singing form this is a great addition to the CD. Only one slight gripe, it would have been nice if the backing singers had been female - a job for Visa Roster perhaps? 😊
15. Bitch (Bonus Track)
Keeping things electro Makke demonstrates his awesome vocal range with this gritty Apoptygma Berzerk cover. I think this another track which needs time to grow on you - I personally think it maybe could have benefitted from being a bit harder and edgier - but that's just me. There's a great vocal hook in there and it's good to hear Makke flexing some electronic muscle (oo-er, matron!)
16. Artura (Bonus Track)
Possibly the marmite moment of the CD - you'll either love it or hate it - and I personally LOVE this track! When you finally recover from the shock of hearing Makke in full hey-nonny-nonny mode you just can't help but get into this spirit of this tune. I even began doubting Makke's Swedish origins as the music painted a vivid mental image of Makke in an irish pub spinning his lilting yarn to the guinness swilling patrons. Everybody sing along now - yeeeaaa-na-naaaa-na-naaa-na-naaa-na-naaaa!!
17. Mad Balls (Bonus Track)
For the final track on the CD we are treated to what can only be described as a glimpse inside the mind of Makke! Total madness ensues in this turbo-nutter-bonkers track which sounds like a circus had been admitted to a lunatic asylum. Fortunately it's only a snippet of Makke's Mad Balls remix so we are spared the full onslaught of weirdness (and possible copyright infringements!) A very strange ending to the CD but hey, it's Makke's album so it had to be on there really. Not one to play out loud in the car though - but well worth a crafty headphones listen for a bit of a grin. 😊
The Kenz Verdict!
So there you have It's Binary Baby - a superb debut album from the crazy Swedish gentleman - and what a journey it was! The CD is an extremely varied and highly enjoyable romp despite the one or two weaker tracks. Makke dabbles in various musical styles throughout the CD and not only delivers highly polished tracks time and again but never fails to impress with his lyrical talents. Provided you don't try to take it too seriously this album is a breath of fresh air and is also the first ever pop-oriented C64 remix album to be released.
I can sum this album up in two words: Makke Gooooooooood!

Score: 9/10, Remix64 Silver AwarD

Incidentally, this man here shows the correct arm technique to hold the mic when doing the end of Makke's Madballs track.