---
18/01/2019
The voting deadline for the Remixer of the Year Awards 2018 is approaching, so by all means go and vote for your favourite tunes and artists of 2018!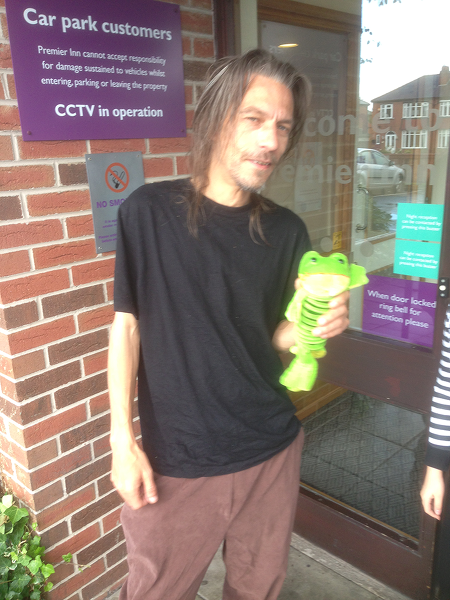 05/10/2018
A legend checks out way too early...
You've probably heard by now about the passing of Ben Daglish on 1st October. Having beaten cancer once, many of us were lulled into a false sense of security by the stability of his condition. However, following a short hospitalisation, he died of complications on Monday morning.

This is Remix64 so I don't need to list all the tunes he did: you have HVSC for that. But we'll all miss him terribly: he was the beating heart of the scene: not just a figure from history, but a living breathing legend who many of us had the privilege to meet, befriend, and even perform and compose with. We all have our own memories, and people all over the Internet are sharing theirs: he touched so many lives it's incredible.

Rock on, Ben. Give Richard our love. ❤

Free Promo
FEATSTEP Remix 2! (Android) will remix .mp3 Audio / .mp4 Video to play as close to the 'tune' of your .SIDs as possible! Performance is better on newer devices; it sometimes runs with occational & inermittant pauses on my 4 year old tablet. The following demonstartion video was recorded with the software running on a PC for this reason.

While availible on Googe Play! for $2.99 (..in Canada only)..
I am sharing the current version with the worldly C64 .SID scene for FREE via this download link :
http://www.featstep.ca/featstepromo.apk
(This is the same file as the $2.99 Google Play release.)

FEATSTEP REMIX! (1 and 2) has been in constant development for about 3 years.

Developing this software I thought I could support myself with sales, though I have never actually successfully sold 1 copy to-date.
Any promotion you can do will be greatly appreciated, whether users download it for FREE from the promo link, or choose to pay $2.99 on Google Play. (Please concider paying as a Donation, I am now near bankrupt and homeless from working on it 24/7 and not selling any copies).

Also, If you enjoy FEATSTEP Remix 2! please share it with your friends 😊 (Either for FREE or at $2.99) ;)
 
Submitted by -FEATSTEP-
Check this out
Back in Time 2
by Various Artists
Back in Time 1 broke a lot of ground, so the sequel aimed to raise the bar. The second album used some extraordinary talent such as Peter Connelly, Jogeir Liljedahl, Tonka and Danko to provide a much more varied soundscape than the first. Highlights include the beautiful orchestral version of "Forbidden Forest", the ultimate feel-good remix "Wizball 2000" and the spine-tingling "Galway is God" Rambo/Green Beret medley, as well as featuring a remastering of the first ever C64 Remix: Rob Hubbard's own "Thalamusik" from Zzap!64 issue 26. Round that off with an extended club mix of Comic Bakery and Fred Gray's own funky interpretation of his own Batman theme, and you've got a CD which still stands the test of time today.
Listening Recommendation


Giana Sisters (Keep Da Scene Alive)
Arranged by DHS
keep the scene alive.... featuring makke doing his "i am scooter" impression.
so here we have what is likely to be the anthem for the commodore scene for a while.

starting with a merry go round sample and dropping away to what sounds like my girlfriend on a saturday night, we are brought to a pounding techno beat with a warcry like "yeahh" from makke himself and what starts this strongly just remains that strong.. the entire thing if it had a smell would reek of scooter.

this isnt a bad thing at all really unless you really hate techno music, scooter may do generic crap but he does anthemic generic crap.. and what dhs has done here is the impossible.. generic scooteralike brilliance.

yeap he's made a real anthem in this, the reeling off of names is great, the reeling off of remixers is inspired.. the tune as i said before is superb and i cannot begin to reccomend this enough.

listen especially for the chior driven bridge section which is absolutely hair's on arms standing on end beautiful.. as i said before cant recommend its download enough!... go now!! do it!.

so cmon do exactly what the tune says and download this... keep the scene alive.
Review by infamous
Random review


Last Ninja Wastelands (again)
Arranged by Q
The 24783294th remix of Last Ninja - and nothing spectacular here. "Q" is close to the original not inventing any improvements or experiments. Average work overall.

Review by eliot
Latest Review


SuperFrog - World 4
Arranged by groovebox
Music is always subjective as we all like different stuff. But listening to this was like a rollercoaster of "oooh!! i like" and "ooooh maybe not". I love the electro backing music, and the drops etc. Sounds great. But maybe using a harder synth sound instead of the original flute sound for the main tune might have given it more power. I also think the tempo is a little too fast for this tune. But hey these are just how I hear it. No reflection on ability and I absolutely love the fact that people like yourself are making awesome remixes of great Amiga tracks :) Please keep making more stuff! I wanna hear more!
Review by onlineamiga