---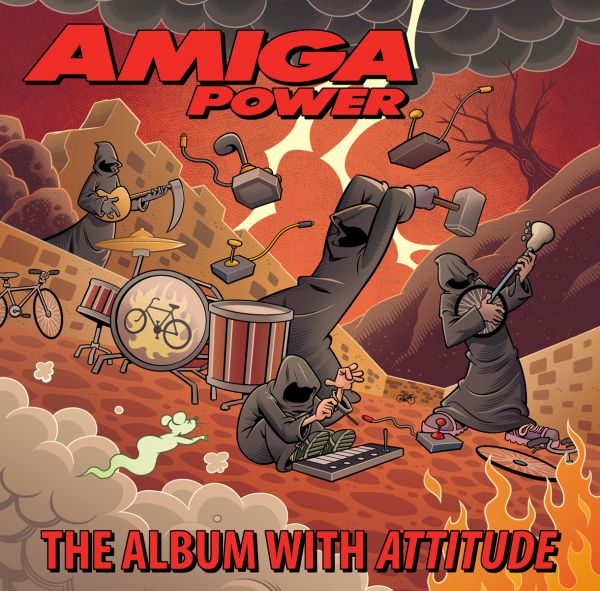 28/04/2019
Today is the final day of the kickstarter with massive talent involved, so if you want to participate, head there now.
The organiser Matt Smith wrote about it:
Splendidly, as we head into the last day of the campaign, we've hit the £19,000 mark and unlocked a new stretch goal. The deluxe liner notes booklet accompanying the AP album (in both its digital and physical incarnations) will now feature a full 100 pages of groovy stuff, including a special Complete Control section written by Rich Pelley, in which he'll endeavour to provide solutions to all your problems – game-related or otherwise. Hurrah!

How much more can we accomplish in the next few hours? With your help, we could yet hit another stretch goal! There's still time to support the project if you haven't already, and continuing to spread the word about it would be a massive help too. Just click the link above for more information!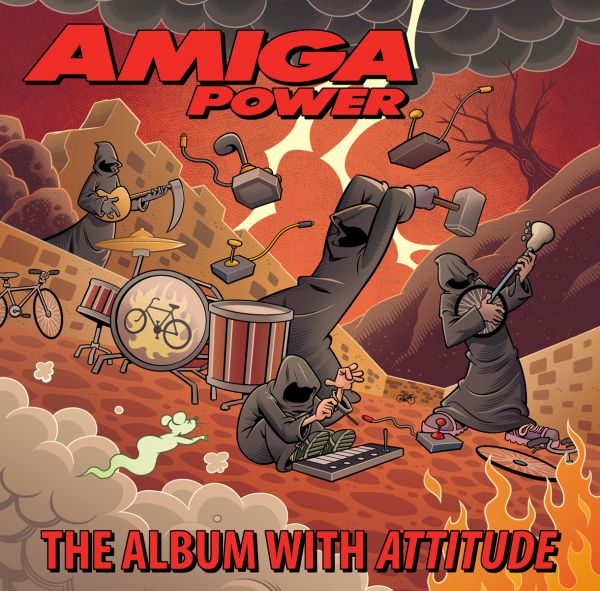 29/03/2019
A Kickstarter campaign to create a new album of Amiga game music remixes, all of them connected with classic '90s magazine Amiga Power, is now live.
Journalist and long-standing AP fan Matthew Smith – not the Manic Miner creator – is seeking funding to create Amiga Power: The Album With Attitude, a double-CD collection of more than 30 brand new remixes inspired by the magazine. The first disc will feature tracks based on tunes personally selected by former AP contributors, while the second disc will contain tracks based on games and demos given away on the mag's coverdisks over the years.
A whole host of star musicians are involved with the project, including Andrew Barnabas, Allister Brimble, Mike Clarke, Fabian Del Priore, Olof Gustafsson, Jogeir Liljedahl, Joi, Jon Hare, Chris Huelsbeck, Barry Leitch, Patrick Nevian, Jason Page, Instant Remedy, Matthias Steinwachs, Jeroen Tel and Tim Wright.
Among the tracks set for inclusion are pieces from Apidya, Banshee, Blob, Cannon Fodder, The Chaos Engine, Fantasy World Dizzy, Fire & Ice, Gloom, Harlequin, Hired Guns, Jetstrike, Lotus Turbo Challenge 2, No Second Prize, Pinball Fantasies, Sensible World Of Soccer, Shadow Fighter, Speedball 2 and Stardust, plus many more.
The album will also include a deluxe liner notes booklet containing more than 80 pages of facts, song lyrics, exclusive artwork and written contributions from the AP team.
If you want to grab a copy for yourself (in physical or digital form), along with a variety of bonus rewards, you can support the Kickstarter campaign here: apkickstarter.com

Submitted by Matt Smith
17/02/2019
Read all about it here.
Check this out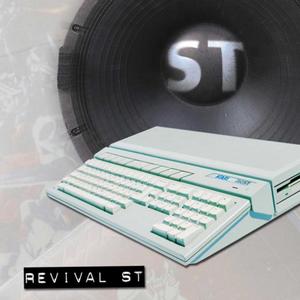 Revival ST
by Various Artists
Atari ST inspired remixes of some of the most famous tracks from the Atari ST era. Highlights include Rob Hubbard's Jupiter Probe, a swirling interpretation of Tim Follin's masterwork LED Storm, the classic Exolon and an fusion of ST sound and classic retro synths on "Dragon Flight". Composers featured include David Whittaker, Jochen Hippel and Rob Hubbard. CD produced by Neil Carr and Rafael Dyll.
Listening Recommendation


Giana Sisters - Live PO28 [Youtube Vid]
Arranged by LukHash
Another awesome track from LukHash. After listening on YouTube to your supermacy track, i would call me a fan ;-) Technically great done, much nostalgic in it and enough LukHash Sound to recognize it! Love it, great! Just one little complainment: I don't like the overcompressing of the track. I know, sidechaining and big compression is "in" but...it killed the the wide sound.
Review by noisefloor Bjoern
Random review


Zoids Revisited
Arranged by Juha Kaunisto
(original review at vgm remix)

Does anyone remember the zoids? them HUGE great big toys that moved and flashed and beat the shit out of each other?.. great wasnt they..

Now to be honest the game attached to this tune was crap.. it was unweildy it was confusing and it was very very hard and the only thing that puts it in the hall of fame for c64 users is the tremendous soundtrack created by the one and only rob hubbard.. and we've all heard of him aint we.

so I come to this remix.. one knowing the tune VERY WELL.. 2nd knowing the person that wrote this tune quite well too.. and knowing the talent he has already shared with us..and its no suprise that this remix is absolutely awesome.

Starting off with the original sid 1st line and a decent military drum sound.. this tune doesnt take very long to get warm.. deep and powerful guitar strokes making your bass bins shake the raw power unleashed instantly upon your feeble computer.. this mix has teeth and its baring them for all too see... the guitar work througout this tune is exceptional.. it has real life and body.. it has feeling its own virtual personality.

the drum work.. considering its done by a proffesional drummer.. what can you say about it?.. perfect.. basswork.. perfect.. hell even the synths are perfect. look for clipping.. notice that?... cant find it.. look for a flaw here.. go on get your fine tooth comb out.. try and find one cos i gaurantee you wont.

there is very little i can say to fault this.. which im sure you just noticed.. the piano work is beautiful.. nuff said.

download this and dont look back.
Review by infamous
Latest Review


Monty on the Run - High Score
Arranged by JB Xplodingfist
The good: you got all the notes correct and the instrumentation is pretty decent. The bad: everything sounds flat, there are no emotions involved whatsoever, I don't hear many effects, either, which would make it sound a bit more interesting. Getting the melody, the accompaniment, and the drums down should be only step 1 in your remix, and it seems you decided to stop at that point and release it. You should've spent additional time adding more details (e.g. variations) to your remix.
Review by LaLa