R-Type (Return Remix)
Track info
Arranged by:
Member:
Composed by:
Chris Hülsbeck & Ramiro Vaca
Duration:
4:41
Released:
14/08/2013
All-Time charts position:
112
Score:

92%
Story
A remix I made for the RETURN magazine (Issue 12)
Dees Productions: pretty please finish your remix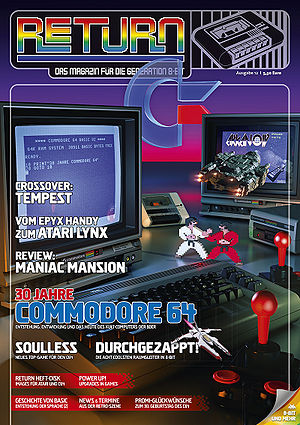 Shouts
Lovely. R-Type as it's supposed to sound.
Nice as always...!! One of my fav. Tracks from Ramiro and Chris...!
Fridge me side ways!!! This is it! Ten points from start to end! Now I don't have to continue on my remix anylonger, you made it and made it damned fine!
Yeah! I really dig this. A lot of plays in my daily loop :) Amok in action!
Amok makes an earthquake on rko. Excelente work.
I might be in the minority here, but I would've preferred to hear chords instead of arpeggios. But topnotch production, no question there.
Ok production, but the groove of the original is gone.
This is bloody awesome! DAMN YOU!!! :D
High-energy with simple sounds well-mixxed, and gives it a new feel to an old standard. Well done.
Top remix of this track Amok... Nice - clean - sharp and well mastered track.... Top stuff
Just great.
Great job man. I really like the energy and the less-is-more approach. The maxi part after 2:30 feels like restarting it from the start with minor differences.
I don't like this UNZ UNZ UNZ stuff. But this one is so perfect that I cannot vote anything less than orange.
Nice one, Dude!
This rocks da shit outta my ass!
Very good remix still not impresiive for me
Yeahh, this is pretty much how I always imagined this track. Fantastic leads and a solid drum track. Good work!
Nice Job. Super Remix. Ich könnte mir das den ganzen Tag anhören und dabei meinen C64 wieder anschmeißen. Danke für diesen Remix :)
Stunning remix, love it!
Great remix, not keen on dance beats and the original bass line is not there but I won't mark it down because it's not to my taste like some people. Brilliant mixing skills and choice of instruments
Very nice, I love the original and I feel the new bass line here takes some power out of the tune though. Just a personal preference.
Unza unza, quite medium piece.
Reviews
No reviews available.
Make your vote and be the first to submit a review!