Super Seymour (Plucked-Zen Remix)
Track info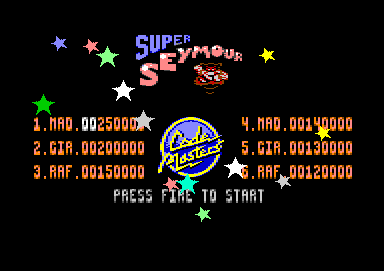 Arranged by:
Member:
Composed by:
Allister Brimble
Duration:
2:44
Released:
02/05/2006
All-Time charts position:
3318
Score:

60%
Shouts
What promised much didn't deliver enough. Using the SID arpeggio is a real cop-out and with improvisation could have been something nicer. There's nothing wrong with it as such, but it's just a bit bland and doesn't excite.
Nice enough, nothing special though. A little thin in the mix, too.
Nothing too exciting, but a totally acceptable effort. My main problem with this one is the boring drum beat!
Bum-t-cap-t-bum-t-cap-t!
Nothing really spcial... But works in its own 'hapiness' style so far. Although it gets a bit boring throughout the mix cause of too less variation in general...
Good flow but sounds to simple with that beat
Ok, quite repetitive, drum-track is very boring, so is the simple tune... Uninspirated...
Nive and happy stuff, but lacks variation and inspiration.
Not the worst I've heard from this composer. A bit more feel to this than the other mixes.
The arpeggio accomp sound brings back the good ol' C64 feeling. Thank you!
Reviews
No reviews available.
Make your vote and be the first to submit a review!