Hex Madroom - Druid II Enlightenment (feat. John Trudell)
Track info

Arranged by:
Member:
Original SID:
Original composed by:
David M. Hanlon
Duration:
2:57
Released:
12/06/2015
All-Time charts position:
3787
Score:

53%
Story
The C64-Remix community was a big factor in motivating me to try making music myself. Thank you all for your inspiration!
This is my attempt at contributing to the community. I've picked this track because i always liked the melody and it seemed to fit with my limited skills.
i am quite happy the way it turned out. Sure it can't compete with the top remixes here, but hopefully someone will enjoy it.
Tuning: 432 Hz
check out the video i made with Fairlight's Intro Maker V1.3!
https://youtu.be/qzSkWnbNkdw
or check my soundcloud for some more (non-C64) music:
https://soundcloud.com/hex-madroom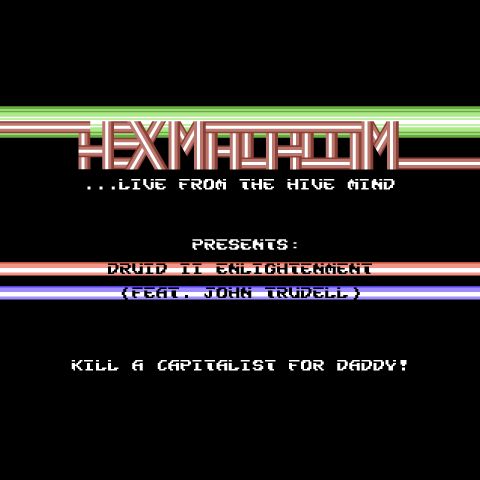 Shouts
The idea is ok, but it is like you didn't invest much Time in your Song. The Instruments are raw, the Drums a simple and liveless, the arrangement isr even simple. Invest more love an time and the mix becomes better
Unbalanced and repetitive. Needs more variety, better mixing, better sounds and a more interesting arrangement. Otherwise the idea is pretty OK, like mentioned before.
Pretty boring, indeed.
Good effort that needed more time invested in it.
Reviews
No reviews available.
Make your vote and be the first to submit a review!