K8-bit - Renegade 3 (Mummy gonna getcha mix)
Track info
Arranged by:
Member:
Original SID:
Original composed by:
Also check out:
Duration:
4:20
Released:
05/09/2010
All-Time charts position:
1681
Score:

77%
Story
this is a piece thats been knocking around my head for years that I've wanted to do something with.

Actually this and another piece from the game.  I had originally visualised a montage piece.. but it didnt seem to work, so I concentrated on this one, following the original very closely structure-wise.  Not many remixers do Jonathon Dunn covers – shame, as he has some very nice work!

The somewhat limited structure of the original caused me to feel the need to add to it further..  not thematically per se.. so I was inspired to add samples from the 1932 film The Mummy - and a couple from the remake.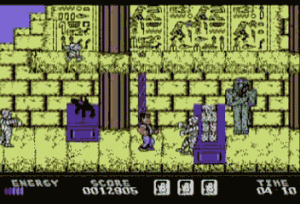 Shouts
It's ok, but would benefit a lot from fatter drum sounds.
Some great ideas in here with a good selection of sounds, but the percussion could have been beefed up somewhat for that extra "umph!"
Not too bad - but there's a little too much reliance on reverb here and there for me for the backing parts. Drums need more power.
Pretty sweet selection of sounds (not sure about the bass, though). It becomes a bit repetitive after a while, though.
It's a bit SID-ish, but I like the style and I loved the original Renegade 3 music (esp the prehistoric and medieval levels!)
What do you folks mean by fatter drums? :) Drums and overall sonic bed sounds to be heavy enough through my gear, subs even are too boomy. Not a 100% experience but there are many parts that makes me banging the head until it breaks off so I'm into it :)
Nice work, but way too many vocal samples for me.
Not sure about the sample overload, but the synth bass groove gets my booty shaking. Drums sound powerful and chunky, snare's got a real thwack to it. Really don't see how they could be made any more powerful without becoming obnoxious.
Was about to give an "average" for the thin arrangement, very good ideas on terms of sound, but the bass could bubble some more the overall sound more crisp and beefy.
Nice mix, I like the feel to the track with all the sounds flying in and out, good stuff
Good one
Excellent concept, very unusual soundscape.
Excellent Remix :)
Reviews
No reviews available.
Make your vote and be the first to submit a review!