LMan - Synth Dive
Track info

Arranged by:
Member:
Original SID:
Original composed by:
Also check out:
Duration:
3:23
Released:
20/08/2004
All-Time charts position:
1979
Score:

74%
Story
Synth Dive was a little music demo by Michael Winterberg. The tune had an experimental feel to it, switching moods from upbeat to ambient, and with a lot of swirling sound FX.

I've tried to preserve that feeling in my remix of this nice little ingenious SID tune.

- LMan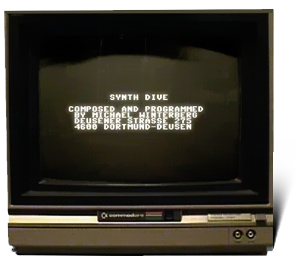 Shouts
Had to dig the sid out for this one... But this is a fantastic mix, well produced, good choice of instruments and a joy to listen too
Superb! I really must do something like this myself one time
Again, outstanding from markus. I think it'll suffer a wee bit because the original material he's remixed from is forgetable. Great job tho on remixing a very average sid
So well produced! Not one of LMan's finest, but still impressive!
Darn, this is mighty fine. Really uplifting melody and makes you feel happy all over. And a great job despite it being not Michael Winterberg's best SID too. Yaay!!
Very good! Very chilled in places! Good old SID sounds in places!
Markus "Little" did a great job. *g*
Real nice, a Michael Winterberg cover... Rare in these days... Great work!!!
I agree with Tas on the point that the tune suffers from its root, the original SID. LMan managed to produce something audible out of it!
Would have preferred a quiet, all ambient tune...
Well done
Technically excellent but emotionally uninspired!
That version puts the original tuna on an another level.
Reviews
No reviews available.
Make your vote and be the first to submit a review!