LMan - Vortex
Track info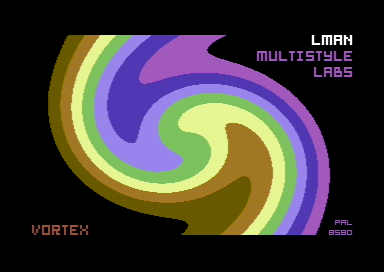 Arranged by:
Member:
Original SID:
Original composed by:
Also check out:
Duration:
3:12
Released:
23/10/2017
All-Time charts position:
342
Score:

90%
Story
The original Vortex was part of a subtune for the Fantasmolytic demo by Oxyron and Censor (watch at youtube, skip to 8:25 for the tune). The B Side was the first C64 trackmo with completely digital music, creating a seamless experience where visuals and music match. The complete side B music was basically a single protracker mod with 2 channels. The samples had to be partially streamed from disk, depending on which part was playing, kudos to my groupmates at Oxyron for pulling this off.
Built upon that was the full Vortex song, using 3 digi and 2 SID channels. This remix is a faithful cover of that version. Both demo and SID were released at the Nordlicht Party 2015.
Shouts
I wonder what was first: this or the SID... Either way, a very cool synthy rendition! Welcome back, LMan the remixer!=]
Good arrangement and beautiful instruments, but I'm not too fond of the tune itself. Great to hear from LMan again! More!
Just WOW!
LMan does LMan. Cool tune. Most instruments are well chosen, a few not so much. Very nice all in all, IMO.
Where do you get all that time for doing such cool things?:-)
Pretty cool, listened to the original too. Lala the demo was released in 2015 so that I'd say that came first, click the link!
Class.
Great cover! Nice job!
Massive track!
Great smooth chip wibez - love it!
Makong an awesome SID and then remixing it must be cheating!
Reviews
No reviews available.
Make your vote and be the first to submit a review!