Mahoney - Rhaa Lovely II (Mr Jones at the P-Machinery)
Track info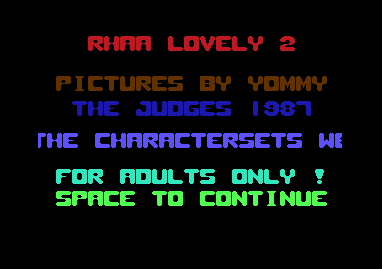 Arranged by:
Member:
Original SID:
Original composed by:
Also check out:
Duration:
4:07
Released:
24/02/2002
All-Time charts position:
690
Score:

85%
Story
The original release of this sid was on the 25th of September 1997. It's from the demo
Rhaa Lovely II
by the Judges. The music was done by Jeroen
Red
Kimmel.
From the scroll-text of the demo:
First we'll act as if we were normal... We take no responsability for any physical or mental consequences...
and then some comic/erotic images fling by...
My mix seeks to be a
Detert and Abbott
pleaser - a special gift for you Howard Jones fans, with a little hitch of Propaganda and a special appearance of the Swedish Chef of the Muppet Show (sung by Jim Henson, the creator himself!). Confused? Well, despite this rather revealing description, there's still some surprises left...
From remix64's messageboards:
Author: Trace (---.04-35-6c736b1.cust.bredbandsbolaget.se) Date: 24/02/02 - 14:05
How talentet are you on a scale Mahoney 😊 Nice one 😊
Trace
Author: Makke (---.cenara.com) Date: 24/02/02 - 14:45
Ooooh! This one made my day! 😃
From:
Mathias af Jochnick
Date: Mon Feb 25, 2002 7:39 am
Subject: SV:
/c64rmx.html
1 new remix available
Oh, maaaan.... Mahoney, You did it again!
The Howard Jones mix of Rhaa Lovely 2 is just brilliant, Bah! (kinda neat with some Swedish touches in there too...)
/Mathias Light - Brutality Itself
Author: Thomas Detert (---.dip.t-dialin.net) Date: 27/02/02 - 08:47
Hey Buddy 😊 Great HOJO / PROPAGANDA Mix Up.. I really love it !!!! 😊
Cheers, Thomas
Author: wobbler (---.halogen.se) Date: 24/02/02 - 18:07
Oj jävlar! Very very innovative sh!t there dude. Mezza like 😊
bangs head back and forth to ze rythm *



Author: Glyn R Brown (---.cache.pol.co.uk) Date: 24/02/02 - 21:39
Whoah !! Great piece of work , EXCELLENT !!!
From: stainlesssteel@g... Sent: on 2002-03-06 23:22
great work man, great work - as allways.
regards Joe
steel
Barwick
Author: Chris Abbott (---.in-addr.btopenworld.com) Date: 25/02/02 - 08:39
Well, that's my brain broken 😊
Chris
Your opinions and comments are hereby asked for, any time, my dear gentlemen... Under
New releases
goto the thread
Demo tune coming up...!
if you want to read more!
You won't find the meaning of life with electricity.... go look somewhere else. (And have fun during the search!)
/Pex
Mahoney
Tufvesson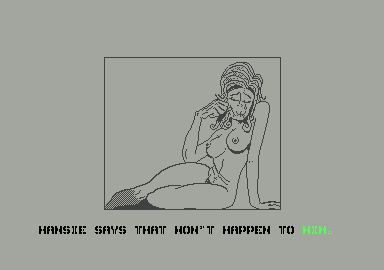 Vote distribution




Shouts

omoroca shouts:
The 80s are back!!! Added to my collection.

zajos shouts:
Amazing! I thought that winamp has switched to my favourite Italo station. But no. It was still the slay radio!:)
Reviews
No reviews available.
Make your vote and be the first to submit a review!