Highway Run
Track info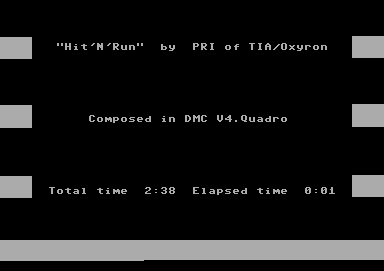 Arranged by:
Member:
Composed by:
Volker Meitz (PRI)
Duration:
5:16
Released:
18/04/2006
All-Time charts position:
732
Score:

84%
Story
SID was made by Volker Meitz aka PRI / Tia / Oxyron and presented at The Computer Crossroad 1993 (PARTY) in music competition. I'm not sure, but probably was 6th in results.
Shouts
Funk-a-licious! This reminds me of Gustav Taxen's Zamzara (Spice Mix), which is a good thing. The drums don't agree fully with me for some reason, but this is still wunderbar!:)
Oh, moog! Have my funkin' children! This kind of reminds me of some of Radix stuff. If I should complain about anything in this mix, it's that the bass sounds a bit strained at times.
Moog! You simply donot disappoint and I want you to teach me how to do rubbery basslines like that right now!
Another excellent effort by Moog, plenty of funk, lovely bass lines and a great lead that all add up. Not just that, but he's managed to capture the essence of the original PRI tune (which I love on the 64). Great stuff all round..
Gorgeous bass and soooo damn funky, just a shame its a little overlong but its so nice you wont really mind :)
Get down baby!
Funky and well produced.
Great as always. I just dislike the original melody, it's a bit extraneous. Reminds me of japanese arcade game music.
Moog, you're a remix superstar!
Nice intro. Nice work, I dont really like the funky jazz though. And one of the lead "leads" are kinda not really getting it right
This guy is a breath of fresh air to the scene, another fantastic production, MR MOOG please do some J Tel stuff cos your one of only a few who could do it right!!!!
Wow, you did it again. I really like this piece and I think you catch the original ideas in Pri's composition. Nice to hear some funky and jazzy stuff for a change. It's not the easiest style to do properly. Very well done - and I kinda like the drums!
Haha! He did it AGAIN!! Groooooovey, funkeyyyy... Man! That ROCKS! :-D Cool version, indeed! The bass-line ruuuules! Cool oldschool style! Reminds me a bit of good old MON and vibrants SIDs! Amazingly GREAT, pal! :-D Please, do MORE! You HAVE to! :-D
A bit bass heavy, but apart from that its bleeding marvelous
Well done :)
Plus for choosing a quite unknown tune. Does not catch me for a red one ;-)
Sounds like extremely old Level 42 stuff, long before Hot Water and their other hits, only without real instruments, but quite as artistic. Incredible what this guy can do. Moog forever!
Definitely my all-time favourite! That's the remix I ever dreamed of. That groove mooged me... Or "moogrooved" me?
Sounds pretty good and is well arranged. Sounds more like an very cool amiga tune than an c64 remake but it works very well.
Cool and a bit funky!
Reviews
No reviews available.
Make your vote and be the first to submit a review!