Reyn TV Station
Track info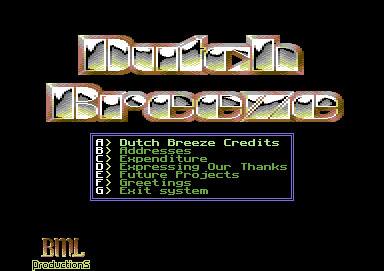 Arranged by:
Member:
Composed by:
Reyn Ouwehand
Duration:
3:40
Released:
17/05/2006
All-Time charts position:
135
Score:

92%
Story
Tune was originally used in credits note for a Dutch Breeze demo
Vote distribution




Shouts
Bloody brilliant. With this one, moog manages to top all his previous remixes, IMHO.
I usually complain about mixes being too long, but I wanted this one to be a little longer :)
I love Reyn's original, as it's from the classic Dutch Breeze demo. And this remix does the original justice, and how. Lots of beautiful instruments merged together expertly, with a real emphasis on sounding just right. And the lead is stunning!
Paul Hardcastle's illegitimate son, he is :)
Excellent.... And the funny thing is the fact that moog said just after submitting this that "Well, it's an old thingy I'm not quite pleased with...". Duh!
Actually, yes, this is weaker than your latest mixes (personal opinion), but still very good.
This one really resembles to the sid, but the winner for me is dazzler. Although, due to excellent production I can't give this any less than a red one with BIG f***ing smile!:)
Nice funky stuff! This one got some more attitude than Moogs earlier stuff which I appreciate
Actually perhaps closer to orange than red but just because Moog's quality bar is so high doesn't mean this one should suffer for it.:)
You really know how to make a bloody outstanding remix? :) Amazing work, agrre with lman, brilliant!
Very good, but not a red one ;-)
Fresh sound, need something more to really catch me, very nice smooth mixing
Moog jest the best! (od lat)
This man can do no wrong.. Totally without a shadow of a doubt bloody AWESOME.
Woooa what a twizzzzzzt!
Great work bro.. Love the lead.. F*ckin awesome
Well MR MOOG this is a great remix of a very good C64 track!!! Only problem is the original is short and repeats abit to much!!! But great mix as usual
Yay, MOOG you rule! This is great, I love the solo starting around 1. 47, would have been nice if the whole song where a bit longer, with maybe another cool solo near the end. Other than that - I LOVE IT MATEY :D Keep up the great work bud :D
The way Moog manages to gel sounds together so beautifully is fantastic, great remix.
Looks to me moog's going for ROTY or something. No doubt he stands more than a chance if he keeps coming up with this sort of remixes if you ask me... Wonderful!
Loooooooooooooovvelly Mr. Moog!
Waaaaaaaaahhhh!!! HE IS BACK!!!!! :-DDDDD nuff said!! *speechless*!!!:-)
Bloody brilliant. Unfortunately the sid doesn't have enough content for letting the remix become red. EDIT: I was wrong. Here's the red one!
The back beat is enough for orange the rest well, goes red in the face with rerpect!
Probably the best production for its genre. Otherwise, not my style but who cares? This is more than properly made.
One of the best tracks on this archive =) Everything fits, extremely well made.
Such a well balanced and crisp sound.
This is superb, moogs finest I think. Great on a summers day
I think Moog should actually write the polish eurovision entry cos its usually SHIT! AMAZING and I MEAN AMAZING work.
KrameR made my day - once again. Whoa!
Very good!!!
Very good song, I have read sthg about the battleship bismarck when I have heard the song at the first time. Now, for me, it is the Bismarcktrack...:)
It's moog's best song ever! Reminds me a little of The Magic Key by One-T, but this one is much better! Added to my collection.
Reyn who?? ... I just looooove this remix!!! Programming is so tight and clear! Very good production!!
Awesome. Period.
Superb
Cool Style & Conversation especially in the middle part of this song... Hmmm but I didn't know the year from the original SID-Composer...
Absolutely outstanding!
Starts off pretty good but a bit flat throughout.
Reviews
No reviews available.
Make your vote and be the first to submit a review!