Rubicon Title 98
Track info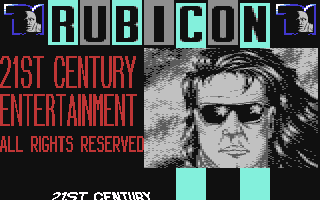 Arranged by:
Member:
Composed by:
Jeroen Tel & R. Ouwehand / MoN
Duration:
4:06
Released:
14/06/2006
All-Time charts position:
355
Score:

89%
Story
Originally that SID was used in game Rubicon in
titles, composed by the only rulling Jeroen Tel.

I've uploaded this one just only for fun . It's
very old and crappy project done by me and my
friend : Pawel Dykowski alias Dyko (elec. guitar player).
It was made in 1998. For the last time i saw (heard) this thing
in 2002 when i encoded it to mp3 and that's all.
So mixing quality and sounds leaves
much to be desired.

Some people ask me to upload that one, so I did it .

Funny thing is that we had to tune up instruments for about 1/4 of
tone, because J.Tel's music routine had very weird frequency
table and we wanted to make it right .
Additionally Pawel had to play it very high, so
he played it almost only on the highest string and sometimes
without frets .
Vote distribution





Shouts
Moog, moog, moog... What should we do with you? I mean, if this is the way a remix sounded in -98, it's truly a shame that you didn't "come out" in the scene earlier, 'coz that would surely have raised the bar of remixes all along.
This would've put every other remix to shame back in '98, and it still is a damn fine piece of work to this date!
Woah! Where have you been moog! Glad you found us and can share some of your old work - this is outstanding!
Nice and in your face, this one. I quite like the way he's tried to even do the multispeed instrument noises as well, kudos for that. Excellent lead too. Another quality moog effort.
Made 8 years ago????? Obv not as polished as the JMS version but a lot more in your face
Loved it then, when it was released, a couple of years back, love it now. Good with a couple of improvements, including higher bitrate.:)
YAY! This is awesome moog, I totaly love it (I dont know anything about music to make "propper" comments :D) Im realy glad you eventualy changed your mind about putting it here!! Fantastic stuff mate :D (what other oldies do you have hidden away
This is great stuff! And Dyko did a good job too! :D
OMFG.. I cant say anymore.. Awesome.
Moog's tunes just have the groove. More good stuff.
Mr. Moog, keep 'em coming, just wish I had the time to put out as many remixes as you, hehe. Inspirational.
I thought it would be very good, but after listening tune several times, well, amazing...
Reeeeeally nice!
*Speechless* for GOOOOOOOOOOOOOD, man...!!!! Wow! Are you really serious with 1998 here? Even more unbelievable if so then...
Yes, the guitar is not perfect, but besides thiz, very very very nice...
Sounds good! I love it!
Indeed, for 1998 this would have been unbelievable, but it's just plain great now ;)
Awesome :)
You are becoming a pain!!! Only joking you a FANTASTIC musician and must get you playing live on any future gigs!!! Top stuff MOOG
Great! After the first few seconds you know this track will be outstanding
Fastastic one...
Sometimes something is so good... Well, y'know. You get a tear of total joy and respect and a smile that seems to stick.... This is me. Florida 88-89. Oh man! LOVE THIS!
Wooooooo-hooo!
What can I say? Another one of my favourite tunes greatly redone in the best fashion. Jolly good.:)
Superb remix. I love it. Please add the original (longer) begin to this track.
I know it's an older entry, but I keep coming back for it - and it only gets better!
Way ahead of its time, indeed
Yeeee-ha! Added to my collection.
Great remake of a great tune!!!
Reviews
No reviews available.
Make your vote and be the first to submit a review!