Pepe Pinapple - Last Ninja - Subsequent Mix (Live)
Track info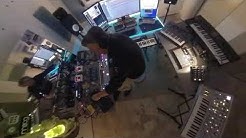 Arranged by:
Member:
Original SID:
Original composed by:
Also check out:
Duration:
2:59
Released:
21/03/2019
All-Time charts position:
1340
Score:

80%
Story
A Youtube Live Tribute to Ben !!!
https://www.youtube.com/watch?v=n93A1uZB1cE
Remixer:
Dee Kay aka Pepe Pinapple
Title:
Last Ninja - Subsequent Mix (Live)
Game:
Last Ninja
Original by:
Ben Daglish & Anthony Lees
Jammin with ...
- 2 Waldorf Rocket
- Moog Subsequent 37
- Audiothingies Micromonsta
- Synthstrom Audible Deluge
- 2 Eventide H9 
- TC Electronics Flashback
- Digitech Polara & Nautila
- MXR Stereo Chorus
Shouts
Nice n simple remix with excellent instruments. Well done.
Analog goodness! I don't know what Ben would say, but you got my vote. I like the video, too, but it could use some more action sequences.:)
Nice Remix!
IF you really still select LN for remixing... You def MUST deliver in the very end as well. There are way too many (stunning) LN remixes already around though. ;-) Just my two cents... No offence of course.:-)
Reviews
No reviews available.
Make your vote and be the first to submit a review!