Rafael Dyll - Turrican 2 - The Final Challenge
Track info
Arranged by:
Member:
Original composed by:
Released:
07/10/2003
All-Time charts position:
221
Score:

83%
Story
Composed by Chris Huelsbeck
1991, Rainbow Arts

When Turrican 2 – the Final Fight, sequel to the legendary Turrican appeared on the Amiga in 1991, most action game fans' jaws dropped. A fantastic platform based shoot 'em up with perfect scrolling, huge end-level bosses, tons of hidden extras and an excellent weapon upgrade system. This title was there to prove that the Megadrive and SNES weren't the only choice for smooth, fast-paced action games. The graphics were detailed and console-like and Huelsbeck's soundtrack was even better than his work for Turrican 1. Needless to say, I was hooked. This game, more than any other, had me going for the next level just to hear more of the music. It was only years later I realized there was a hidden music menu in there… urgh. I remember my pulse raging when I finally reached the final level (hey, I was 18). The hectic atmosphere, while platforms exploded beneath you, the up-tempo music and the enemy turrets blasting from every corner – ah, those were the days. One day, I figured I just had to remix the track from that level, called The final challenge. It was actually sitting on my hard-drive for about a year, so I came back to it and fixed some sounds to make it more releasable. Some mention goes to Fabian del Priore for his input and Chris Huelsbeck for finding the Turrican battle-suit samples (as heard on the Turrican Soundtrack CD) in his dusty "old-days" library.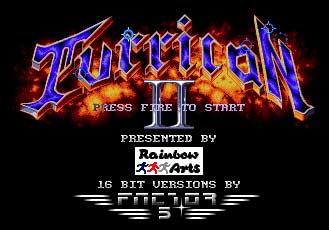 Shouts
Nice....
My favorite "Turrican II"-track. The part I like the most is a bit short in your version. Still very good!
Awesome!!!
Again, Korg X5 sounds used, great! Love this song since 2003 Rafael, rock on! :) Cheers, Fabian
Sounds a bit flat and not getting much of a Turrican vibe.
Reviews
No reviews available.
Make your vote and be the first to submit a review!