Track info
Arranged by:
Member:
Original SID:
Original composed by:
Also check out:
Duration:
2:18
Released:
11/03/2007
All-Time charts position:
527
Score:

87%
Story
Last sunday I was listening to Boz' impromptu when he told us the sad news about Richard Joseph. Which was a real shock. 


I also overheard Boz telling us about his favorite track from Richard named Stifflip & Co. and I though it would be a nice gesture and homage to make a remix out of it and present it to all of you. 


When I started doing transcriptions of the actual track I stumbled upon some really genius melodies, chord changes, modulations and phrasing of melodies. I was blown away really. He knew what he was doing and he must have put a lot of effort in his work. Even parts that sound the same in the track have nice different details hidden inside of it. Real craftsmanship. All in all it was very impressive, this great jolly track of his. 


Hope you all enjoy it and may our efforts keep his spirit alive... 


Yours, Reyn.


Some pictures of the work in progress: 


And for all you freaks, the instruments I used:
eminent 310 unique organ, tack piano, grand piano, celesta, banjo, epiphone wildcat guitar, glockenspiel, mellotron, fender precision bass, timpani, a sonor drum kit and loads of percussion.
_________________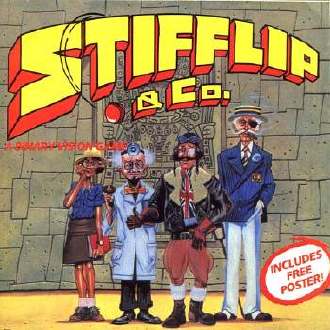 Shouts
Hahahahaha :D Great fun!!! Amazing performance, too - a great tribute to the late Richard Joseph.
Slapstick makes a comeback. Excellent stuff. I am sure Richard would love this adaptation of his SID.
This is great fun. But the lead sounds quite airless - but the after 1:10 this tune rocks! Great stuff!
Music reminds me of The Benny Hill Show. I just love it. Join your local circus now!
Totally crazy
Inspired by Makke's Capripholian Waltz? This one shows a lot of musical skills, which we already knew Mr. Ouwehand has. Funny, but a waste of talent!
Typical Reyn tune, but I dont like this kind of music, feels like 1920.
Speechless :)
LOL this is great and a nice tribute to Richard, Reyn great performance once again!!!
Crazy insane!
Carnival fun insanity! What a great tribute to Richard!
Poifect
No doubt!
This is without a doubt the greatest tribute to Mr Joseph.
Pretty, something like benny hill superbowl :)
Pure Genious! :D
OMG I am in coma... This is very well performed and nicely arranged... I believe that Richard would have been proud to hear this remix.... Outstanding, Reyn!!!!!
Haha :) Very very funny, sounded like the '80-es children series. Enjoyed it :)
Reyn, this track is amazing, and I think you've shown the song's depth with this remix. I think it's easy to spot Richard's creative writing in this.
Excellent
Abso-*cking-lutely fantastic tribute. =) Supreme Ouwehand style!
*bruhaha*... But don't hear any "outstanding"....
How sad one master met another in the wrong way - but yes its more complicated than people believe - and if only he had a decent music driver like you did - this work is not only amazing it is TOTAL HOMAGE - well done Reyn
This is so much fun, and more importantly, just how Richard himself would have imagined it.
Reviews
No reviews available.
Make your vote and be the first to submit a review!