Space Fractal - Games Summer Edition (Uneven Bars)
Track info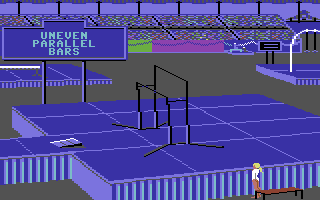 Arranged by:
Member:
Original SID:
Original composed by:
Also check out:
Duration:
2:37
Released:
12/11/2007
All-Time charts position:
3516
Score:

60%
Story
This is a lesser listen (I guess) tune from one of the more unheard event sport games by Epyx. This tune came from Epyx third summer games release, which have nothing to due with the original Summer Games I and II.
I loved the original SID and had the original tape version of it, hence I tried to cover this song. I have just created a little bright tune, and never tendend to a big one.
The lead have some offset timing in the original sid tune in the end (which work pretty well), and I dedicated to left it as it are, but hidden it so much as I could as it was a part of this song.
Thanks to all for the feedback, comment and help from the forum (below thread), which got this tune better than the very first version (which got rejected for a good reason). Thanks to the staff for accept this version.
http://www.remix64.com/board/viewtopic.php?f=4&t=4968&start=0&st=0&sk=t&sd=a
HIGHER BITRATE UPDATE (26. Nov 2007):
A 256kbit version is just uploaded instead of the previous 128Kbit version (Thanks Jan). No bit of the song have been changed through (because it was allready released). So it not a new version, just a higher bitrate version.
Shouts
For a first release, this is quite alright in my book.
Nice to see someone taking on a different SID to tackle, and it sounds quite bright and jolly. It's also got the right amount of feel and the mixing isn't too bad either. Good solid first effort here, and let's hope for more to come.
Not bad, little children-like in the instrument selection, but the arrangement is okay.
As the corresponding forum thread shows, a lot of effort and finetuning went into this. Unfortunately, the result is a little less than I had expected. Cute little tune, but has timing and accuracy issues in the lead voice, especially towards the end.
Reviews
No reviews available.
Make your vote and be the first to submit a review!