Thomas Detert - Another World (Closing Title)
Track info
Arranged by:
Member:
Original SID:
Original composed by:
Also check out:
Duration:
3:35
Released:
29/11/2001
All-Time charts position:
2044
Score:

73%
Story
Another World - Soundtrack
Well..when IVO HERZEG (better known as MR.CURSOR ) came up with the Idea of Another World,he wanted to have a Title Tune sounding like ARMALYTE & ZOIDS.That's why I did something with lot's of modulation and FX-Arp's in the Backgroung and a looping Melodyline. After I saw the ENDSEQUENCE - PIC drawn by Thomas Heinrich , i felt that the picture had a special mood and I tried to capture the feeling with a very melancholy tune !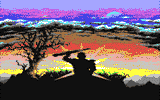 Shouts

Nebdar shouts:
Achh those nice times with c64
brix shouts:
To be honest, I prefer the original to this. The original has such a nice strong and rough pumping bass and the synth line is no that spheric. The remix lacks the pressure and force of the original without adding a real new touch to it.
Reviews
No reviews available.
Make your vote and be the first to submit a review!