TNT - Elvira Loader
Track info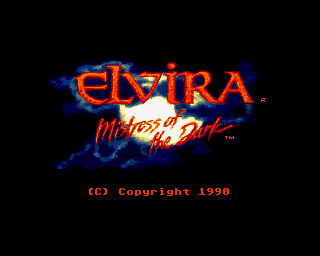 Arranged by:
Member:
Original composed by:
Released:
03/11/2011
All-Time charts position:
460
Score:

77%
Story
My very first Amiga remix. I decided to remix Elvira because apparently nobody did it before. Furthermore Elvira has such a cool soundtrack that it deserves to get remixed. That's my humble opinion. And of course it's a great game, too! If you played the game you'll know why I have chosen the text and what's it all about. By the way, if you're playing the game, just follow the first line of the second part and you'll easily get a good weapon...
Text (1st part):
Her name is Elvira
I guess she could be in bed like a tiger
She promised that she would do something for me
The only thing I have to do is get her free
So I only just went through the gate
but then the castle's dungeon was my fate
Elvira unlocked the door and spitted: Jerk!
Will you just move your ass and go to work?
Text (2nd part):
First floor, to the left, second door, to the right
I grabbed the sword on the wall and started my fight
Until then I was struggling through the castle
with just a little hassle
Whether prison, mortuary or the park,
everywhere was nothing else like the dark
But I've got guts and Elvira's mixing spells
All you have heard were the enemies yells
Text (End):
Emelda is no longer a threat
I stabbed her down and now she is dead,
so...
Shouts
Holyshit thats such a cool stuff. Some 80ies electro funk style :D I love it
Elvira reminds me of orchestral music, and this is simply great modern music. I'll wait for a new rmx!
Some parts are really good, some are not. I give it a very goodone cause I like the game!
The sung parts are great, I just found the part between part 1 and part 2 a bit too long.
Reviews
No reviews available.
Make your vote and be the first to submit a review!