TNT - Last Ninja 2 The Basement
Track info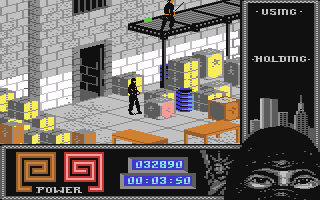 Arranged by:
Member:
Original SID:
Original composed by:
Also check out:
Duration:
4:53
Released:
07/10/2011
All-Time charts position:
2061
Score:

74%
Story
Elektro for the masses... 😉
Main Text:
The basement is a sinister place to be
There's electricity and lots of enemies
I'm a shadow on the wall and I won't stop
I will kill'em silently and I will mess them up
I've got ample fighting resources
to make an example for Kunitoki's forces
Better they run and start their engines
because I am back with a vengeance
Other text:
The basement
Shouts

vurtx shouts:
I like its dark electro texture, the EQ seems slightly dull but it does create a distant ambience to it.

gryzor shouts:
Bit repetitive patterns and too static at times, but overall a nice sound -- could use some "groove".

LaLa shouts:
It fits the mood of the game perfectly. I like how the vocoded vocal breaks up the monotony, but it's totally unintelligible (which might be for the better because the lyrics are not that good).
Reviews
No reviews available.
Make your vote and be the first to submit a review!