Tron - Bounces (Glam Rock Hammond Galore Demo Tape)
Track info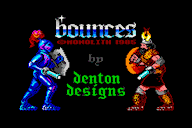 Arranged by:
Member:
Original SID:
Original composed by:
Fred Gray
Duration:
3:00
Released:
09/03/2012
All-Time charts position:
236
Score:

91%
Story
The time that I have put into this remix is just OCD squared!

a0d of the Subversive Elements felt like starting a new remix. He sugested Bounces by Fred Gray. Excelent idea coz I've always loved that tune. But when I asked him for a style he answered: Prog Rock!, as he's been going through a Prog Rock period lately. Dude, you seriously overestimate my guitar capabilities and my Prog Rock knowledge.  But no guts, no glory. I agreed on a try-out. One thing led to another and in the end it became more of a Glam Rock track. But it sounded great nevertheless.
I don't know why but there is something about overdriven Hammond organs screeching through mid-range microphones. It kinda hurts my ears, but it hurts so good! So I've put not one but two of them in there. And I may have pushed them a bit but since this track was all about pushing things to the limit anyway, I felt that I have earned it to grant myself this sweet bit of torture.
Also cramming the small club house stage are a Steinway Upright piano, glockenspiel, Fender bass, three guitars and one mad drummer.
Oh, and if ppl are confused: The intro, indeed, is Shadowfire.
But never mind that; Did anybody spot James Brown? If you did, don't tell anyone where. Keep 'em guessing. ;)
Arranged by: Erwin (Tron) Beekveld
Prog Rock advisor: Anton (a0d) van Deurzen
Whooping girlfriend: Jackles
Record button reminder: Edwin (Beast) van Deurzen
Shouts
THIS is cool! Great style, thanx Tron.
Awesomeness. This ROCKS! Mr Beekveld has done it again!:)
I love it ;)
AWESOME... :D
Total sheeet - lol HOW THE HELL did you pull that off??? Fred never had the best driver - but he could ROCK - Tron RESPECT to you ALL - Awesome
Great style and dynamics. Me likes big time :)
Super!
Heard it now for a couple of times and it doesn't get boring
A truly great remake of this song! (with a shadowfire start which amusingly fits really well :))
Excellent!!! A superb track from a really mediocre game. You have done fantastically well! Love it!
Retains the spirit of the original and it's executed immaculately. Really cool! I wish it was longer, though!
Not bad! Rocks.
Sounds good to me.
Great piece!
Reviews
No reviews available.
Make your vote and be the first to submit a review!