Hyperbased - OMG its a CUBE!
| | |
| --- | --- |
| | |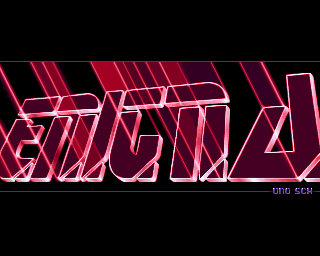 Arranged for the Bitfellas Remix competition 01
Original by Firefox and Tip / Phenomena.
From the Demo Enigma / Phenomena.
My all time favourite Amigademo.
Software used:
Deluxe paint for painting the waveform.
www.virgill.scene.org
Hits - 7780 overall, 1 today
---
Reviews
No reviews available. Make your vote and be the first to submit a review!

---

Dr Future shouts:
Some sound fx of the original are missing and the mix is slightly over the top imho (close to agressive), but the whole track is stunning!

Makke shouts:
Excellent!

Ziphoid shouts:
I just love this version! Love the layering in the first part...

Amok shouts:
This tune was on my to-do-list... I think I should forget about it now... :D

knotti shouts:
Nice

prowler shouts:
Virgill makes a Enigma remix - it felt like a red face even before listening. (however, the lead after 2:25 is slightly too dominant/alone)

juan shouts:
OMG this is one of the best remixes I've ever heard. As simple as it may be: THANK YOU

XxDUSTYxX shouts:
Just like Amok said! Very well done, Virgill!

shock shouts:
Excellent!

dafunk shouts:
Absolutely fantastic, hats off!

Trace shouts:
This is very good, too repetetive for my taste though ;) Was thinking of do one myself but I am to lazy to get the cords right (on any amiga tune btw) :|

d.a.wilson shouts:
Superb Production Virgill! - It's a shame I don't know this mod as it sounds great - As a studio gear anorak I'd be interested to know what kit you've used to create this...:)

Krede shouts:
Nice... Very nice..

nrg4 shouts:
Brilliant!!!

mooneyes1983 shouts:
Very good

KF shouts:
Absolutely fantastic! Great job...:)

daXX shouts:
Keep it up virgill... I like it.. Not perfect but very good! Close to orange.

schlicky shouts:
Flippin awesome - got it on repeat - yay!

commodoremuseum shouts:
All time rank should be 1 not3! Fantastic-I still have the mod & demo

australopitecus shouts:
Incredible theme!!

Skipper73 shouts:
This tune is awesome. I've had this tune for repeat 3 hours now!

ryrynz shouts:
I've never heard this tune before but I like it. Beginning reminds me of Decent and the rest of Second Reality. Good Job.

Nebdar shouts:
Yes it has got the power, and outstanding rythm

Hamlet shouts:
Too bland.

PsychNerD shouts:
Excellent work!

_steve_ shouts:
One of those songs that just never gets old - and a great remix of it to boot!

alexh shouts:
Nice remix but it is outshone by Amok's remix

Mister Ghostie shouts:
Quality stuff!!! Great arrangement and ideas - an excellent track overall.

Melaure shouts:
Great Track, I can see the demo just listening your tune :D

lakanman shouts:
As good as the first time I heard the orginal mod

hyperunknown shouts:
Loved the part with "oh my god it's rotating" -- that was exactly our reaction when we first saw it, this brought back some good old memories for sure :D

james_mcl shouts:
The best Enigma remix ever IMO - and OHMYGODITSROTATING!!!

Duncan Demerodt shouts:
What the hell? What a blast!!! Very well done!!!:-)

sLASH shouts:
Fanastic remix virgill!

Voxel_saturne shouts:
Best lyrics and the best amiga remix

Grant shouts:
Such an epic song. Don't miss it.

Rapture shouts:
Good, not so fond of the original tune though. Firefox did better., like Galaxy2 my alltime Firefox fav. But great remix nevertheless!:)
---
Current Rating
95% (56 votes)


Distribution:

35

11

6

3