Battle Squadron - Game Over - Trance Version
Arranged by:
CZ Tunes (act)

Veteran

Member:
cz_tunes (member)
Original composer:
Ron Klaren
Release date:
27/08/2006
All-Time rank:
212.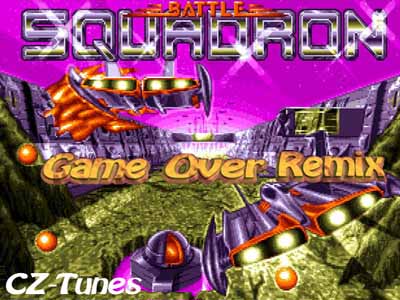 HI!
THIS IS MY NEWEST REMIX. IT IS MY FIRST OFFICIAL AMIGAREMIX.
I LOVE THE GAME AND THE GREAT MUSIC FROM RON KLAREN.
I LOVE ALL SONGS FROM THE GAME BUT I START TO REMIX THE GAME OVER SONG. I FINISHED THE REMIX AND WANT TO PREVIEW IT LIVE ON THE GERMAN RETRO RADIO SHOW WITH PARALAX. HE ASKED ME OFTEN WILL THE REMIX GO FASTER? THEN I DECIDE ME TO MAKE 2 VERSION'S. ONE SLOWLY AND ONE FAST VERSION. AND THE RADIO-LISTENER CAN DECIDE WHICH VERSION WILL BE UPLOAD TO AMIGAREMIX.COM.
THEY CHOOSE THE FAST VERSION. THAT IS THE STORY OF THIS REMIX. ;)
I GOT MANY NICE MAILS ABOUT THE REMIX AND THEN I START TO MAKE AN MAXI TRANCE FX VERSDION. I PUT SOME SHOOT AND EXPLOSION FX FROM THE GAME IN THE REMIX.
THIS VERSION WILL BE DOWNLOADABLE UNDER MY HOMEPAGE SOON AT
HTTP://HOME.ARCOR.DE/CZTUNES

THANK YOU FOR YOUR INTEREST ABOUT MY STUFF

YOUR CZ-TUNES
Hits - 3337 overall, 1 today
---
Reviews
No reviews available. Make your vote and be the first to submit a review!

---

infamous shouts:
Not heard the original, but this is a pleasant little tune, though it lacks a certain something.. Cant put my finger on what it is.. But whats here is good so.. Yeah :) nice one.

KF shouts:
Just a good track...

prowler shouts:
Nice take on the original, but doesn't really make it justice...

kjetiln shouts:
As a trancetune it takes too long time until it gets going.. I didn't like the intro too much, but the trance part is really good, though way too short

lomaxx shouts:
Although I dislike discobeat-remixes I still must say this is well done (if you like the style). Still the original is my favorite in sounds and mood.

Dumper shouts:
Wasn't as fast as I thought it was going to be, but overall it's a pretty nice mix.

knotti shouts:
Ein wirklich fetziger Track nur leider ist der technoteil etwas klein

chilli_uk shouts:
I loved the original and I have said this is doing more than justice to the original and in someways is better in other areas weaker - but boy it is the trance I think Ron would have wanted - some notes are held so so long - its good!

M.A.F shouts:
Great stuff! A great mix of a "mix' of music, good intruments, sounds really good and you must have thought this out and played to and fro with various versions of this. I like what you came up with! Thanks :)

Amok shouts:
Great!!! Beautiful Soundscape.. A really awesome Rendition of a original that I really love...

Duncan Demerodt shouts:
Wow, absolutly wonderfull, especially the piano parts. Thx very much.:-)

ZroDfects shouts:
A great remix of one of my all time favourite Amiga tunes originally composed by the one and only Ron Klaren, I forwarded this track to Ron myself as he has not heard it before and just like myself have clicked the like button. The piano part is amazing.

Rapture shouts:
I LOVE the part from 2:00 - 2:45, very Jogeir'ish ambient like, love it. I wished the whole tune would be like it! Other parts are ok but the mentioned part is the best!:)
---
Current Rating
84% (24 votes)


Distribution:

8

6

9

1