Target Renegade End Sequence Remix (ShortVersion)
Arranged by:
CZ Tunes (act)

Veteran

Member:
cz_tunes (member)
Original composer:
Gary Biasillo
Tune length:

2:14

Release date:
07/02/2006
All-Time rank:
3145.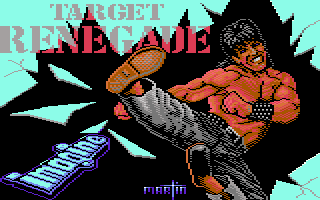 Hi !

I start to work with a new music programm.
And this remix is my first try.
I choose a little and small tune. The Target Renegade End music.
I start my first attempt to make an remix with the new programm
to test it and learn to use it.
As it was finished,i would delete the file and start a new remix.
But i thought,i don't delete it,perhaps makes this remix anyone happy or something else.
Then i have send it to RKO. Better i can make somebody happy,before nobody listen to it. ;o)
I hope my new remix will sounds better.
Ok,that's all for now.
Greets to all listener's and remixer's.

CZ TUNES

(Sorry for my bad english)
Hits - 2910 overall
---
Reviews
No reviews available. Make your vote and be the first to submit a review!

---

Dan shouts:
Not sure what to make of this one. Lovely little tune but a bit simple, reminds me of something the Pet Shop Boys might have made in the 80s also (not sure why, lol)

Skitz shouts:
This one seems a little thin to me from CZ - nice idea but just doesnt sound quite finished

LMan shouts:
Very clean arrangement. My advise: put a little more dirt in there.:)

Waz shouts:
Simplistic and nice, but the mixing just really downgrades the tune. It sounds thin and "tinny" with no real substance.

Ziphoid shouts:
Quite cute, but very much lacking something which I really can't point out. Could be a bit more dirty, yes.

weasel shouts:
Hahah!! Yeah... The pet shop boys comparism is a great one here! :-D Definitely synth-pop-80ies style! But there had been better remixes from CZ! So this is just average though!

putzi shouts:
Very simplistic.

eliot shouts:
Makes me smile, so it gets a well earned yellow...

aero shouts:
Simple yes, but you did me happy :) Good choice to put it on RKO

zuckerfrei shouts:
Oh yeah! Go West, where the skies are blue.... LOL... Anyway, I like it!

prowler shouts:
Mmm, weak tune from CZ tunes (who usually do better stuff). Hope your experiments with the new music prog works out!

anaconda shouts:
A bit boring in the beginning, but it's getting better after a short while.

chilli_uk shouts:
Yes, a little weak, but very very sweet - takes a good tune forward.

omoroca shouts:
I never made it to the end sequence, so I don't know the original SID. Similarities with "Go West" by the Pet Shop Boys must probably be incidental. This remix relies too much on that Go West effect and doesnt contribute anything specific itself
---
Current Rating
59% (26 votes)


Distribution:

3

10

13