Cauldron (Hexenkche Walpurgisnacht HardTance Mix)
Arranged by:
DJ Mitch (act)

Remixer

Member:
Mitch van Hayden (member)
Original composer:
Keith Miller
Tune length:

9:15

Release date:
02/07/2005
All-Time rank:
518.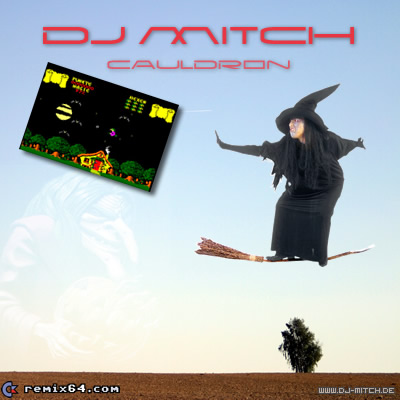 Cauldron (Hexenküche Walpurgisnacht HardTrance Mix)

Remix of the Commodore C64 Game Cauldron.
In Germany it was released under the name Hexenküche. There is a night in Germany, where all witches comes together to celebrate a big witch party. Full of Magic and dark energy. This night is called Walpurgisnacht. It's the same date as Halloween so maybe you recognize some melody in the track. ;)
This is my second C64 Remix!
Hits - 4020 overall
---
Reviews
REVIEW BY winc (08/10/2005)

Personally I found the original SID of this piece kinda boring - it was the same tune over and over and really unless you are playing a game that gets repeative very quickly.

Now I also am not a great techno fan, but this was just a neat little piece that takes the original song and... does something interesting with it.

I know a few people feel that techno is the "cheats way out of doing a remix" I on the other hand take each piece as a extension of the creators interest in the piece. This techno remake of the original in fact improves on a very boring original piece in my opinion.

The only argument I could have about this remix is it does run into the same problem that the original does - the original tune by itself just isn't enough to grasp hold of someone's attention long enough - there needed to be... "more" a break even created totally from scarch and added to improve the over all piece because after about 6 minutes of this tune ... you start to wish the Witch just killed everyone

But overall a good remix of the original -

| | |
| --- | --- |
| Technical Impression: | |
| Artistic Impression: | |
| Nostalgic Impression: | |
| Overall: | |
---

Dan shouts:
Very Nice!, I especially love the "halloween" influenced bit, the whole tune is very well woven into the dance beats and some gorgeous use of instruments in parts

Tas shouts:
This is VERY good. Love the witches cackles and the use of haunting effects which are used modestly. A little on the over long side though

LMan shouts:
Cool.

rollercoaster shouts:
Wow, that is real Clubstyle!

andipdl2 shouts:
Cool!

infamous shouts:
Probably the best dance tune released on this site this year.. Very well constructed and enjoyable to listen too

cicalone shouts:
Very Good trance remix

LaLa shouts:
This is a really good clubby dance tune! Well constructed and the witch sounds really enhance it. I'm impressed!

devilhood shouts:
Lmao ;-)

load_error shouts:
I like dance music, and I like trance when it's not cheesy, and this is not cheesy, but it's an average hardtrance tune. Nice one tho.

germantaz shouts:
SUPERB....

eliot shouts:
Very nicely done :-)

Quarex shouts:
I was definitely expecting this to be a lot harder with the word "hard" in the title, but still nicely done.

anaconda shouts:
A good tune. It's well done though it's a bit long. But all in all a worthy remake.

teoball shouts:
I love trance and you did a great job with this

romeo_knight shouts:
Promising start but gets a bit dull - the same part in variations over and over again!

DHS shouts:
Your average german techno with the addition of a good idea not perfectly accomplished.

sidbrowser shouts:
Very funny, more of them please!

nettuno shouts:
I don't love this music, but this is not bad

ifadeo shouts:
Argh!

migu shouts:
Simply a great remake!

sebuko shouts:
Mike Meyers meets Cauldron. A great idea and a great work!

Raw shouts:
You just gotta love that witch ;) and the woman scream is a lovely addition. Oh and the song is great!

RemixFan shouts:
Very Good!

Dumper shouts:
A brilliant blending of two tunes and a great atmosphere.

Kite shouts:
I wish I could download this!

omoroca shouts:
This one's trying to sound scary. A little childish with the witches and the wolves, and the grave-opening sound, but aside from that the dark and cold atmosphere is good. Added to my Halloween mix.

Amok shouts:
Excellent stuff mate

Grigul shouts:
Awesome track. I love good trance music, and this one is one of my alltime favourites. Excellent work, DJ Mitch.
---
Current Rating
86% (52 votes)


Distribution:

21

12

15

3