Last Ninja 2 The Basement
Arranged by:
TNT (act)

Remixer

Member:
TNT (member)
Original composer:
Matt Gray
Tune length:

4:53

Release date:
07/10/2011
All-Time rank:
1641.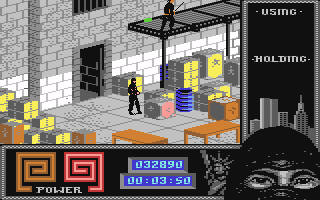 Elektro for the masses... ;-)
Main Text:
The basement is a sinister place to be
There's electricity and lots of enemies
I'm a shadow on the wall and I won't stop
I will kill'em silently and I will mess them up
I've got ample fighting resources
to make an example for Kunitoki's forces
Better they run and start their engines
because I am back with a vengeance
Other text:
The basement
Hits - 1299 overall
---
Reviews
No reviews available. Make your vote and be the first to submit a review!

---

vurtx shouts:
I like its dark electro texture, the EQ seems slightly dull but it does create a distant ambience to it.

gryzor shouts:
Bit repetitive patterns and too static at times, but overall a nice sound -- could use some "groove".

LaLa shouts:
It fits the mood of the game perfectly. I like how the vocoded vocal breaks up the monotony, but it's totally unintelligible (which might be for the better because the lyrics are not that good).
---
Current Rating
74% (13 votes)


Distribution:

5

6

1

1